In This Issue

From the President

Sponsor Highlight

JFS Sponsors

Providence Bank

Congratulations to Elise Prezant

I Am Enough

Jewish Life Event

April Awareness Months

JFS Community Events

Around the Community Events

---
JFS 2018 Sponsors
Gold Level
Janssen Pharmaceutical Companies of Johnson & Johnson
Silver Level
Nancy L. and Arthur E. Lee
The Oscar and Ella Wilf Campus for Senior Living
The Doctor is In
Atlantic Health Systems
Senior Helpers
Somerset Pediatric Group
Advantage Promotions, LLC
Preferred Pension Planning Corporation
Joan and Steven Handel
Wendy and Stephen Offen
Dr. and Mrs. Arthur Feldman
Dr. Steven and Mrs. Heidi Ginsberg
Susan and Steven Darien
PNC Wealth Management
Friends
Home Instead Senior Care
Suplee, Clooney & Company
Margulies, Englehart & Veneziale, LLC
The Chelsea at Bridgewater
An Angel (Anonymously)
Chef Jeff
ShopRite of Hunterdon County, Inc.
Flemington Department Store
Camp Bow Wow Bridgewater
Bond, Andiola & Company
Audi of Mendham & Bridgewater
Flemington Car & Truck Company
Yanina & Co.
Advantage Voice & Data
First Impression Cleaning Service
HealthQuest
Oxford Jewelers
For information about becoming a JFS sponsor contact
Jerry Starr at 908 725-7799 or jstarr@jewsihfamilysvc.org
---
JFS Tributes
To share a joyous occasion or acknowledge a sadness, click here.
This Month's Tributes:

To Mr. Dan Hermann, In Memory of His Mother Ruth Hermann, From the Board & Staff of JFS

To Mrs. Lee Coopersmith, To Get Well Soon, From the Board & Staff of JFS

To Mrs. Jeanmarie Feldman, In Honor of Her 10 Year Anniversary with JFS, From the Board & Staff of JFS

To Mrs. Joan Handel, In Honor of Her Special Birthday, From Nancy & Arthur Lee
To Mrs. Betty Roswell, To Get Well Soon, From the Board & Staff of JFS

To Mrs. Faith Mosfowitz, In Memory of her Husband Harold, From Robert & Janice Grossman

To Mrs. Estelle
Sawanowich, In Memory of Her Husband Walter, From the Board & Staff of JFS

To Mrs. Phyllis Glantz, In Memory of Her Husband Hal, From the Board & Staff of JFS

To Mrs. Dee Yosefat & Family, In Memory of Her Mother Estelle Olan, From David & Sandy Blum, From the Board & Staff of JFS

To Mrs. Peggi Tango, In Memory of Her Husband Larry Tango, From Jerry Starr & Pamela Keen

To Mrs. Ann McGilly, In Memory of Her Mother Sylvia Hirschfeld, From the Board & Staff of JFS

To Ms. Ronnie Weyl, In Recognition of Her Being Honored for Her Philanthropic Work by The United Way, From the Board & Staff of JFS

To Mr. & Mrs. Steven Lieberman, In Recognition of You Being Honored by Israel Bonds for Your Dedication to the Community and the State of Israel, From the Board & Staff of JFS

To Mrs. Jill Lavitsky & Family, In Memory of her Mother Joyce Schulman, From Judith Hersh
---
JFS Generation to Generation

Do a lifetime of good by making a
Legacy Gift to JFS today
ensuring that programs and services for those in need
will be here for generations to come.
---
Celebrate Your Simcha with a Mitzvah Beautifully Designed Bimah Baskets

We transport to and from your event.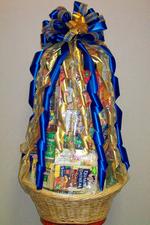 Your tax deductible donation directly supports our Emergency Assistance and Holocaust Survivor Programs.

Mazel Tov on Your Bar and Bat Mitzvahs!

Maxx Cohen
---
Quick Links
To support our work in the community, donate now.
---
Donate Your Unwanted Vehicle to JFS through the CARS program


Please call CARS at (877) Jfs-4-Cars or (877)537-4227

Proceeds from your donated vehicle directly support JFS programs and services.
---
Click here to visit JFS of Somerset, Hunterdon, and Warren Counties website and video.





Like us on Facebook.
---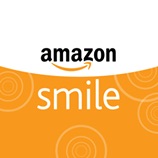 Sign up with Amazon Smile
and JFS benefits when you make a purchase
Click here to see how JFS Changes lives every day.
---
JFS Community Marketplace

Is someone you know having a special birthday, event, or celebration?

The JFS Community Marketplace is the place for you. Click here for more information.
---
Employers
Did you know that JFS can advertise your job openings to hundreds of job seekers at no cost to you.

Send job leads to eprezant@JewishFamilySvc.org.
---
Board Officers

President
Helaine Weisberg

Vice Presidents
Charles N. Singman, Ph.D
Walter Yosafat

Treasurer
Ronni Lederman

Recording Secretary
Bea Abrams, Ph.D

Board Members
Susan Anczarki
Ted Baker
Debby Feldman
Gary Gartenberg
Heidi Ginsberg
Joan Handel
Michael Kalison
Jill Lavitsky
Nancy L. Lee
Roxanne Levinston
Alexander M. Marcus, MD
Sharon Margulies
Wendy Offen
Gabrielle Walborsky
From the President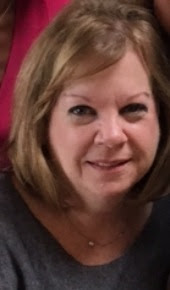 March certainly came in like a lion this year!!! Weather has affected almost everyone in my community in some way or another. Roads were closed, as were schools and businesses. Having no power or no internet, tv or phones has not been fun. Trees are still hanging, branches snapped, many fallen across streets and yards and I don't think most of us will see our grass until May!





But I have to keep in mind that we are safe and have so much to be thankful for and look forward too. Purim has come and gone and hopefully Haman has chased the storms away!!! Passover is now here and we are back into normal family mode, resuming our routines, enjoying our loved ones, eating too much matzoh and telling our children the stories about how our people once again made the best with what they had and how much we learn every day from their history.





That leads me to tell you about an upcoming event which we at JFS are so excited about. On Sunday, April 29th

, the community is invited to see the the award winning film, The Margaret Lambert Story. This film depicts a young woman, set out for stardom in the 1936 Olympics, as a high jumper from Germany. Come see what happens when the government finds out she is Jewish! Nina Meredith, the film's director, will be on hand to tell us more about Margaret, her journey and life. Join us for a wonderful brunch and the film from 10:30-1 at the JCC in Bridgewater.

For further information and reservations please call the JFS office at 908-725-7799

. Don't wait too long! You will not be disappointed!




This story once again reminds us about adversity and how our heritage has prevailed. Life is not easy and obstacles are put in our way all the time. What we do to resolve conflict and do the best with what we have is surely a lesson all of us can be reminded of.





Happy Spring!!





Helaine
---
JFS Spring Symposium
"Celebrating Achievement"
The Margaret Lambert Story
Sunday, April 29, 10:30-1:00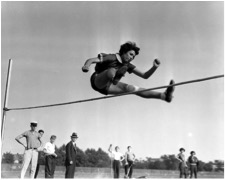 In 1936, German-Jewish track & field athlete, Margaret "Gretel" Bergmann, was barred from competing in the Olympic Games despite being considered amongst the best in Germany.

Nina Meredith award winning documentary Director of
The Margaret Lambert Story

will share her 23 minute internationally acclaimed documentary, along with her personal experiences as a track and field recruit, photographer and now, directing and producing shorts in "Foul Play," a series of documentary films on controversial topics in the world of sports and the Olympics. She will share her experiences with Margaret Lambert shortly before her death in 2017 at the age of 103.
Kosher luncheon
Shimon and Sara Birnbaum JCC
Bridgewater, NJ

Click here for more information and to register.
---
Sponsor Highlight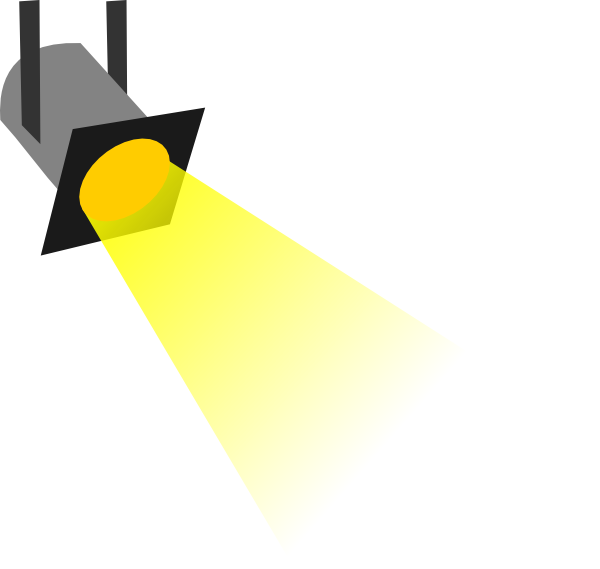 This Month We Highlight
Senior Helpers
Professionally trained caregivers to care for your loved ones at home. We can create a customized home care plan that changes as your loved one's needs change. Our care team has extensive training and experience in providing the right level of individual care and support, while carefully monitoring everything from medication to daily activities. Our Senior Gems® approach is about creating a positive environment that focuses on what they can do, not what they can't do. Call us today for a Free In-Home Assessment: 732 374-3444 or https://www.seniorhelpers.com/somerset/

Somerset Pediatric Group
CARING FOR CHILDREN IS NOT JUST OUR PROFESSION, IT IS OUR PASSION.
For over fifty years, Somerset Pediatric Group has been caring for children and young adults in our community. Our offices are conveniently located throughout the region and we offer extended hours, nights and weekends. At Somerset Pediatric Group, we're always ready and available to handle your questions and your child's medical needs. For more information, click here.

Advantage Promotions, LLC
Looking for promotional products? You've come to the right site. Whether you are looking for a specific item or just browsing for ideas, our site is your one-stop source. Make a lasting impression with your name on our products. http://www.advantagepromotions.com/

Preferred Pension Planning Corporation
Preferred Pension Planning Corporation is a qualified retirement plan administration firm dedicated to providing exceptional client service from a knowledgeable, well-informed staff. Our goal is to design the best possible retirement plans for our clients and facilitate smooth and efficient plan administration.
http://www.preferredpension.com/
To become a 2108 JFS sponsor please contact Jerry Starr at 908 725-7799 or jstarr@jewishfamilysvc.org
---
2018 JFS Sponsors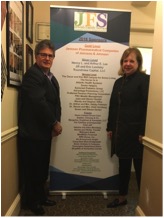 Wally Yosafat, JFS VP and Fundraising Chairperson and JFS President Helaine Weisberg get a first look at the new banner that will be displayed at allcommunity events recognizing 2018 Sponsors of JFS
---
Provident Bank Foundation
Supports JFS Senior Services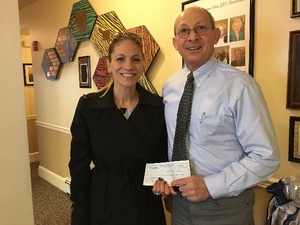 Vanda Ferreira representing the Provident Bank Foundation presents Jerry Starr with a check to support JFS Senior Services. These funds will be used to provide social work home visits to frail homebound older adults to offer supportive counseling, case management, community linkage and volunteer services that support older adults maintaining their independence and enhance their quality of life.
---
Jewish LIFE Special Event



Come Support our LGTBQ Community!
Presented by Pheonix Schneider

Wednesday, April 25, at 7:00 PM
Located at the Sarah and Shimon Birnbaum JCC



Learn what LGBTQ means, the broad spectrum of gender and sexual orientation, and how we can best support loved ones in their expressed identity.

This is the time for education and Q & A! The program is open to all.

Phoenix Schneider, MSW, is a trans activist and social worker who has worked in the nonprofit sector since 2000. Phoenix specializes in program development and direct services with the LGBTQ communities.

Fee: $10/Person. To register, call 908-725-6694.

Event co-sponsored by Jewish Family Service of Somerset, Hunterdon & Warren Counties.
---
Congratulation to Elise Prezant, JFS Career Counselor
Co-author of a chapter in RELAUNCH!
A new book about finding job satisfaction in mid-career and beyond.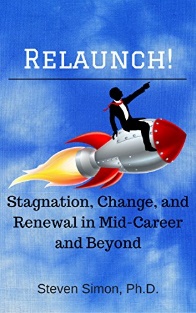 We congratulate Elise for being asked to contribute to this new book. Her expertise in the field of career counseling is a benefit to the entire community.
RELAUNCH! Stagnation, Change, and Renewal in Mid-Career and Beyond
(Mid-Career Change Book 2)
RELAUNCH! is about finding or renewing a sense of passion for a career or job. It's about the antidotes to stagnating in a job or career you don't love.
---
I Am Enough - Special Event
A program to help teens find self-esteem and acceptance cosponsored by JFS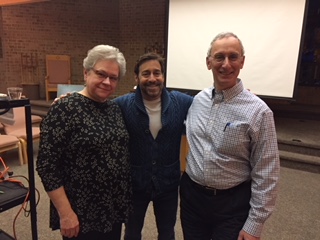 Nora and Jack Luftman, funders of the program "I am Enough: Helping Teens Feel Good about Themselves and Others" with Scott Fried, following his powerful presentation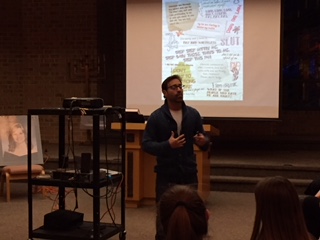 ---
JFS Partners with Local Farm to Provide Fresh Produce to Low Income Families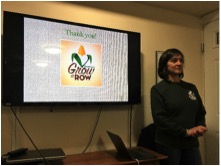 Connie Miller representing America's Grow-a-Row a local nonprofit farm makes a presentation to the JFS Board about their organization. JFS plans to arrange for volunteers to help harvest produce this summer for Grow-a-Row and a small portion of the harvest will be directed to families known to JFS who experience food insecurity and can benefit from fresh produce but can't afford it on their own.
---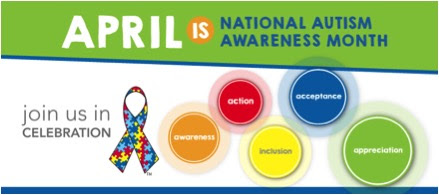 Nearly a quarter century ago, the Autism Society launched a nationwide effort to promote autism awareness, inclusion and self-determination for all, and assure that each person with ASD is provided the opportunity to achieve the highest possible quality of life. This year we want to go beyond simply promoting autism awareness to encouraging friends and collaborators to become partners in movement toward acceptance and appreciation.
The JFS Expanding Horizons Program offers a number of services aimed at helping individuals and families find support, reduce isolation, and enhance their quality of life.
Social Learning Group
A program for children & adolescents coping with Aspergers Syndrome, High Functioning Autism Spectrum Disorders and Other Social Skills Disorders
Parent Support Group
Peer Support for parents of children with special needs. An opportunity to come together, share experiences & explore the issues most important to participants.
Sibling Support Group
Peer Support for brothers and sisters of children with special needs. Meet other siblings who share similar experiences.
Adult Social Club
A group for young adults with Asperger's or other developmental challenges. Promoting opportunities to practice social skills in a supportive environment.

Counseling
To address stress, peer relationship and family issues or any other concerns
---
Volunteers Make a Difference in the Life of the Community
Please join with JFS to celebrate our community volunteers in recognition of
National Volunteer Month
April 2018
JFS thanks all of its volunteers, for the role they play in making the day brighter and better for our clients.
Our volunteers share their knowledge, life experience and compassion as mentors to families in distress.

They provide companionship to frail, isolated seniors seeking connections to the community as well as offer telephone reassurance, escort to medical appointments, sharing a special interest with a small group of seniors, assist the JFS community chaplain, go shopping -- be a Handyman -- offer to drive
&
Help to harvest fresh produce that is delivered directly to JFS clients in need of nutritious food and more….

If you're interested in becoming part of the JFS Volunteer
program, contact: Maris Chavenson at 908-725-7799 or
MarisC@JewishFamilySvc.Org
Or visit our website: www.JewishFamilySvc.Org
---
JFS Upcoming Events
"JOURNEY TOWARDS A NEW DAY"
Co-sponsored by JFS and the Community VNA
A 6 session program to help those grieving the loss of a loved one.
Contact Sharon Chesir, MSW, LSW at JFS 908 725-7799 or Melissa von der Heide, MA, LMFT at Community VNA 908 725-9355 x2230

Family Mentor/Senior Friendly Visitor Program is seeking new Volunteers
Volunteers visit 1-2 hours per week in the home of the family or senior with whom they are matched. For more information, or to volunteer, contact Maris Chavenson, LCSW or Young-In Shin at JFS 908 725-7799.

Social Club for Young Adults with Autism Spectrum Disorders or Developmental Disabilities
Monthly Meetings, Tuesday, 4:00-6:00pm
For info or to enroll contact JFS 908-725-7799

Cafe Europa, A Monthly Group for Holocaust Survivors
Wednesday, April 18, 2018 10:00 AM
For more information on Cafe Europa click here

Job Seeker Success Group
Wednesday, May 2, 2018 at 7 pm " The Truth about the Job Market and How to Obtain a Great Job: The perspective of a former insider" Presented by Allan Weisberg. Contact Elise Prezant at 908-725-7799 x108 to register or for more information.
Social Learning Group
Held at PeopleCare in Bridgewater
A 10-week program for youth ages 10-13, or 13-16, meets on Sundays, focuses on social, relationship and communication skills for youth struggling with peer relationships. Contact Jennifer Walters, LCSW at JFS 908-725-7799 for information.

Parent/Caregiver Support Group for the parents and/or caregivers of children with special needs. One Sunday afternoon a month. Please contact Jennifer Walters, LCSW at JFS at 908-725-7799 for more information.
Preschool Consultation for children with special needs. Staff training and consultation are also available. Please contact Jennifer Walters, LCSW at JFS at 908-725-7799 for more information.

Yearn2Learn, an interactive learning experience for retired persons
For more information on Y2L and upcoming programs , click here
---
Around the Community

Community Mission to Israel October 14-22, 2018
https://www.jfedshaw.org/mission2018

Community Wide Yom Ha'atzmaut Celebration
April 30, 2018
Want to help plan the biggest community event of the year? Join the Yom Ha'atzmaut Planning Committee for their first meeting of the year!

The Jewish Federation of Somerset, Hunterdon and Warren Counties is pleased to announce the establishment of a new Scholarship Program designed to promote attendance at overnight Jewish camp and Israel programs. For more information, please call Dan Fahrer at 908-758-2001 or email him at dfahrer@jfedshaw.org and he will be glad to assist you.

The Hopeful Heart
Support Strategy Workshops
Community workshop to encourage a thoughtful and supportive response to current events.
Click here for more information and to register.
To find out about local events in the Jewish Community please check out this link
Upcoming Jewish LIFE Events
The 2017-2018 Jewish LIFE brochure is available here.
Annual Community Wide Yom Hashoah Observance, Wednesday, April 11, 7 pm, Temple Sholom, Bridgewater. Guest Speaker will be George Blank, Community Leader. Reception to follow program. Free to the community.

Rachel Korazim, Israel Diaspora Relations – Changing Narrative, Thursday April 19, 7 pm (6:30 pizza for teens), Birnbaum JCC, Bridgewater. Rachel Korazim, visiting scholar from Israel, joins us for Yom Ha'atzmaut. Based on reflections on over 100 years of Jewish and Zionist history, this session will explore early images of Israel in the eyes of Diaspora Jews as well as images of the Diaspora in Israel. The proximity of the Shoa to the birth of the state of Israel had a lot to do with these images. We will explore possible new venues as Israel is now in its 70th year, and ready to explore more mature and age appropriate relations with Jewish communities overseas. Fee: $10 adults; free for teens. To register, call 908-725-6694.

iEngage 4 –Israel's Milestone and Their Meanings, begins April 19 with Rabbi Dan Selsberg at Temple Sholom, Bridgewater. To register for the 8 sessions, call Temple Sholom at 908-722-1339

Temple Beth-El Jewish Film Series Presents Transit, Thursday, April 19 at 7 pm, Temple Beth-El, Hillsborough. Transit explores the intersecting stories of Filipinos in Tel Aviv when a newly enacted law deporting the children of migrant workers looms over their lives. Janet, a domestic worker on an expired visa, struggles to hide her half-Israeli daughter, Yael – a rebellious teenager caught up in a juvenile romance. More vulnerable to the deportation law because he is under the age of five, is Janet's four-year old nephew, Joshua, whose father works during the week as a caregiver. The film examines what it means to be a family and what it means to be a stranger, within one's home and in a foreign land. Discussion to follow. Suggested donation $5/Person. To register, call 908-722-0674.

Community-Wide Yom Ha'atzmaut Celebration, Sunday, April 22, 3:30-6:30 pm at the JCC Camp Ruach Campgrounds (at the Birnbaum JCC), Bridgewater. Marking 70 Years of the State of Israel! Great Family event!
3:30 pm: The Maccabeats in Concert -- Premier a Capella!
6:00 pm: Francine Klagsbrun, Author of Lioness, Golda Meir and the Nation of Israel.
Throughout the afternoon…Music, Wine Tasting, Israeli Dancing, Mitzvah Project, Inflatables, Fire Pit and Pita Making, Local Synagogue Choirs, Israeli Vendors, Crafts, Mini Zip Line, Israeli Boot Camp, Israeli Style & Child Friendly Food available for purchase.
Free shuttle bus and additional parking provided at 685 Route 202/206, Bridgewater.
Fee: $10/Family. To register, call 908-725-6694.


---
JFS of Somerset, Hunterdon & Warren Counties
150-A West High Street
Somerville, NJ 08876 | 908-725-7799
Website: www.JewishFamilySvc.Org
Email: Admin@JewishFamilySvc.Org