Greetings Sharl!
So many great things are happening in the forest that it will be difficult to keep them all to one newsletter—but I'll try. It's been a wonderful summer so far and we still have August! Come out and enjoy the Forest at its most beautiful.

The Department of Conservation and Recreation (DCR) has been providing a huge host of programs in the Myles Standish State Forest and throughout the region this summer. Have a look at the DCR's Come Out and Play page.

Friends of Myles Standish State Forest (MSSF) Board Member John Bescherer is doing a great job running the Friends Meetup group (now at 523 members), adding to the activities list every week. If you haven't joined John and Friends for breakfast before a hike, you are missing out on good conversation, a rejuvenating walk along some of the loveliest trails in our area and a lot of fun. Visit the Friends of MSSF Meetup group and don't be shy about coming to the Meetups. We have new faces every time.

The Friends of MSSF board members are organizing volunteer opportunities to help the Forest. Trails need trimming and there is a huge outbreak of that terrible plant, spotted knapweed, that is threatening native vegetation and wildlife habitat. DCR and Friends of MSSF are joining forces to address these problems. For information about spotted knapweed and good choices for native plants for your garden that will support the pine barrens ecology, view or download our brochure, Invasive Plants Why They Must Go.

We are also working with DCR Forestry for permission to conduct our first pitch pine restoration project, thanks to Irina Kadis, who has been propagating native plants from seed with the permission of the NHESP.

Reminder: If you have questions about a plant, you can 'Ask the Expert'. Irina and Alexey Zinovjev will tell you about your plant. For in-depth information about native plants in Massachusetts, visit their website at Salicicola.com.

Melissa Guimont is planning a year-end bird box clean-up and cupcake social for sometime after the 2nd week of August for all of the volunteers who helped fledge at least 71 tree swallows, 4 chickadees, 12 bluebirds over this year (final counts are not in yet). We'll keep you posted.

I want to thank all of you who took the time to join or renew this year. Your membership is important to the health of the Forest and to the entire pine barrens region of southeastern Massachusetts. Together we are making a difference. If you've forgotten to renew or have been thinking of joining, please do it today. Membership information with a few incentives for joining is here.

We'll look forward to seeing you in the Forest.

Happy trails,
Sharl Heller, President
Friends of Myles Standish State Forest
---
Astronauts & Firemen & Bears & Stars, Oh My!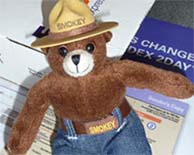 This little Smokey Bear has gone where no bear has gone before! On May 15, 2012, Smokey traveled aboard the Soyuz spacecraft with astronaut Joe Acaba and cosmonauts Gennady Padalka and Sergei Revin to the International Space Station.

Why is that important to us? Because Smokey from outer space is coming to MSSF to meet our Smokey and he wants to meet you too!

NASA, the U.S. Forest Service and DCR Forest Fire Control are working together to raise awareness in areas of common interest: wildfires, forest and plant growth research and materials science. MSSF is one of the locations across the country selected to host this special program.

You'll meet a real astronaut, a representative from the US Forest Service and both Smokeys. You can explore various activity centers, including, "Train Like an Astronaut," and when it gets dark, stargaze with the group. We'll bring the cookies. You bring the kids! As always, everything is free.
Astronauts & Firemen & Bears & Stars
MSSF Amphitheater
Wednesday, August 15, 6 PM to 10 PM
P.S. If you can volunteer to help with this event please contact friends@friendsmssf.com. We also need telescopes for sharing and people who know how to use them!

Read more about Smokey at the NASA Web site Smokey Bear Goes to Space
---
Erica Wheeler — A Sense of Place
A free concert for all ages at MSSF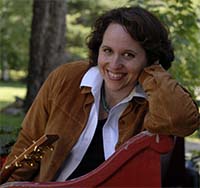 Erica Wheeler is an award winning singer/songwriter whose performances combine story, humor, history and a love of nature to connect local people to their own special place.
DCR, Wildlands Trust, Luna-C Arts, and Friends of MSSF are sponsoring this free concert to renew your "sense of place" and help you get in tune with nature.
Join us for an afternoon of music, inspiration, laughter and an optional guided hike. Children, teens and adults will enjoy this event. Bring blankets and a picnic lunch or dinner and stay the whole day.
You can even spend the night at one of the campgrounds in MSSF, if you like. Visit
Reserve America
to reserve a campsite or group camp with the
FMSSF Meetup.com
group!.
Erica Wheeler Concert
Saturday, August 18, 1 PM
Rain date: Sunday, August 19, 1 PM
MSSF Headquarters Amphitheater
---
Public Input Session on Proposed
Bike and Pedestrian Trails
The Old Colony Planning Council, as part of its ongoing Pedestrian and Bicycle Connectivity Study for the region, will be hosting a public input session at the Plymouth Public Library, Otto Fehlow Room. Residents from neighboring communities are most welcome.

A draft concept map of bike and pedestrian trail links being considered, and how those tie in to other regional bike paths in our south coast region is available here.

Your attendance and comments are welcome. If you can't attend, you may send your comments to Valerie Massard, Town Planner, at VMassard@townhall.plymouth.ma.us
Trails Input Session
Tuesday, July 31, 7 PM
Plymouth Public Library, Otto Fehlow Room
132 South Street, Plymouth
---
FMSSF/DCR 6th Annual Take Me Fishin'! Free Family Fishing Derby and Nature Event Needs You!
Planning for the ever popular FMSSF/DCR 6th Annual Take Me Fishin'! free, family fishing derby and nature event is underway. The fishing derby encourages healthy outdoor activities, sustainable recreation and a love of the Forest. It's also a great way to build community.

The event is free, accessible and open to all ages of children accompanied by an adult. DCR, Mass Wildlife, and Friends of MSSF provide everything you need for a great day of fishing and fun, including fishing poles, bait, fishing licenses, prizes, nature activities and more. Mass Wildlife even stocks the pond with trout!

Please volunteer a few hours on Saturday, September 29, between 9 AM and 3 PM, Fearing Pond, MSSF. We will find the right job for you. Help is needed for fishing support and a variety of nature related activities. Fishing derby prizes and raffle items are needed too.

Businesses that donate to Take Me Fishin'! become our partners and are listed on the FMSSF website, the Friends of MSSF Meetup.com group site, on our e-newsletters. They also and receive a lot of thanks for supporting FMSSF. If you can volunteer, have an item to donate, or can help with expenses, please contact us at friends@friendsmssf.com. Thank you!

View pictures from Take Me Fishin'! 2007-2011

---

To learn more about DCR facilities and programs, please visit
www.mass.gov/dcr
Find out what's happening in MSSF. Join us at Friends of Myles Standish State Forest Meetup Group at
---
See Something? Say Something!