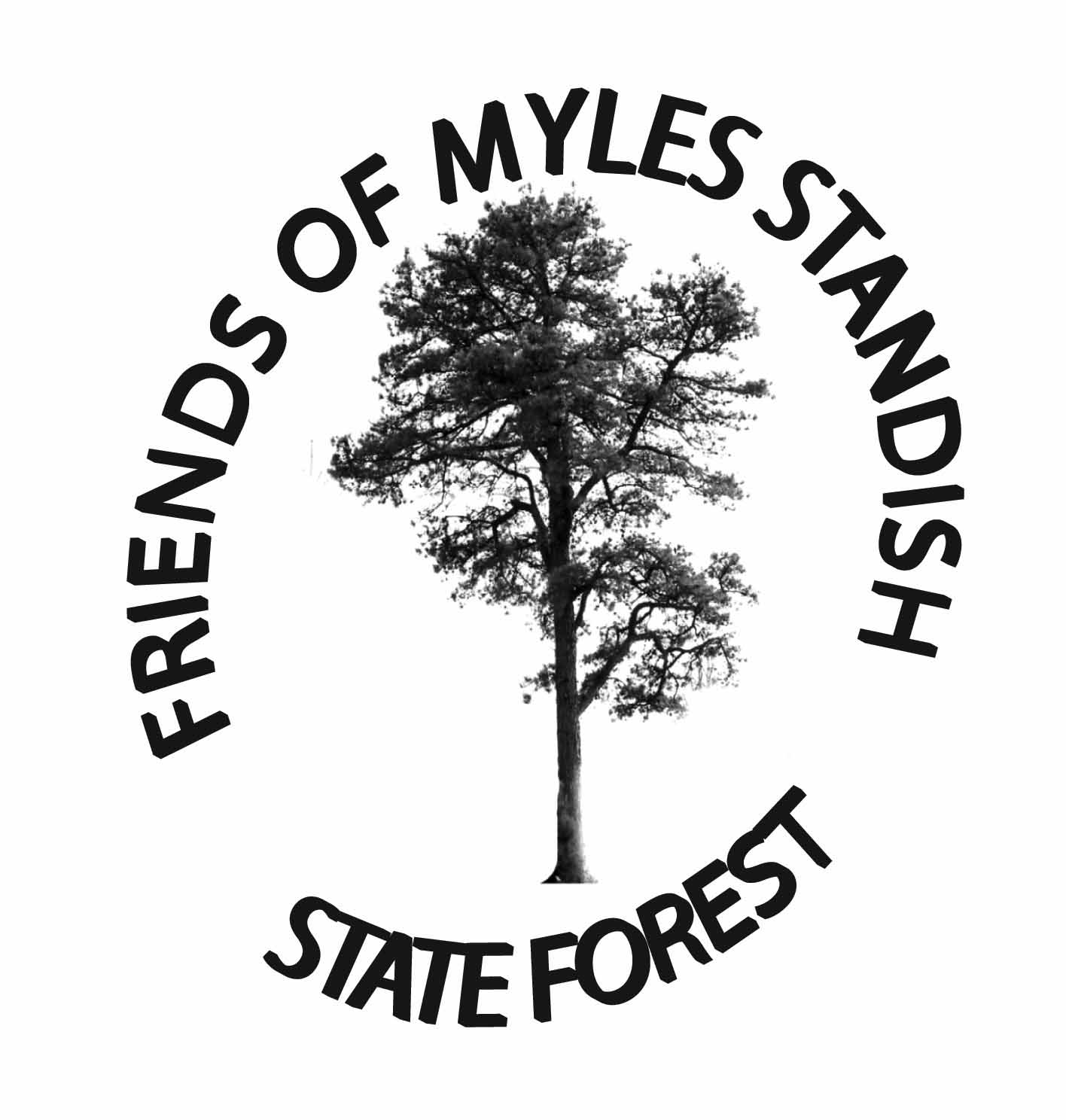 In This Issue
Hiking and Birding
Join the FMSSF Hiking & Birding Meetup Group
All hiking & birding enthusiasts welcome.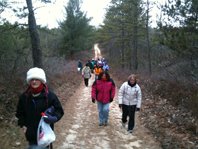 Friends hike Jan. 30, 2010.

Advantages to joining

the FMSSF hiking group

:
Friends provide guides and maps so you won't get lost

You walk with people you know

You walk with people you don't know

Your dogs will appreciate having other dogs to run with (if it's friendly)

Your children will see you are not the only adult who likes to play outside

Signing up actually encourages you to go outside.

You might meet the love of your life

It's fun

It's free.
FMSSF was formed by people who love Myles Standish State Forest and want to see it continue to provide recreation for a wide variety of recreational activities, but also want to see its natural beauty preserved and the creatures who live there protected.

We are now a non-profit 501(c)(3) charitable organization of volunteers. Every contribution and membership fee goes toward helping the forest. We are proud of our accomplishments and of the way we have always been supported by the great staff at MSSF. We invite all who value the forest to join us.

Friends enjoying a little excercise while doing something worthwhile.

FMSSF Volunteers:

support DCR staff
conduct work parties
host fun and informative events
help monitor & maintain trails
foster understanding of the unique and endangered pine barrens ecoregion
have a really good time doing something positive for the local environment and the world.

Call to Action - Forest Vision Comments Needed!

The MA Department of Conservation and Recreation (DCR) will present the Forest Futures Visioning Process (FFVP) Report—recommendations that will guide forest management in forests and parklands for many years to come. Your input is very important to Myles Standish State Forest and to every forest in the Commonwealth. DCR will collect input from the public at the forestry meeting in Taunton:

February 11, 2010, 5 p.m
Taunton Public Library
12 Pleasant Street, Taunton

If you can't make the forum, email your comments by February 22 to: MODRDCRFFVP@umb.edu

Find out what forest advocates are saying about the FFVP: Massachusetts Forest and Park Friends Network

Prescott Peninsula –Quabbin Reservoir Aerial View, January 27, 2010.

New forestry policy— 5-acre clear-cutting limits. Is this what you want MSSF to look like?

FMSSF Launches Pine Barrens Community Initiative


The FMSSF Pine Barrens Community Initiative (PBCI) Committee met on January 25, 2010, where a unanimous decision began the initiative. PBCI is a two-fold effort to promote the globally rare and endangered pine barrens of SE Massachusetts located in the Plymouth/Carver/Wareham area. First, the initiative strives to protect, restore and maintain the Myles Standish State Forest as a viable ecosystem. Second, the initiative seeks to engage the community in a regional effort to support pine barrens by encouraging property owners to foster indigenous plants and protect remaining pine barren areas.

The FMSSF has already reached out to other organizations in an effort to form the various partnerships needed to carry out this important mission, including: A. D. Makepeace, Inc.; DCR staff and DCR foresters; and The Nature Conservancy-Plymouth Pinelands. To find out more, or to become a part of this exciting intitiative email Sharl Heller at slheller@comcast.net.