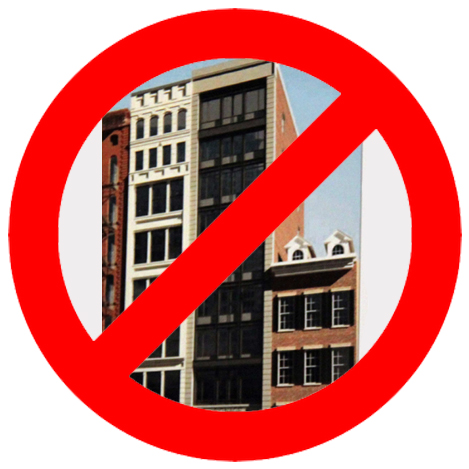 TO OUR FRIENDS AND NEIGHBORS,

We just learned the City Planning Commission has received the developer's application to construct an eight-story hotel at 27 East 4th Street, adjacent to the 1832 landmark Merchant's House.
The proposed hotel, at 100 feet tall, is in violation of the City's Zoning Resolution. The developer's application for a zoning text amendment

– "spot zoning" – would

in effect rewrite the law for a series of waivers that benefit the developer alone.

At eight stories, the proposed hotel towers over the 4 ½ story Merchant's House (completely blocking sunlight to our rear garden) and is grossly incompatible with the surrounding buildings and neighborhood in the Noho Historic District.

If the Planning Commission approves the application, the developer would be able to proceed – and our fragile, 186-year-old building would suffer catastrophic structural damage and likely collapse during construction.
The Merchant's House is fighting for its survival.

Mark your calendars!
Community Board 2 PUBLIC HEARING
Wednesday, April 11, 6:30 p.m.
NYU Silver Building, 32 Waverly Place, Room 520
It is VITAL that we fill the room with supporters. PLEASE attend!
The Merchant's House is New York City's only family home preserved intact, inside and out, from the 19th century. It is irreplaceable.

If the Merchant's House – Manhattan's first designated landmark in 1965 – can't be protected, NO New York City landmark will be safe from out-of-control private development.

Yours in struggle,




Margaret Halsey Gardiner
Executive Director