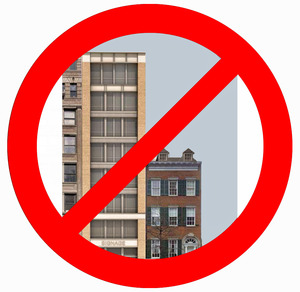 Community Board 2 Public Hearing
TOMORROW, Wednesday, April 11, 6:30 p.m.
NYU Silver Building, 32 Waverly Place,
Room 520
The City Planning Commission has received the developer's application for the spot zoning permits needed to begin construction of an eight-story hotel next door to the Merchant's House.

Construction would cause catastrophic structural damage to the 186-year-old Merchant's House. Click here for the full story.
Please attend the hearing. It is VITAL that we fill the room with supporters!
Here's what else you can do to help:
The Merchant's House Museum the city's only family home preserved intact, inside and out, from the 19th century. It is a vital – and irreplaceable – New York City cultural institution.

If the Merchant's House – Manhattan's first designated landmark in 1965 – can't be protected, NO New York City landmark will be safe from out-of-control private development.

Thank you for your support.