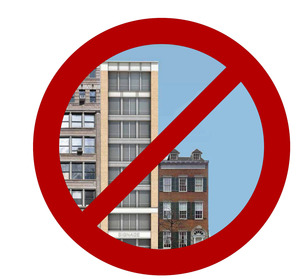 Fighting for Survival
As we reported earlier this week, the City Planning Commission has received the developer's application for the special permits (spot zoning to benefit the developer alone) needed to begin construction of an eight-story hotel next door to the Merchant's House.

Construction would cause catastrophic structural damage to the 186-year-old Merchant's House. Click here for the full story.



Here's what you can do to help:
Attend the Community Board 2 Public Hearing.


Wednesday, April 11, 6:30 p.m.


NYU Silver Building, 32 Waverly Place, Room 520

Write a letter to the City Planning Commission demanding they REJECT the developer's application. Visit www.gvshp.org/mhm for an easy, online form.

Donate to the MHM Legal Fund. Click here to give online.
The Merchant's House Museum the city's only family home preserved intact, inside and out, from the 19th century. It is a vital – and irreplaceable – New York City cultural institution.

If the Merchant's House – Manhattan's first designated landmark in 1965 – can't be protected, NO New York City landmark will be safe from out-of-control private development.

Thank you for your support.


And If You Need a Distraction (As Much As We Do)

Sunday, April 8, 12:30 p.m.
A Walking Tour of Historic 19th Century Noho
Join us for a journey back in time to the elite 'Bond Street area,' home to the Tredwells, who lived in the Merchant's House. You'll see how the neighborhood surrounding the Tredwells' home evolved from a refined and tranquil residential enclave into a busy commercial center. Visit important 19th century landmark buildings on this tour through 21st century NoHo. $15, Free for Members. Reservations recommended, click here to purchase tickets.

Friday, April 20, 6:30 p.m.
"April is the Cruellest Month" Candlelight Ghost Tour
Doors slam, floorboards creak, voices call into the dead of night. Venture into the shadows of history to see the house where eight family members died and hear true tales of inexplicable occurrences from the people who actually experienced them. $30, $20 Members. Reservations required; click here to purchase tickets.
Saturday, April 28, 10:30 a.m.
Behind-the-Ropes Insider's Tour: Changing Tastes in 19th Century Furniture
Join us for the last in a series of rare off-hours tours of the Merchant's House. On this tour, we'll discuss the finer points of the original Tredwell family collection of furniture and what it tells us about both the tastes and values of Antebellum New Yorkers. $30, $25 Members. Reservations required; click here to purchase tickets.