Hi there,
With Winter approaching, now is the time to incorporate PolyCom Stabilising Aid into your unsealed road program.
PolyCom creates a tighter pavement that makes your roads more resilient to the winter climate. Safer, stronger roads with less potholes and improved drivability.
Better still,
PolyCom treated roads require significantly less maintenance than untreated roads.
Kind regards,
Olivia and the Earthco Projects PolyCom team.
"If you want something you've never had, you have to do something you've never done"
On a recent job with a new council, we explained how PolyCom works in our pre start meeting.
The grader driver looked at a pack of PolyCom and said, "You want us to believe this 2 kg bottle will treat 100 tonnes of material?" This common question was answered several hours later when he stated that
unless
he had seen it with his own eyes he would not have
believed
it.
PolyCom is advanced by design with simplicity in mind - and that means a little bit of PolyCom goes a long, long way. In fact, we can transport enough product to treat many kilometres of road in the back of a car.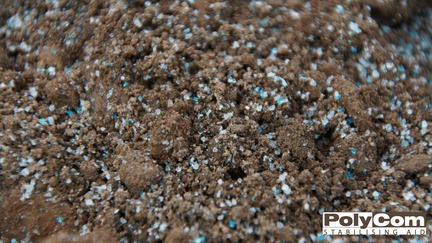 Image: PolyCom application at 150mm depth
PolyCom is applied to the existing road materials in granular form with a dry spreader attached to the back of a vehicle, and then blade mixed with a grader. Water is added (if needed) to achieve OMC.
That means in most cases you don't have to cart new gravel to site. You don't need to transport large quantities of product. You don't need to mix PolyCom in a water cart. And you can use your existing machinery to get the job done.
Best of all, PolyCom is OHS and environment compliant.
As the story goes, when the job was done, the crew were on board and looking forward to the next job with PolyCom.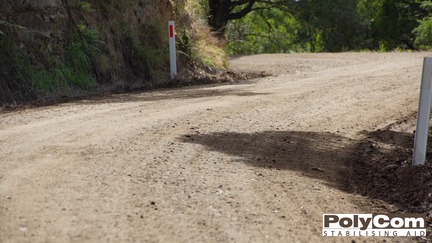 Image: Recover your roads without importing new materials
Recover your roads by incorporating PolyCom Stabilising Aid into your unsealed road program.
Would you like to collaborate
in our Ravel Test?*
Measure the performance of PolyCom on your unsealed roads, and keep track of financial savings, water savings and carbon emission reductions in collaboration with Earthco Projects. As always, all information collected remains the property of the Council unless otherwise authorised.
The Ravel Test program is customisable, and is simple and straightforward - just like PolyCom Stabilising Aid.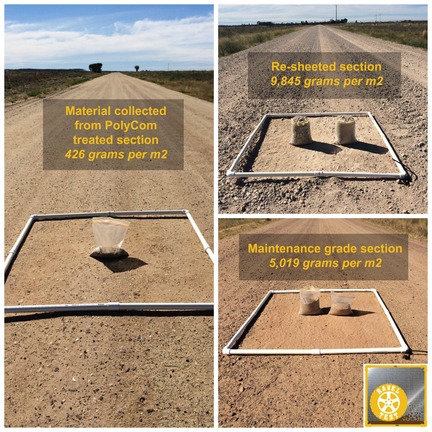 Image: Ravel Test - Material collected from PolyCom treated section allows Councils to compare maintenance methods and measure savings when collated.
*For PolyCom customers only