Hi Debi,

---
Share The Love With A Singing Valentine
Bay Area Showcase Chorus will be delivering Singing Valentines between 9:00 a.m. and 7:00 p.m. on Thursday, February 14, 2019.
A Valentine quartet will sing two songs to your friend or loved one at home, work, or care facility. Or you can choose a song delivered by phone! Order online at www.SingHarmony.org and send your special someone a valentine greeting they'll never forget!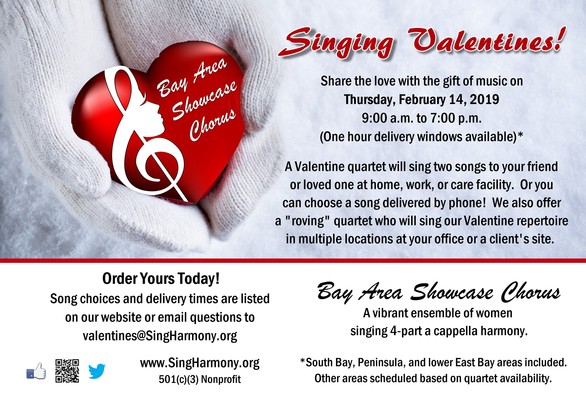 ---
Save the Date for A Cappella U This Fall!

Join us for our 6th annual a cappella workshop for young women ages 13 to 25. All vocal ranges welcome!
Saturday, October 5, 2019
8:30 a.m. to 5:00 p.m.
Stay tuned for details!
www.AcappellaU.org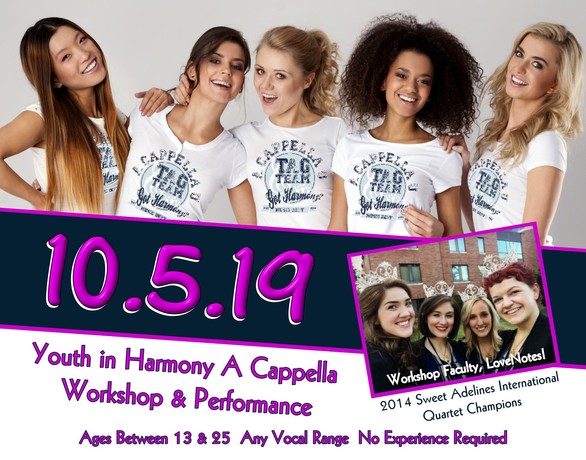 ---
Let Us Entertain You!
Did you know that the Bay Area Showcase Chorus has a number of groups, in varying sizes, that are available to entertain at your event? We provide a unique form of entertainment, sure to please all ages. Here are the performing groups available:
First and foremost, there is the
Bay Area Showcase Chorus
. We've entertained at arts and wine festivals, craft fairs, Harvest Festival, etc. Anyone can hire the full chorus, or a subset, to perform. To hire the chorus, contact
chorus@singharmony.org
.
Our
Quartets
are a fun way to provide entertainment for many functions. Our quartets have been known to perform for holiday parties, weddings, birthday parties, corporate functions, and as guest performers in area shows. There is a quartet with a style and repertoire to fit just about any occasion. To hire one of our quartets, contact
quartets@singharmony.org
.
Check out our
website
for more info.
---
Come To A Rehearsal
Our rehearsals are always open to the public. We meet on Thursday nights, from 7:15-10:00PM. Here's the link to our rehearsal info, but also check our Calendar for last minute changes.
Call 408-973-1555, visit our website, or email us for more info.
---
Support Us
The Bay Area Showcase Chorus is a non-profit charitable organization as described under the Internal Revenue Code, Section 501(c)(3). The chorus relies on donations to cover some of its expenses. Consider becoming one of our supporters with a tax-deductible contribution.
See our website for more information:
---