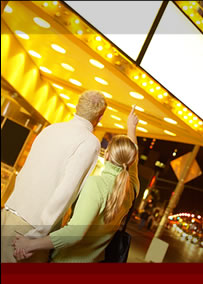 March 27th, 2013
Bay Area Showcase Chorus

Spring 2013 Update
Hi Bay Area Showcase Friend,
See what fun and exciting things have been happening for Bay Area Showcase Chorus and find out what is coming up soon...
---

---
Free Friends & Family Show, April 4, 2013

Please join us as we
Strut Our Stuff
! We're preparing for our
Outgoing Champs
package at the Pacific Shores, Region 12 Convention and Competition, which takes place in Reno in April. Also appearing will be two of our six competing Quartets
:

Canzonet
With a Twist
Hear our new songs and see our new look as we head to Regional competition in Reno
Thursday, April 4, 2013
8:00 p.m.
Church of the Valley
400 N. Winchester Blvd.
Santa Clara, CA
Light refreshments will be provided.
---
Our January "Be Our Guest" Program was a GREAT Success!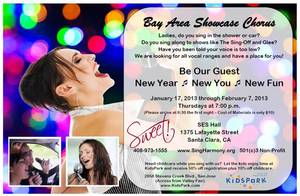 In January, we held our annual Guest Program, in conjunction with the Sweet Adelines International Global Open House event. Guests took part in a 4 week program with the option to join us on our Hearts & Harmony Show on February 9th. Our guest program helpers were hopping for the full 4 weeks! We had 41 women come thru our doors. Wow! About 20-25 of those women were able to attend most of the weekly sessions and some of those were available to join us on our show. We were thrilled with the response. And we call that a great
SUCCESS!!!

Most of our guests have already become members and several are in the process of becoming members.

If you missed out on this fun program, don't despair! You can join us at any rehearsal, just to watch and enjoy or to get up on the risers and sing right along with us. We are always looking for women who love to sing. And if you've been told your voice is too low, don't worry, we have a spot for you! We have places for all vocal ranges.

---
Hearts & Harmony Show
On February 9th, we held our Hearts & Harmony show at the IFES hall in Mountain View, CA.
We had delicious sweet and savory treats for our audience, as well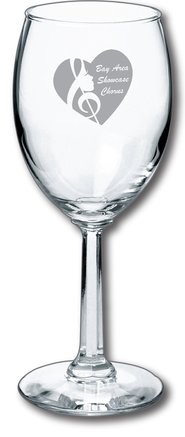 as a no-host bar. A new item for us was selling our own wine glasses with a complimentary pour.
The chorus performed some new material, as well as audience favorites. Also appearing were our
Daytimers
chorus, quartets
2 Mile Radius
and
Mystique
, as well as

Special Guest quartet,
The Crush
. These entertaining men were great sports and had fun with the chorus during our Beach Boys' Medley and then went on to wow the audience in their own fabulous set. Before the show, and during intermission, roaming quartets entertained smaller groups with Valentines songs.
We are planning to make this show a yearly event, so look for an announcement next year and don't miss it!
---
Singing Valentines

On February 14th, members of the chorus made the day extra

special for several unsuspecting people, via phone calls and in-person Singing Valentines. This is a program that we do every year, so be sure to check the website again in January, if you'd like to surprise someone you love! We also send Singing Holiday Cards in December, so watch for that program.
---
We're Headed to HAWAII!!!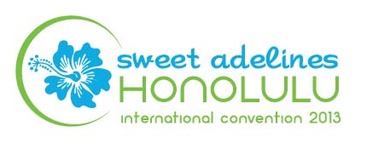 Bay Area Showcase Chorus, as the 2012 Region 12 Champions, will represent our region at the 2013 Sweet Adelines International Competition. Our upcoming Friends & Family show, performance at this year's Regional competition, many coaching sessions, Regional Pep Rally in September and a Send-off show in October, will be the some of the many things we do to prepare ourselves for the great honor of singing on the International stage. Watch our website for these upcoming events. And if you would like to be a supporter, helping us on our journey, see the Support Us info in this message or
see our website for more information:

---
Did You Know?
Did you know that the Bay Area Showcase Chorus has a number of groups, in varying sizes, that are available to entertain at your event? We provide a unique form of entertainment, sure to please all ages. Here are the performing groups available:
First and foremost, there is the
Bay Area Showcase Chorus
. We've entertained at arts and wine festivals, craft fairs, Harvest Festival, etc. Anyone can hire the full chorus, or a subset, to perform. To hire the chorus, contact
chorus@singharmony.org
.
The Daytimers
are a group of 14-18 members of our chorus who are available to entertain at daytime functions. If you would like to hire The Daytimers, contact
daytimers@singharmony.org
.
Our
Quartets
are a fun way to provide entertainment for many functions. Our quartets have been known to perform for holiday parties, weddings, birthday parties, corporate functions, and as guest performers in area shows. There is a quartet with a style and repertoire to fit just about any occasion. To hire one of our quartets, contact
quartets@singharmony.org
.
Check out our
website
for more info.