Albina du Boisrouvray, FXB International Founder and Honorary President, recently shared her thoughts on the importance of women's empowerment with the Huffington Post in celebration of International Women's Day on March 8.


"By investing in women, we are investing in global peace and security"


On International Women's Day, we celebrated around the world. The conversation turned to all that has been done and all that remains to be done to advance gender equality and women's empowerment. This is a conversation we can and should have - but we must first recognize that the critical goal of women's empowerment has been given short shrift in terms of what it really accomplishes.

As the founder of FXB, an organization with a 25-year history of successfully disrupting the cycle of extreme poverty in the developing world, my own experience has taught me that by investing in women, we are investing in global peace and security. And, by the same token, our failure to invest in women can have dire consequences for every global citizen - not just those on faraway continents.

Read more



The recent celebration of National Women and Girls HIV Awareness Day and the ongoing meetings of the UN Commission on the Status of Women remind us that we must continue to help women and girls who are fighting HIV/aids worldwide.




Funders Concerned About Aids Organization (FCAA) has just published a list of the world's top funders for AIDS-related programs focused on women and girls. With more than $3 million, FXB is ranked as the ninth largest global funders for its philanthropic support to women in addressing HIV/aids.


Read more


From learning to autonomy:
the FXBVillage program in Kamegeri brings positive results.

28 percent of families live in extreme poverty in Kamegeri.
HIV/aids prevalence is about 10 percent higher than the national average.


The FXBVillage Kamegeri ended in December 2014. The program simultaneously addressed the five drivers of extreme poverty: health, housing, education, nutrition and economic empowerment. It brought families to sustainable economic and social autonomy enabling them to protect and raise their children with dignity.

Over three years, the FXBVillage Kamegeri program has supported and propelled 79 households (509 individuals) toward self-sufficiency by providing them with an integrated and simultaneous package of health services, nutrition, education, social protection, legal support, sanitation, psychosocial services, financial skills and training to manage a business.

Discover the positive results of the FXBVillage Kamegeri

90 youth enrolled in three years (November 2013 – November 2016)
70 percent were females and 60 percent were orphans.
90 percent preferred to receive training in the office sector.
900 000 unfilled positions for skilled workers in South Africa. In 2013, FXB changed direction in South Africa launching a Vocational Training (VT) program to complement its After-School – Life Skills program in the outskirts of Johannesburg (i.e. Alexandra and Soweto Townships). The FXB VT program's 90 first young apprentices received theoretical and practical trainings in computer, office administration, data capturing, call centre, masonry, flooring and tiling, joinery and carpentry, tapestry and decoration. Apprentices were also trained to project management. At the end of the training, the participants were provided with assistance to find a job or start a micro company.

Read more (with Nthudiseng story)


The recent economic boom experienced in China has double-edged effects. As big cities are growing exponentially, communities still suffer from poverty. The Bu Tuo mountainous county, located in Liangshan (the Yi Autonomous Prefecture of Sichuan province) is a blatant example of such development. Bu Tuo has high rates of HIV/aids, drug and alcohol use. Local infrastructure is in bad condition. The alarming unemployment causes mass migrations to cities. The combination of these factors, among others, significantly increases the number of vulnerable children.

Currently, FXB is managing three FXBVillage programs serving 280 families (more than 750 children and 450 adults, mainly women). The results have been very encouraging and it is with great

enthusiasm that

we launch

this 8th

VillageFXB

program involving

80

vulnerable families

, mostly

led by women

.

Read more

National Girl Child Day marked
by consultations on child marriage


In honour of National Girl Child Day on January 24, a series of district level consultations was initiated to develop a national action plan to address the widespread practice of child marriage in India.


FXB's approach was to set up prevention measures with the stakeholders working for the protection of the girls. Among the issues tackled were the relevance of a legal framework to safeguard the respect of children's rights and the extension of free and compulsory school for girls up to the age of 18. Girls' abuse cases range from child marriage to child labour to missing children.

Read more


TESTIMONY




Abiba shares her story on FXBVillage Kamenge, Burundi

Burundi is the fifth poorest country in the world. Almost 70 percent of the population lives below the poverty line. In 2006, the first FXB programs were launched in the country allowing 4500 individuals including children to bring themselves out of poverty. 15000 people participated to FXB programs in their communities through various prevention and awareness activities. Here is one of the thousands of stories:



"My name is Abiba. I am 42 years old and I was born in Rumonge. With six children to support, we were living in highly precarious conditions. My husband and I could not afford to provide for our family anymore. Four of my children had to drop school because of such misery although it was the only way to equip them to face the future. We did not have any savings to buy soldering tools so that my husband might ply his trade of certified welder. This could get us nowhere, my children were in distress and our couple relationship under strain

"





Read Abiba's story


A donation of CHF 2905.- was generously made to FXB following the mass services in the parishes of Vex, Hérémence and Evolène on February 7-8. FXB warmly thank Father Vincent Lafargue as well as the pastoral teams in Evolène, Hérémence and Vex for their support.

A walk that can make children dream...

Mrs. Marie-France Maury from Vex (left) donated CHF 5000.- in favour of FXB represented by Mrs. Aline Albasini (right). With the support of 50 sponsors, she walked 600 miles from Lourdes to Santiago de Compostela starting on August 25, 2014 and completing her journey on October 12, 2014. She said it was the most rewarding human experience she had ever attempted as her efforts helped fulfil sick children dreams. FXB wishes a big thank you to Mrs. Maury for her generosity!

Last December, Borgeat Electricité SA, based in Sierre, replaced the tradition of giving Christmas gifts to its customers by donations to FXB Children's Dreams initiative. FXB thanks Borgeat Electricité SA for helping make sick children's dreams come true as they recover and work toward their health. If your company is interested in getting involved with the initiative, contact the FXB team to discuss.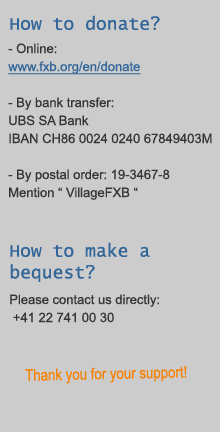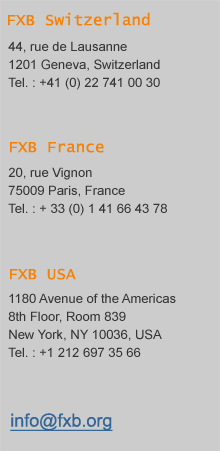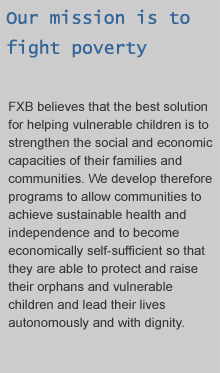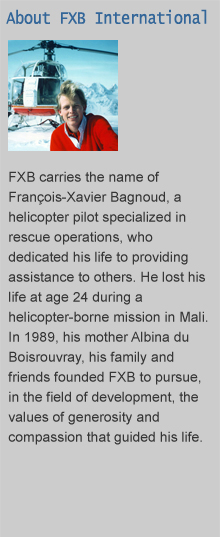 Visit FXB's website:
www.fxb.org

Like FXB on Facebook: www.facebook.com/FXBinternational

Follow FXB on Twitter:
@FXBIntl