The Challenge
Studies by the United Nations Development Program have shown the link between economic growth and human development, emphasizing that economic growth is critical to human development and must be maintained over the long-term.
According to the 2014 Global hunger index, level of hunger is still "extremely alarming" in Burundi despite the 4% average growth recorded in the country since 2010 (Group of the African Development Bank). This growth is not enough to ensure food security for all and a significant proportion of the population still suffer from malnutrition. Famine is not only caused by crop failures and food shortages. In many cases, the problem lies in unequal access to food, which occurs when people do not have the means to sustainably produce or purchase food.
So what can be done?
Bujumbura is part of the Imbo plain, an important rice production area in Burundi. It is a vast plain irrigated by the Rusizi River and the Tanganyika Lake. Because rice is a staple food in Burundi, the cultivation and sale are widespread, especially among low-income populations. Unfortunately, earning a profit is difficult for rice growers and sellers, as they face high production costs.
Rice must first be husked before being sold in local markets. In Buterere, where FXB implements two
FXBVillage
programs, the nearest hulling machine is located in Kinama, more than 20 minutes away. Being destitute, without any means of transport, our beneficiaries have to pay transporters or rent a car in order to make the rice ready for sale or consumption. In addition to the often-prohibitive travel costs, the scarcity of these machines drives up the expense of using them.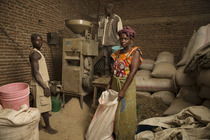 To overcome these barriers, FXB has purchased a rice huller located in Buterere, on the edge of the rice fields to optimize the production cycle: rice can be husked on site, where it is going to be eaten or sold, allowing rice growers to substantially increase their revenue by lowering their production costs. This project was made possible in October 2014 with the support of the Swiss Agency for Development and Cooperation in Burundi.
The rice huller benefits 200 families of the FXBVillage programs, as well another 1,000 people from the local community.
By extension, the entire industry and the community are beneficiaries of this project. Through the project, the position of a full-time huller operator was created. FXB saw profits from the huller generated as early as three months into its operation.
--------

FXB is seeking further support to fund two other
---
FXB International (FXB) is a non-governmental organization with a 26-year history of breaking the cycle of poverty. Present in 14 countries with a staff of 450 collaborators, its mission is to provide the poorest of the poor families with the tools and support they need to become self-sufficient, able to raise their children in safe environment and give them a future.
In the last 26 years, FXB International has already developed 165 FXBVillage programs across eight countries - Burundi, China, Colombia, DRC, India, Rwanda, Thailand and Uganda - helping more than 81'000 people out of extreme poverty. In addition to the FXBVillage programs, 17 million adults and children across 20 countries have benefited from the presence of FXB in their communities through sustainable community development, infrastructure rehabilitation, education, HIV/AIDS and other diseases prevention, awareness and access to water and sanitation programs.
FXB pursues a global approach to vulnerability reduction in several precarious regions of the world. We concentrate on the most forgotten communities, the truly unheard. FXB strongly believes that improving human and social development levels is inextricably linked with the access to all basic human, child and health rights.