The Challenge
In 2015, the World Health Organization (WHO) estimates that over 350 million people worldwide suffer from depression. It differs from mood swings and temporary emotional reactions facing everyday problems. It is characterized by an inexplicable sadness, loss of pleasure in daily activities, loss of appetite, libido and sleep disorders, fatigue, feelings of worthlessness and guilt, difficulty concentrating. Depression can exert enormous control over a person's life putting both their professional and personal relationships at risk.
Most importantly, depression does not recognize borders and affects people from all countries across the world.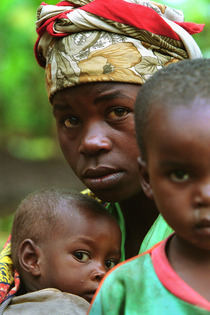 According to a 2009 study by the Canadian Institute for Health Information (CIHI), individuals living in poverty are more likely to be hospitalized for depression than wealthy individuals.
Several hypotheses have been put forward to explain this difference. Among these, social support appears to play an important role. According to Jean Caron, in charge of the Canadian Chair in Epidemiology of Mental Health at the Douglas Institute, "people living in poverty who have social support and a close network of friends which is similar to wealthy people's, have a comparable prevalence of depression."
In Uganda, where we are conducting three FXBVillage programs, researchers from the New York State Psychiatric Institute and Columbia University - authors of a community survey conducted in 2000 in a part of southwestern Uganda – estimate that 21% of the population of this region suffer from major depression in particular because of poverty and HIV.
So what can be done?
Effective treatments to fight against this disease exist: patients generally respond well to antidepressants and psychotherapy. However, in Uganda, the high cost of medication and the lack of physicians make the use of antidepressants unfeasible.
FXB recognizes the critical importance of psychosocial support, which is why it is a pillar of all our programs, including the FXBVillage methodology. Extreme poverty not only cripples a person economically, it causes extreme emotional suffering as well. Currently in Uganda, FXB works with StrongMinds, an NGO that treats depression on a large scale in this country, using the proven treatment of Group interpersonal psychotherapy (GIP). This method was chosen because it manages relationship problems, deficit of social network or social isolation, in a limited time, with group discussions.
The protocols developed by the NGO bring excellent results : at the end of treatment, 75 % of patients who are treated for depression show a significant reduction in symptoms and do not experience a recurrence up to six months after the program's end. Generally, the functional capabilities of women are improving: they are able to take care of their families and of itself; they can focus on gainful employment and have regained confidence.
Over the last 18 months, more than 1,500 women who were treated in Kampala and its suburbs.
---
FXB International (FXB) is a non-governmental organization with a 26-year history of breaking the cycle of poverty. Present in 14 countries with a staff of 450 collaborators, its mission is to provide the poorest of the poor families with the tools and support they need to become self-sufficient, able to raise their children in safe environment and give them a future.
In the last 26 years, FXB International has already developed 165 FXBVillage programs across eight countries - Burundi, China, Colombia, DRC, India, Rwanda, Thailand and Uganda - helping more than 81'000 people out of extreme poverty. In addition to the FXBVillage programs, 17 million adults and children across 20 countries have benefited from the presence of FXB in their communities through sustainable community development, infrastructure rehabilitation, education, HIV/AIDS and other diseases prevention, awareness and access to water and sanitation programs.
FXB pursues a global approach to vulnerability reduction in several precarious regions of the world. We concentrate on the most forgotten communities, the truly unheard. FXB strongly believes that improving human and social development levels is inextricably linked with the access to all basic human, child and health rights.