On October 24th, Workplace Essential Skills Program (WESP) played host to a very unique event, an employment fair focused on the 4 equity groups (aboriginals, persons with disabilities, visible minorities and women). We were joined by 15 employers and approximately 350 job-seekers.
The event was held at The 519 Church Street Community Centre, located in downtown Toronto.
Abbott Canada, Accenture, Air Canada, BMO, Connect For The Best, Goodwill, Hewlett-Packard, Jean Machine, Ryerson University, Starwood Hotels & resorts, TD Insurance, Telus, Thomson Reuters and United Way Toronto were our featured employers.
The response from employ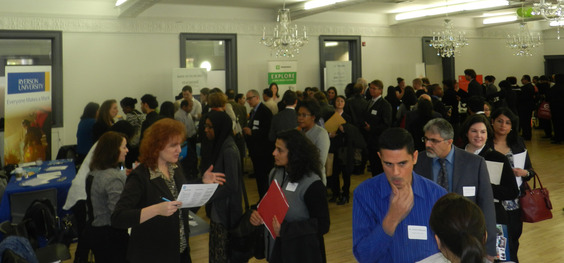 ers and job-seekers was very encouraging with employers mentioning the calibre of attendee and job-seekers stating the number of first-rate employers that they got the opportunity to meet in an unrushed face-to-face manner.
The fair was also unique in that it allotted 4-45 minute sessions in which attendees got the opportunity to speak with diversity managers, hiring managers and, of course, HR professionals.
The day after the diversity fair, we sent out a survey to both employers and attendees. There were many good suggestions made and a lot of thought as to what would help make the fair an even better success the next time out.
The one point that everyone agreed upon was the excellent job that our volunteers did in directing traffic and helping make connections between employers and employees. A big "Thank You" to each and every one of you.
The consensus would seem to indicate that we should host another employment fair as soon as possible so please keep your ear to the ground as we will have more news in the not too distant future.
For more information about WESP please visit www.ccrw.org/wesp