Please feel free to share this newsletter with friends and colleagues - spread the word, hire persons with disabilities!


---
Career Builder Supports CCRW OWIP Clients Access the Online Job Market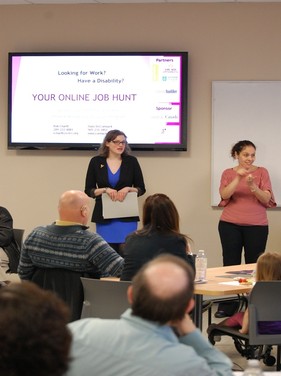 On May 2nd Tanya Fernandes of
Career Builder
facilitated a workshop on successfully navigating your online job search for clients and community members.
This was a multi-partnered event delivered at the Pickering Learning Site. Presented by CCRW this event would not have been possible without the support of
Durham College
,
Centennial College
, the
Canadian Hearing Society (CHS)
, and importantly Tanya from Career Builder. CHS provided support to our mutual clients in offering interpretation services. While Durham College and Centennial College supported our event by providing the space as well as participating and promoting this initiative with their community partners and stakeholders.
Clients were provided opportunities to improve upon their knowledge, skills and abilities and understand how to successful navigate the online job search with an emphasis on important topics such as building your online brand, resume development for the online market, and the importance of key words.
We look forward to partnering in the future as we all work to support persons with disabilities in our community find meaningful and equitable employment.
CCRW believes in partnership and if you are located in Durham Region and would like to work with us we would love to hear from you. Partnerships increase the awareness of community resources and supports our collective programs and services enable job seekers to meet their job goals and needs quickly.
For more information click here
---
What Puja has to say about OWIP


"I'd like to share my experiences with how The CCRW helped me. After graduating in December 2011, 2012 proved to be a challenging year as a new graduate. Working in a few positions completely unrelated to my degree, just to earn an income was not where I thought I would be.

I was introduced to the CCRW January 2013 and words really cannot describe how grateful I am for their services.

Elly helped me gain the confidence that I lacked by working on developing my Cover Letter, Resume, conducting mock interviews, providing me with websites and tips on how to conduct a thorough job search and helping me focus in on organizations that I saw as career opportunities.

The next step was working on getting myself out there and getting interviews. Having Nancy there every step of the way, forwarding my resumes out, providing me with networking opportunities and connections, and doing everything she could to get me interviews with organizations I wanted to work for. Her hard work and dedication in caring about what I wanted is the reason that I landed a position with a company I love.

I could not be happier with how things have turned out. I now work for a hotel merchandising company as a copyrighter that has enormous growth opportunities, is in my field of Hospitality and Tourism, and allows me to go into work with a smile on my face because I am excited to be there and love what I do.

Having Elly and Nancy's support and help every step of the way was more than I could have ever imagined any organization would do for an unemployed graduate. They take the time and put in the effort to truly go above and beyond and be there for you.

To new graduates entering the workforce and realizing how difficult it is to land an entry level position in a field your passionate about, I strongly encourage you to contact the CCRW and see for yourselves what they will do for you."

The CCRW Ontario Workplace Inclusion Program (OWIP) supports job seekers with disabilities in the Durham Region find employment. Funded in part by the Government of Canada's Opportunities fund, OWIP recently opened its doors in January 2013. We support job seekers with disabilities on an individualized basis as well as provide workshops and career development opportunities. OWIP Eligibility:
• A person with a disability motivated to find work!
• Unemployed or working less than 20 hours per week
• Not eligible for assistance under Employment Insurance (EI) benefits.
• Legally entitled to work in Canada Access your potential with OWIP.
For more information click here
---
Accenture Visits WESP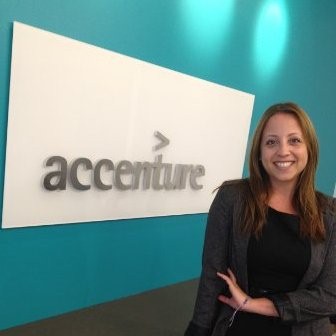 Earlier this year the WESP program was pleased to introduce Melissa Larson, Campus & Diversity Recruiting Lead for Accenture to our facility to showcase Accenture's informative and interactive 'Managing Your Online Brand' presentation.
Accenture is a global management consulting, technology services and outsourcing company, with approximately 261,000 people serving clients in more than 120 countries. Combining unparalleled experience, comprehensive capabilities across all industries and business functions, and extensive research on the world's most successful companies, Accenture collaborates with clients to help them become high-performance businesses and governments.
Melissa's presentation focused on the increasing importance of understanding the value behind building your personal online brand. Many HR professionals are turning towards social media as part of a screening tool, and Melissa shared tips on what recruiters are looking for in candidates, and how to improve your LinkedIn, Facebook, and Twitter accounts to best reflect your skills and experiences, giving the job seeker a competitive edge when hunting for their next opportunity.
For more information on Accenture please visit their website at
www.accenture.com
or 1-877-889-9009
For more information on WESP please visit our website at www.ccrw.org/wesp or contact us at 416-486-2500 ext. 8605


---
Tearing Down Attitudinal Barriers While Building Relationships
Part 2 of a 3-part series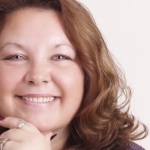 By Trish Robichaud of
www.ChangingPaces.com
5-Point Plan for Addressing Attitudinal Barriers
In part 1 of this 3-part series, I talked about point #1 of my 5-Point Plan, "Keep an Open Mind". To me that means gathering the facts before forming an opinion about something or someone. And even then, being willing to reconsider if new information comes along at a later point.
While it's not easy to maintain that level of objectivity all the time, its well worth the effort in terms of the relationship building that it supports. Being open-minded also requires a certain amount of trust, but it also breeds trust, which again, contributes to positive relationships.
2. Practice Active Listening
You know how sometimes you may be listening to someone but you're also thinking about what you're going to say next or what you've got planned for tomorrow? Well, that's NOT active listening. :) Granted, the brain does have a phenomenal capacity for multi-tasking but relationships require far more attention than whatever's left over as you prepare for tomorrow's meeting in your head. I'd call that attitudinal barrier "indifference".

Listening is fundamentally important for effective communication and healthy relationships. Passive listening on the one hand is when you're "hearing" someone speak but you're not fully present, your mind is somewhere else. Active listening on the other hand requires you to be fully attentive, really hearing and responding to the speaker in a way that demonstrates that you are fully present in the conversation. This level of communication validates the speaker and again, helps to build relationships.

Four key components to active listening are:
• Noticing non-verbal messages, body language
• Giving your full attention with NO distractions
• Responding to the speaker, providing validation
• Providing relevant feedback to the speaker


3. Respect Individuality
People often make generalizations about things they don't understand. The same is true about groups of people. The problem is that when we don't really know what people are like, it's easy to make guesses, fill in the blanks, or make assumptions about "them" based on incomplete or inaccurate information.

But when we take the time to get to know someone, we begin to see their individuality, their unique abilities & characteristics. Like anyone else, people with disabilities have feelings, passions, challenges, talents, frustrations and faults. We also have a number of roles such as parent, sibling, friend, work colleague or club member.

Just as each and every person without a disability is an individual, so too of course is the case for people with disabilities. More to the point, you cannot assume that all people who live with a particular type of disability share the same abilities, perspective, obstacles, interests or general attitude.

Everyone is different. And as such, every accommodation plan will be different. Expect and respect individuality - what works for one person may not work for another. An employee with a disability who has lived with the condition for years is the best person to tell you how they can be accommodated.

In addition, it's always a good idea to bring in an Occupational Therapist to provide their professional recommendations when developing an accommodation plan in consultation with the employee.


Next time I'll cover the last two points in my
5-Point Plan for Addressing Attitudinal Barriers
. Please watch for my piece on the solid value in being flexible and the foundation for resolving all relationship-based issues.
Trish Robichaud is a multiple award winning Motivational Speaker, Disability Awareness Coach, Life & Business Coach who runs multiple businesses while living with multiple disabilities. She teaches people living with disability how to honour and accommodate their disability while striving for optimal health, work/life balance & entrepreneurial success. Find her on the web at www.ChangingPaces.com. She is also co-founder of www.MSrelief.com.


---
2011 Employment Equity Act Report


---