CCRW-JAS® Presents at Conference


On Friday, November 2, 2012,
CCRW's Job Accommodation Service (JAS)®
presented at the Vocational Rehabilitation Association of Canada's annual conference. The theme of the conference was
Solutions for Success: Understanding the Complexities of Mental Health and Vocational Rehabilitation.
Emily Jooste and Lisa Ly, both Job Accommodation Specialists with JAS®, prepared a presentation titled:
Leading the way to a Barrier-Free Workplace.
Their presentation discussed the essentials of workplace accommodations, what the 'Duty to Accommodate' entails, as well as some of the misconceptions around accommodations. Attendees were provided with ideas for best practices in accommodating employees with disabilities that facilitates full inclusion. Additionally, JAS® case examples were discussed to illustrate the successes and challenges and demonstrate what accommodation is in practice.
Learning objectives included the following:
• Exploring how the Duty to Accommodate is applied in addressing mental health disabilities in the workplace
• Viable solutions and best practices to accommodate persons with mental health disabilities, as well as addressing the do's and don'ts, and how best to approach situations from an employee and employer perspective
• Learning, through JAS® case examples, successful accommodation strategies and ideas

The CCRW-JAS® team is very knowledgeable in the field of job accommodations and the area of the Duty to Accommodate. Each team member is highly devoted to ensuring equitable and barrier-free environments through the use of workplace accommodations.
If your organization is interested in similar presentations, please contact Nayla Farah, Director of the Job Accommodation Service at 1 800 664 0925 ext 224 or via email at
nfarah@ccrw.org
Anne Sowden Returns to WESP



In September, the WESP program received another lasting impression of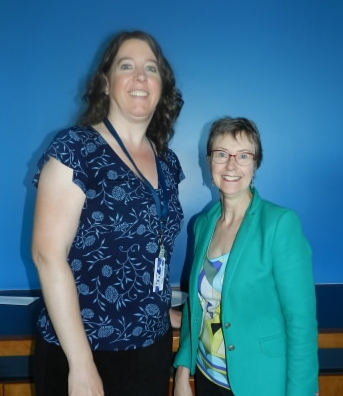 returning presenter, Anne Sowden, AICI, CIP, one of Toronto's top Professional Image Consultants. Anne is a successful entrepreneur with an extensive business background who launched
Here's Looking at You Image Consulting
in Toronto.
Anne spent the morning with our WESP clients discussing how to put forth a professional image when seeking employment, as it takes only seconds to create a good first impression. As well as how to dress for success, Anne presented on how to be professional in one's attitude, verbal and written communications, primping, and mannerisms.
Thank you very much, Anne, for your wonderful presentation, and we look forward to your future WESP presentations!
To learn more about Anne Sowden and Here's Looking at You Image Consulting, please visit
www.imageconsulting.ca.
To learn more about WESP's upcoming programs and services, please visit www.ccrw.org/wesp.
Seeking Accommodations at Work? May Have to Address Attitudinal Barriers First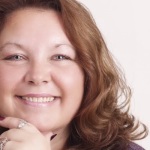 Attitudinal barriers are best addressed with education and relationship building. Of course getting an organization to pay for facilitated education can be like pulling teeth. Another option is to deliver bite-sized bits of education one-on-one in your workplace so as not to overwhelm and drive people away. I've found that there are 4 primary components we must bring to the table to in order to change perspectives, break down barriers and foster an attitude of accommodation in the workplace.
1 - CLARITY
We must be willing to seek & find our own solutions (perhaps with the support of an Occupational Therapist) and bring clarity to the table. If a situation isn't working for me and all I do is point out that it's not working, I'm not only conveying confusion to my listener (because it works for everyone else) but I'm also not going to be well-received.
On the other hand, if I propose a solution framed in a statement like "this change to my work routine would really help me to increase my productivity" people are going to be more receptive. Focus on what will work as opposed to focusing on what doesn't work now.


2 - CONFIDENCE
Approach the subject with confidence; being firm, standing behind the proposal for accommodation. Position the accommodation strategy as a positive move, pointing out benefits to the company and even any benefits that other employees may experience as well as a result.
If your approach is "pleading" or "apologetic", conveying desperation, indignation or frustration, the listener will shut down and not be open to considering my proposal. Be informed, be unemotional but above all be confident.


3 - CONSIDERATION
While as a person with a disability we know full well that receiving the accommodation we're requesting should be our right, people not experienced with disability may not understand our needs or even the concept that accommodations do not give us an advantage, but rather a level playing field.
Not only do I NEED them to understand my needs, speaking honestly, I really also WANT them to understand my needs. Further, I want them to WANT to understand my needs. Just as give and take in any relationship must be bi-directional for that relationship to be effective and healthy, so is the case with relationships with employers.
Be willing to listen to and consider the challenges that they face when presented with the fiscal or social realities that may result from providing those accommodations that we require. That's not to say let them off the hook mind you, but be willing to exchange considerations and perhaps compromise if possible.


4 - CONFIRMATION
If after diligent efforts at self-advocacy one does get the accommodation that was needed (or some part there of), it's important to provide confirmation to the employer that the action taken was beneficial.
If you can find a way to document the improvement in your effectiveness or productivity that will go a long way in providing confirmation to your employer that providing that accommodation was the right thing to do.
Actions may speak louder than words but words underlining action can cement the employer's perspective that accommodations do indeed work, not only to the benefit of people with disabilities but also to the benefit of the company as well.


The bottom line and the essential element in each of these components is effective COMMUNICATION. It's the magic elixir in all healthy relationships, in love, in life, AND at work.

Trish Robichaud is a multiple award winning Motivational Speaker, Disability Awareness Coach, Life & Business Coach who lives with multiple sclerosis and major depression. She is a woman with a disability but she is NOT a disabled woman.

Trish teaches people living with disability how to honour and accommodate their health while striving for optimal health, work/life balance & entrepreneurial success.

WESP Fall 2012 Open House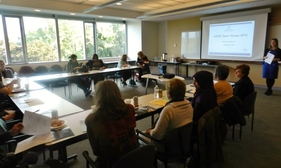 In September, the Workplace Essential Skills Partnership (WESP) was very pleased to welcome caseworkers from the City of Toronto, Ontario Disability Support Program, and Ontario Works to our Fall 2012 Open House.

WESP staff were on hand to answer questions from over 25 caseworkers while providing a broad overview of WESP's programs and services. The Open House would not have been complete without a networking meet-and-greet breakfast as well as a tour of WESP's workshop facilities.

We at WESP would like to thank everyone for attending this incredibly successful event and we look forward to staying in touch!

For more information on upcoming WESP programs and workshops please visit www.ccrw.org/wesp .
International Day of Persons with Disabilities

December 3, 2012

This year's theme is:
Removing Barriers to create an inclusive and accessible society for all.



Over one billion people, or approximately 15 per cent of the world's population, live with some form of disability.
Persons with disabilities, "the world's largest minority", often face barriers to participation in all aspects of society. Barriers can take a variety of forms, including those relating to the physical environment or to information and communications technology, or those resulting from legislation or policy, or from societal attitudes or descrimination. The result is that persons with disabilities do not have equal access to society or services, including education, employment, health care, transportation, political participation or justice.
Evidence and experience shows that when barriers to their inclusion are removed and persons with disabilities are empowered to participate fully in societal life, their entire community benefits. Barriers faced by persons with disabilities are, therefore, a detriment to society as a whole, and accessibility is necessary to achieve progress and development for all.
The commemoration of International Day of Persons with disabilities in 2012 provides an opportunity to address this exclusion by focusing on promoting accessibility and removing all types of barriers in society.
CCRW will be publishing a special edition of Ability & Enterprise on December 3, 2012 to commemorate this important day.
Check out your local governments and disability agencies to see what events are happening in your area.
For more information on the International Day of Persons with Disabilities go to
United Nations enable
To share your stories of how you celebrated this day, send us an email at
info@ccrw.org.
Membership in CCRW


Our mission is to promote and support meaningful and equitable employment of persons with disabilities.
Our vision is to create a Canada where all persons with disabilities have equal employment opportunity.
We offer information, education, training and Internet-based services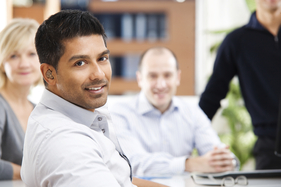 supporting the employment of persons with disabilities. We identify barriers to employment and provide solutions. We encourage all stakeholders (employers, persons with disabilities, governments, rehabilitation professionals, labour leaders and educators) to work together on the development of standards, policies and practices.
We provide leadership in programs and services for job seekers with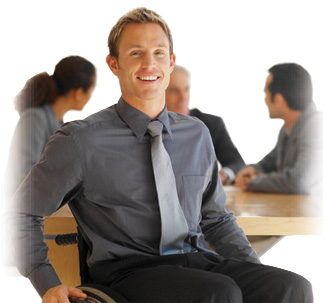 disabilities and businesses committed to equity and inclusion. We are a comprehensive information source for disability and employment resources, CCRW works with businesses of all sizes in all industries.
Becoming a member of CCRW not only gives you discounts for our programs, services and events and access to our "Tip of the Month" e-newsletter, but it also shows you support the employment of persons with disabilities while spreading the message of inclusion and equity. We have several different levels of membership from Student to Corporate.

Please consider becoming a member today.
For more information, please contact Maxima Kagoo at
mkagoo@ccrw.org
(1 800 664 0925 ext 226).
For more information about membership, please see out web site www.ccrw.org
Check us out
on Facebook!