Please feel free to share this newsletter with friends and colleagues - spread the word, hire persons with disabilities!


---
AMI Blindsighted Features WESP

Congratulations WESP!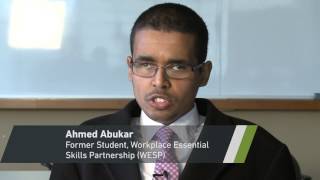 The participants and staff of the Workplace Essential Skills Partnership (WESP) were please when Kelly McDonald from AMI agreed to do a piece on WESP for his program "Blindsighted". You can view the video on YouTube:
https://www.youtube.com/watch?v=f3JpQ_T6b8w&feature=youtu.be
Accessible Media Inc. (AMI) is a not-for-profit multimedia organization operating two broadcast services: AMI-audio and AMI-tv, and a website (
AMI.ca
). A third broadcast service, AMI-télé, will launch in early 2015. Serving more than five million Canadians who are blind, partially sighted, deaf, hard of hearing, mobility or print restricted, AMI's mission is to make accessible media for all Canadians.
For more information on WESP please visit our website http://www.ccrw.org/WESP/
---
OWIP Success with the Pickering Public Library
OWIP Client starts her career at Pickering Public Library

An OWIP client, a current student in the Digital Media Arts program at OCAD University came to CCRW's Ontario Workplace Inclusion Program for some information regarding job searching. She identifies as a person with a disability, as she is deaf and lip reads. She was looking for a summer employment, but was open to opportunities that related to any one of the many interests she had. However, all interests had a common theme: reading.

Her tenacity for learning and the arts was astounding. "I like to go to the library every other day to check out new books to read. It's part of my routine because of my love for reading". Armed with this information and passion for the Pickering Public Library, the Job Developer connected with the Pickering Public Library to present her for the role of Page.
"I saw that there might be a potential fit, and I am delighted that she now begins her career path with such an inclusive and great place to work." Job Developer, Nancy Cyros.
Our client, armed with a freshly designed resume and her beaming smile, went to meet with Tanya Sinclair, HR Manager, and the Circulation Desk Manager at the Pickering Public Library. Her accommodation request for the meeting and when on the job was simple yet impactful: direct eye contact for her to read lips and clear articulation of words. She interviewed well and was offered the role of Page. During her onboarding, Managers and co-workers were informed to accommodate our client by speaking clearly and with direct eye contact for effective communication.
When asked about hiring Our client, Tanya Sinclair, answered, "We are also very excited and feel honoured to have hired such a talented community resident who truly loves the Pickering Public Library and what we are trying to achieve as a place in the community for everyone to connect, learn, and discover."
The Pickering Public Library strives to be an inclusive employer that represents the demographics of our diverse community. "I am enjoying our partnership with CCRW because you assist us in this endeavour. It's a win/win situation for everyone involved!" HR Manager, Tanya Sinclair.
CCRW's Ontario Workplace Inclusion Program thanks Pickering Public Library for your continued support and interest in hiring highly motivated, qualified and talented people with disabilities. We value your commitment to supporting Diversity in the workplace.
Click here for more information on the Pickering Public Library (www.picnet.org).
For more information on the OWIP program, call 905-556-2095 or
visit our website at http://www.ccrw.org/ontario-workplace-inclusion-program/
---
Workplace Wellness and Mental Health 2014

CCRW is pleased to be partnering with the Conference Board of Canada for this event!

Workplace Wellness and Mental Health 2014
, June 10-11, 2014, at the Toronto Marriott Downtown Eaton Centre Hotel, will help you start your organization's wellness initiative or, if you have one already, help you benchmark and improve your program's performance.
Now in its fourth year, this event is quickly becoming the must-attend event for professionals and practitioners from across the country. The 2014 agenda will feature some of Canada's top experts, including:
Loretta M. Brill, Chief Executive Officer, NxKnowledge Corporation
Ellen Brooks, Benefits Specialist, Toromont CAT
Dr. Joe Flanders, Assistant Professor, McGill University Psychology Department and founder and Director, MindSpace
Kimberley Hogan, Vice-President, Human Resources, Christie Digital Systems Canada, Inc.
Jennifer Lee, Project Manager, Work with Us, Mood Disorders Society of Canada
Serafina Morgia, Canadian Health and Productivity Practice Leader, Buck Consultants
Dr. Jordan B. Peterson, Professor, Psychology, University of Toronto
Sue Pridham, President, Tri Fit Inc.
Aaron Sapra, Regional Director, Canada, Global Corporate Challenge
Karla Thorpe, Director, Workplace Health and Wellness Research, The Conference Board of Canada
The experts will provide new. practical ideas to take your work to the next level, and ensure your wellness effort is competitive in the marketplace. Benefit from the innovators' practices, ideas andinsights to optimize wellness and make yours the most engaged and productive workforce in your industry.
Save on registration with our special partner rate!

Register online for this event
and quote rebate code
PRM26
to save $460 off of the total registration fee! You may use this rate for yourself or a colleague, but please note that it is available for non-registered delegates only.
If you have any questions about the event or this special rate, contact Joel Elliott at
elliott@conferenceboard.ca
---
Everyday Tips for Keeping Mentally Healthy

Why is your Mental Health so Important?

Mental health is the key to our well-being. We can't be truly healthy without it. It involves how we feel, think, act, and interact with the world around us. Mental health is about realizing our potential, coping with the normal stresses of life, and making a contribution to our community.
Good mental health isn't about avoiding problems or trying to achieve a 'perfect' life. It is about living well and feeling capable despite challenges.
Each of our paths to mental well-being will be unique. We all have our own goals, our own challenges, our own talents, and our own supports. But good mental health is within everyone's reach.
Everyday tips for keeping mentally healthy:
Build a healthy self-esteem
Self-esteem is more than just seeing your good qualities. It is being able to see all your abilities and weaknesses together, accepting them, and doing your best with what you have.
Receive as well as give
We have trouble accepting kindness from others. We often shrug off a compliment with a "yes, but…" and put ourselves down.
Create positive parenting and family relationships
Work on building good family relationships. Learn to value each member's skills and abilities. Learn how to give and accept support.
Make friends who count
Friends help you understand that you are not alone. They help you by sharing your ups and downs, and you in turn help them. Together, you and your friends share life's challenges and celebrate life's joys.
Figure out your priorities
Media tries to convince us that we need to purchase an ever-growing list of products and services. Our challenge is to know the difference between our real needs (food, shelter, clothing, transportation) and our wants (bigger TV, the latest fashions, flashy car), and to find the right balance in our spending. Financial problems cause stress, so it's important to avoid overspending.
Learn to manage stress effectively
Stress is a normal part of life. How you deal with it will depend on your attitude. You may become overwhelmed by things that other people deal with easily. Learning to keep a balance among work, family and leisure is difficult and needs skillful management of your time.
Cope with changes that affect you
It would be nice to "live happily ever after," but there will always be challenges in our lives. Dealing with unexpected (and often unwanted) changes can be stressful, so we need to be flexible and learn ways to cope.

Deal with your emotions
We are all challenged to find safe and constructive ways to express and share our feelings of anger, sadness, joy and fear. Your ways of experiencing and expressing emotions are unique because you are unique.
Have a spirituality to call your own
Learn to be at peace with yourself. Get to know who you are: what makes you really happy, what you are really passionate about. Learn to balance what you are able to change about yourself with what you cannot change.
Get to know and trust your inner self.
Source:
Canadian Mental Health Association (CMHA) http://www.cmha.ca
---
Tim Horton's Mike Wafer on CBC "The National"

Business owner makes money by hiring persons with disabilities
This is the wonderful piece created by the CBC and shown on "The National"
"A Tim Hortons franchisee has found that hiring disabled Canadians has boosted his bottom line. It's an approach that's been coined "return on disability." "






---