Please feel free to share this newsletter with friends and colleagues - spread the word, hire persons with disabilities!


---
Diversity Maximizing Employee Potential

YTF, ES and NBESS present at NBHRA breakfast in Moncton, NB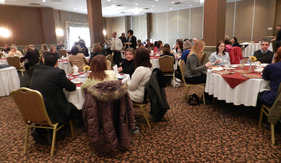 Youth the Future (YTF), CCRW Employment Services (ES) and New Brunswick Employer Support Services (NBESS) were invited with other Employment Assistance Service Providers to present during the "Diversity Maximizing Employee Potential" networking breakfast to the New Brunswick Human Resource Association (NBHRA) on Tuesday, February 18, 2014.
This presentation offered the opportunity to make connections with HR personnel from different employers in the Greater Moncton Area and other regions in the province of New Brunswick. It also allowed the employers to be informed on the services CCRW offers and how they can benefit by contacting and connecting with CCRW. The NBHRA and their members have shared comments of appreciation for the presentations. They were appreciative for the awareness on the benefits of hiring individuals living with a diesability and that they were very interested in the services that CCRW offers. Since the presentation, CCRW was able to create different partnerships with local employers who are now interested in diversifying their workforce by hiring people with disabilities.
Manon Nadeau, Manager CCRW ES; Christin Lanteigne, Provincial Coordinator NBESS; and Melanie Travers, Manager YTF were among the presenters during this breakfast.
For more information on CCRW Programs and Services, please visit our website www.ccrw.org/programs-services

---
Workplace Wellness and Mental Health 2014

CCRW is pleased to be partnering with the Conference Board of Canada for this event!

Workplace Wellness and Mental Health 2014
, June 10-11, 2014, at the Toronto Marriott Downtown Eaton Centre Hotel, will help you start your organization's wellness initiative or, if you have one already, help you benchmark and improve your program's performance.
Now in its fourth year, this event is quickly becoming the must-attend event for professionals and practitioners from across the country. The 2014 agenda will feature some of Canada's top experts, including:
Loretta M. Brill, Chief Executive Officer, NxKnowledge Corporation
Ellen Brooks, Benefits Specialist, Toromont CAT
Dr. Joe Flanders, Assistant Professor, McGill University Psychology Department and founder and Director, MindSpace
Kimberley Hogan, Vice-President, Human Resources, Christie Digital Systems Canada, Inc.
Jennifer Lee, Project Manager, Work with Us, Mood Disorders Society of Canada
Serafina Morgia, Canadian Health and Productivity Practice Leader, Buck Consultants
Dr. Jordan B. Peterson, Professor, Psychology, University of Toronto
Sue Pridham, President, Tri Fit Inc.
Aaron Sapra, Regional Director, Canada, Global Corporate Challenge
Karla Thorpe, Director, Workplace Health and Wellness Research, The Conference Board of Canada
The experts will provide new. practical ideas to take your work to the next level, and ensure your wellness effort is competitive in the marketplace. Benefit from the innovators' practices, ideas andinsights to optimize wellness and make yours the most engaged and productive workforce in your industry.
Save on registration with our special partner rate!

Register online for this event
and quote rebate code
PRM26
to save $460 off of the total registration fee! You may use this rate for yourself or a colleague, but please note that it is available for non-registered delegates only.
If you have any questions about the event or this special rate, contact Joel Elliott at
elliott@conferenceboard.ca
---
Topnotch Employment Visits WESP
Last month, staff of Topnotch Employment Inc. visited the Workplace Essential Skills Partnership (WESP) offices. The Tonotch Team was led by President Terry Sawh and Recruitment Consultants Vanessa Dutra and Lynie Awywen.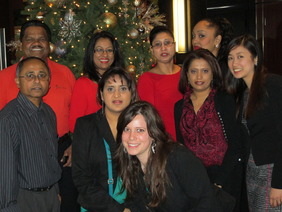 Topnotch is a 21 year old recruiting firm specializing in clerical, adminisration, IT, engineering fields, logistics and manufacturing. The Topnotch mission is to deliver the highest level of personalized service in the recruitment field.
As staffing and service specialists, their goal is to provide the best possible match for each need. As Terry explains "We strive to ensure complete satisfaction, through our ongoing involvement at every stage of our relationship. For us, success depends on the absolute satisfaction of our clients".
Another area that Topnotch stands tall is in their commitment to promoting the values and benefits of diversity in the workplace.
WESP is pleased to work with Terry and the Topnotch team in our shared values of providing employment opportunities for persons with disabilities.
For more information on Topnotch Employment please visit their website at
www.topnotchemployment.com
or call 416-741-2770
For more information on WESP please visit our website at www.ccrw.org/wesp
---
OWIP Success Story

Rapid Taxi - Office Administration Hires

Walking into the offices at Rapid Taxi, you are greeted with a familiar feeling: it's just another workplace, as good as any other, where work needs to get done. But there is a twist. The head office at Rapid Taxi promotes an inclusive culture, with over half its staff identifying as persons with disabilities.
"It is refreshing to have a reputable employer here in Durham Region uderstand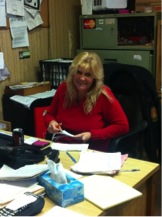 the value of hiring talented, skilled and experience persons with disabiities who are motivated to work." Nancy Cyros, Job Developer of CCRW Ontario Workplace Inclusion Program states.
Amanda Shea, experienced in customer service, reception and dispatch is workinn as part of a work trial on a wage subsidy, that started in November 2013, as a receptionist/dispatcher with Rapid Taxi. She is excited to be working so close to home and with part-time hours, utilizing her past transferable skills. Amanda fondly states that, "CCRW helps people looking for help to get back to work."
Carrie, now working with Rapid Taxi for almost 5 months, wears many hats in the organization from accounts receivable to payroll. She is now an employee with Rapid Taxi, having passed her probationary period. She origially started as work trial with a wage subsidy to determine fit. From the very beginning, Jerry Klimpel, Office Manager, worked to provide her with modifies hours to allow flexibility for her family needs. Carrie reflects that, "it was wonderful to work with an organization who focused on your abilities, what you are capable of accomplishing, rather than what you may be unable to do."
For more information about the Ontario Workplace Inclusion Program (OWIP), please visit our website at www.ccrw.org/owip
---
OWIP Employer adds accessibility
La Quinta Inns & Suites

A new hotel has just opened on November 14, 2013 in downtown Oshawa, ON and it is the first hotel in the area to have 6 accessible rooms with a very bright light that shines when there is a fire or emergency.
We have new hires working at the hotel and if you mention CCRW, you will be be able to get a room for $79 a night!
Contact them at 905-571-1333 and visit their website at
www.laquintaoshawa.com