Conveniently located in bustling downtown Oshawa, the Ontario Workplace Inclusion Program (OWIP) supports job seekers who are skilled, qualified and highly motivated to find work. Working with OWIP can improve an individual's chances of being hired because clients work with OWIP's fleet of skilled and qualified staff. The staff members offer knowledge and expertise related to resume and cover letter writing, facilitate employment-related workshops, and assist with a client's job search.
This year, OWIP was thrilled to begin a dynamic partnership with La Quinta Inn and Suites. La Quinta Inn and Suites is a brand new hotel in Oshawa that truly welcomes people of all abilities, by offering state-of-the-art accessible rooms and services. La Quinta not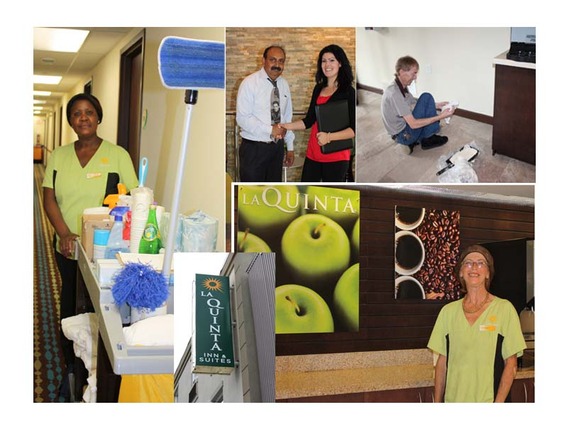 only believes in serving people with disabilities, they believe in welcoming them onto their staff as well. La Quinta has started numerous OWIP clients with the wage subsidy opportunity. With simple adjustments to the work routine, such as providing a detailed checklist of duties or starting with less duties and adding more as the employee became comfortable with the routine, La Quinta has given OWIP clients opportunities for success and meaningful employment. OWIP has received positive feedback about the clients' experiences thus far and look forward to hearing how they further develop as the program continues.
OWIP client, V.T., began working as a housekeeper with La Quinta at the beginning of May. She had been working with another employment service agency in the area but shared that she had not received the proper support she needed, specifically regarding her disability. V.T. was delighted to receive the housekeeping opportunity at La Quinta because the position accommodates her needs regarding her disability.
OWIP client, M.P., began working as a maintenance worker with La Quinta at the end of May. He had been looking for work for a number of years with no success due to the number of personal barriers he faced. Fortunately, it was not long after he began working with OWIP that he was able to find an employer who could see past his barriers and appreciate his job-related skills and dedication.
OWIP client, D.T., completed her wage subsidy opportunity at La Quinta in June. D.T. faced a number of barriers to employment before working at La Quinta. She is looking forward to continuing her employment experience with La Quinta as she has shared that she thoroughly enjoyed the opportunity to grow professionally and work as part of a hard-working team.
OWIP is looking forward to supporting more job seekers in finding employment and further developing partnerships with employers in the community of Durham Region.
For more information on OWIP, click here.