CHECKING IN WITH A WESP GRADUATE

Reprinted with permission.

Dennis Maharaj is a former client of CCRW's Workplace Essential Skills Partnership (WESP), an employment program for job seekers with disabilities. Through his participation in the WESP, Dennis was able to secure a progressive, full-time position with CIBC in November 2009. Our interview with Dennis illustrates that he is very loyal to CIBC and wishes to continue to grow within this organization.
What are your responsibilities?
DM:

I am currently acting as Branch Support to many branch level employees in the area of Mortgages. I guide Financial Services Representatives (FSR) through a mortgage application process as it can be very cumbersome. I explain CIBC's guidelines in Mortgage Advancing and Underwriting in order to achieve an "approved" status on their applications. I have been in this position now for about 3 months. I started with CIBC as Online Banking Technical Support and achieved an "exceptional" rating. After remaining in my position for 1 year as required by CIBC, I wanted to further my career in Mortgages and Finance. I really enjoy my new job and the challenges it provides.
What is your biggest challenge in this position?
DM:

This position is not black and white. I have to know what it takes to get Mortgage Applications approved. Therefore, the biggest challenge is knowing how to use the guidelines and be creative in order to ensure approvals. There are times when I need to hold the file, conduct research before giving my recommendations to the FSR. They depend on me to get solid sales and reach their targets. This can put some pressure on you but I enjoy a challenge.
What is the most rewarding aspect of your position?
DM:

With the challenges, comes the rewards. To see my FSRs reach their sales goals makes me very satisfied. Also, I get many emails where FSRs are very grateful for my assistance and that always makes my day. It is nice to be needed.



What skills have you developed on the job?




DM:

CIBC has helped me hone my skills in sales. Each application is a new sale and I have learned how to write a great "story in order to sell this application to the Underwriter. Also I have learned the importance of thinking before speaking. There are many times that your advice can quickly get shot down if you have not done your research.
What accommodations do you use to help you succeed on the job?
DM:

I was provided with ZoomText software on all computers I use. As well, I carry a small magnifying glass when having to read fine print documents.



Is there one accomplishment that you are proud of?




DM:

In my previous role in Online Banking there is a sales component. I broke many records in the first year on the job. This accomplishment did not go unnoticed. CIBC featured me in Rogers publication as a "Success Story" Currently, I attend job fairs as a bit of a "mascot" to let those with disabilities know CIBC wants them.
What are your future career aspirations?
DM:

CIBC has greatly invested in my success and I am forever grateful. Since day one, CIBC has understood my needs and made me feel comfortable in every situation. As a way to give back, I have looked into becoming a integral part of the HR team within a diversity capacity. As a federally regulated company, I can help CIBC recruit great talent from all 4 pillars: women, minority groups, aboriginals and the disabled.
Any advice for other job seekers with disabilities?
DM:

Being recently disabled, it hard for me to accept my disability. I refused to join WESP because I did not think they would be able to give me the support I really needed. I was told that although I may think I have a disadvantage, it is instead an advantage. I understood more about the requirements of federally regulated companies. I also became more comfortable with disclosure. Because I took the time to disclose, my on-boarding experience with CIBC was that much easier and faster.
It is critical that you remain positive and open-minded. There are jobs out there and all we need to do is connect with WESP to teach us how to achieve these opportunities. Thank you WESP. It was a great learning experience that is now shaping my new career in HR and supporting those with disabilities.
For more information about WESP,
click here
How to Welcome People with Disabilities
Source:
Ontario Nonprofit Network News
Here are some general tips to help you welcome people with disabilities:
• Don't make assumptions about what type of disability or disabilities a person has.
• Some disabilities are not visible. Be patient. People with some kinds of disabilities may take a little longer to understand and respond.
• If you're not sure what to do, ask, "Can I help?"
• If you can't understand what someone is saying, just politely ask again.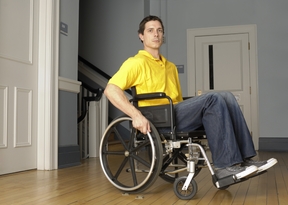 • Ask before you offer to help — don't just jump in. People with disabilities know if they need help and how you can provide it.
• Find a good way to communicate. A good start is to listen carefully.
• Look at the person, but don't stare. Speak directly to a person with a disability, not to their interpreter or someone who is with them.
• Use plain language and speak in short sentences.

• Don't touch or address service animals — they are working and have to pay attention at all times.
• Ask permission before touching a wheelchair or a piece of equipment.
To learn more about how to welcome people with specific disabilities, visit: http://bit.ly/hNyEu6
MARILYN'S STORY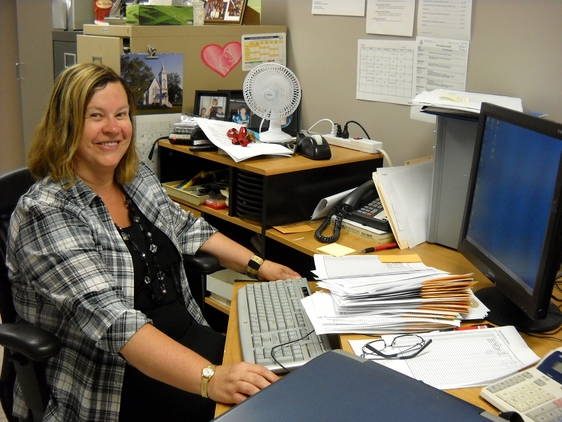 Reprinted with permission
Marilyn joined PWIP in June 2009. At that time Marilyn was working on a causal basis as an administrative assistant for The Salvation Army but was looking for a stable position with permanent hours. As Marilyn states her heart has always been with The Salvation Army and it was her desire to stay with them however financially it was simply not feasible for Marilyn to remain with only causal hours.
After consultations with Marilyn, PWIP approached The Salvation Army to brainstorm as to how Marilyn could fit in permanently. It was decided that Marilyn would benefit from some computer skills enhancement. Through the financial assistant of the Opportunities Fund, PWIP was able to arrange for Marilyn to complete a course in Microsoft Word and Excel through the Academy of Learning. Further to this The Salvation Army with the aid of the targeted wage subsidy was able to offer Marilyn full time hours as an administrative assistant on a permanent basis. Marilyn's hours have since been reduced but she is now a permanent employee working 25 hours per week.
Throughout the process of working with PWIP Marilyn was given assistance with further developing her resume, cover letter and her interview skills. In addition to this the course through the Academy of Learning has helped to enhance Marilyn's Microsoft skills. Marilyn also feels that her minute taking abilities have improved as a result of on-site support from her supervisor.
She indicates that she feels much more confident. She does not like staying home and enjoys coming to work. Marilyn's experience with PWIP has been positive. As Marilyn says "I find the instructors at the Partners for Workplace Inclusion Program very knowledgeable and helpful. They make it possible for people to be positive, confident and be job ready in today's workforce."
For more information on PWIP click here