Please feel free to share this newsletter with friends and colleagues - spread the word,
hire persons with disabilities!


---
DINNER COCKTAILS AUCTION!


You and a guest are invited to join us
Friday, May 29, 2015
show your support for CCRW
$60/person includes 3 course meal
please see the menu for meal options here
Items for auction have been generously donated by:
T
he Toronto Blue Jays, Maple Leaf Sports and Entertainment, Starwood Hotels and more

SIGNS Restaurant

558 Yonge Street
Toronto, ON
Friday, May 29, 2015

Cocktails at 6:00pm
Dinner at 7:00pm
Contact

Jennifer Mitchell
416-260-3060 ext 228
jmitchell@ccrw.org

Please RSVP with your meal selection to Jennifer by Friday, May 15, 2015
www.ccrw.org www.people-in-motion.com

---
RWIP Closes its doors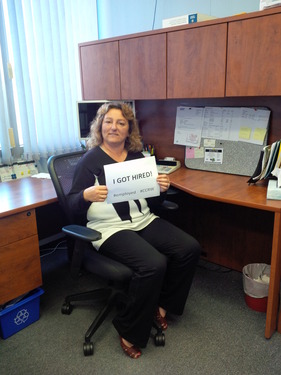 CCRW's Ready to Work Inclusion Program (RWIP) was an employment project designed to support people with disabilities in returning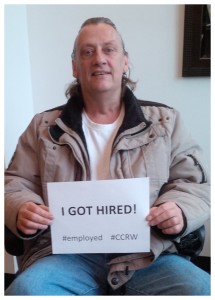 to the work force through a supported wage subsidy placement lasting 6 - 12 months. Wage subsidies supported the employer in training, accommodating and retaining persons with disabilities. Funded in part by the Government of Canada's Opportunities Fund. RWIP supported job seekers with disabilities and employers in Moose Jaw, Saskatchewan; Prince Albert, Saskatchewan: Waterloo, Ontario; Kentville, Nova Scotia; and consumers of Community Living in Toronto, Ontario.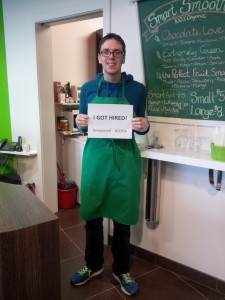 On March 31, 2015, RWIP concluded serving 160 job seekers with disabilities in securing employment across Canada.
We would like to thank our staff, job seeker, employers, and community partners for all their support.
Notably, w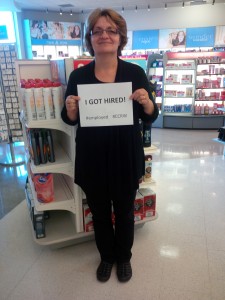 e would like to thank the following Community Partners:
The Prince Albert Multicultural Council (www.pamcsk.com)
The South Saskatchewan Independent Living Centre

The Independent Living Centre of Waterloo Region (www.ilcwr.org)
PeopleWorx in Coldbrook, Nova Scotia (peopleworx.ca)
Community Living Toronto (cltoronto.ca)
To date, 106 individuals have either secured employment or returned to school with final official results still pending.
---
CCRW Partners with People in Motion (May 29-30) in Toronto, ON
CCRW has partnered with the People in Motion Show, Canada's largest disability exhibition, to host a Career Fair for professionals with disabilities on May 29-30 at the Queen Elizabeth building, Exhibition place in downtown Toronto.
The Career Fair will welcome job seekers with disabilities and sought after employers from the Greater Toronto Area. Employers attending will be looking for serious job seekers, ideally with post-secondary education. Our early-bird employers include
Scotiabank, Abbott, Air Canada, Greyhound Canada
and more! These employers who are ready, willing and able to provide an inclusive work place – please let those who you think are a good fit for the Career Fair know about it!
As with all CCRW hiring events, job seekers attend free of charge. We will be posting information on our website and social media, and so will
People in Motion
(http://people-in-motion.com/),
@PIM_Toronto
and
https://www.facebook.com/pplinmotion
.
Registration dates for job seekers.
Monday, April 27th – registration phase 1 (for CCRW clients)
Monday, May 4th – registration phase 2 (for community organization/partners/friends/supporters)
Monday, May 11th – registration phase 3 (open to the public)

In addition to hosting the Career Fair, CCRW will be manning our own booth for the duration of the exhibition – it's a great opportunity to connect with a very like-minded group of people and learn about CCRW programs and services.
For those who have never been, the People in Motion Show itself is like nothing else. It feature exhibitors ranging from adaptive tech to sporting associations, with a performance by Justin Hines, blind fishing demos, the IDeA Student Competition and Paralympic committee participation..
---
Workplace Wellness and Mental Health, June 2-3, 2015
The Canadian Council on Rehabilitation and Work is excited to be partnering with The Conference Board of Canada for one of the top wellness and mental health events in Canada. As a partner, we're able to offer our contacts a special rate to attend.
Use the rebate code below when registering to save $460 off of the total registration fee! For more information, please contact Robyn Mia at mia@conferenceboard.ca.
Workplace Wellness and Mental Health 2015
is taking place
Tuesday, June 2, and Wednesday, June 3, 2015, at the Intercontinental Centre in Toronto
.
Luncheon Presentation: If Our Bodies Could Talk with James Hamblin.
This year's luncheon presentation will be delivered by the witty Dr. James Hamblin, Senior Editor at The Atlantic.
Whether covering such under-recognized conditions such as eating lunch at our desks, questioning our unthinking belief in multitasking, encouraging us to exercise at work, or discussing the health benefits of red wine, James always entertains as he educates.
James will share his latest thinking on wellness at work, and the initiatives he sees as being at the frontier of medicine.
Meet the thought leaders and innovators, and hear how they're succeeding with their workplace wellness and mental health initiatives.
Experts joining James at this event include:
• Dr. Marie-Hélène Pelletier, Director, Workplace Mental Health, Sun Life Financial
• Heather Baker, Certified Occupational Health Nurse, Employee Wellness, Bruce Power Inc.
• Janet Yale, President and Chief Executive Officer, The Arthritis Society
• Joseph Chan, Director, Benefits and HRIS, Walmart Canada Corp.

Research, practical examples, and case studies will help answer your questions, as you learn how to:
• use mindfulness to reduce stress, increase focus, and improve performance
• reduce the risk of musculoskeletal health issues
• create a comprehensive wellness plan that engages all employees
• raise mental health awareness and reduce stigma
• adapt your plans to a changing workplace and aging workforce • manage stress in times of change
• reduce absenteeism and manage disability more effectively


For the full agenda, please visit the
Conference Board's website
.
Save on registration with our special partner rate!
Register online
and quote rebate code
PRM9
to save $460 off of the total registration fee! You may use this rate for yourself or a colleague, but please note that it is available for non-registered delegates only.
If you have any questions about the event, or this special rate, contact Robyn Mia at The Conference Board of Canada at
mia@conferenceboard.ca
or 613-526-3090 ext. 445.
---
More About CCRW

CCRW offers employment programs for persons with disabilities in 20 cities across Canada. We also offer a Job Accommodation Service to employers for their employees with disabilities. For more information on each program please go to our Programs and Services page or contact each program by email below:
---