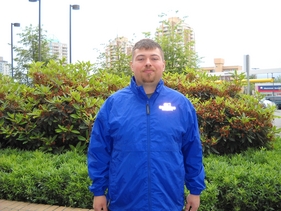 Nigel came to Partners for Workplace Inclusion Program (PWIP) BC looking to make a career change. His goal was to become a professional security guard. After completing PWIP's career development exploration stage, Nigel received security guard training at Concord Security with Opportunities Fund (OF) funding through PWIP in December of 2009. He successfully completed Basic Security Training, which included instruction on: emergency services, tactical communications, professionalism and documentation.

In January of 2010, Nigel obtained a job as a Sales Associate at Winners with the assistance of PWIP. This enabled him to become more financially independent and gain valuable experience, while waiting to receive his official provincial security guard license.

Nigel achieved his goal of becoming a professional security guard when Concord Security was so impressed with his training, that they hired him to work for the company in July of 2010. He is now very happy to be working in his chosen field, which is related to his interest in physical fitness. He even has a black belt in tae kwon do!

PWIP BC wishes Nigel all the best and continued success in his new job.
PWIP Website
Reprinted from the
Ontario Nonprofit Network: EnAbling Nonprofits Ontario Blog


What is meant by policies, practices and procedures?
Policies, practices and procedures refer to how organizations go about providing goods or services to people with disabilities.
Policies:
What you intend to do, including the rules you plan to establish for your organization. Policies must be consistent with the principles of dignity, independence, integration and equal opportunity, as described below.
Practices:
What you do on a day-to-day basis, including how your staff actually offer or deliver services.
Procedures:
Informal or written, they define how you go about offering or delivering your service, or steps staff are expected to take.
How to establish your policies, practices and procedures
The Customer Service Standard outlines a few steps to consider when developing your policies, practices and procedures. The following is an overview. However, if you are a designated public sector organization or a provider with 20 or more employees, please visit here for additional document requirements.
Step 1.
List your existing formal and informal policies, practices and procedures.
Some policies, practices and procedures may be formal, while others are informal in nature. Depending on the size, values and nature of work associated with each nonprofit, the respective policies, practices and procedures will take on a different shape. Just make sure to list them all.
Step 2.
Look for and identify any gaps.
Think about how people with disabilities access your services and goods. Are there any gaps in your policies, practices and procedures currently impacting your organization's capacity to meet their needs effectively? What can you do differently to make the process easier and alleviate any unnecessary barriers? To review a list of barriers and possible ways to address them in your policies, practices and procedures, visit here.
Step 3.
Update your policies, practices and procedures to meet the new standard.
Will your policies, practices and procedures to address customer service accessibility be stand-alone or will they be integrated into your existing approach, or a combination of both? Either can work but just make sure to discern and adopt the best plan for you. Of particular importance is to keep in mind the policies and procedures that are used to guide the purchasing of new equipment and initiating new programs.
Personal Assistive Devices
As you establish your policies, practices and procedures, be sure to address the availability and use of personal assistive devices and other assistive measures. These might include items that people rely on every day, like wheelchairs, walkers, white canes, oxygen tanks, etc.
Set a clear policy on how you will service customers who use personal assistive devices. General wording is fine, such as, "It is our policy to allow people to use their personal assistive devices to access our services."

Outline what, if any, assistive measures your organization is offering. Will there be a TTY (Telephone Teletype) service or lift available? Do you have a computer with adaptive software for those individuals unable to read print?

Establish a policy on the availability of assistive devices or other measures you offer and how customers can access them
Remember that there is no single way to provide accessibility. It can often be achieved in a variety of different ways; by changing a procedure or installing an assistive device or simply by considering the needs of people with disabilities when you create services.
Or you can simply say, "How may I help you?"
Source: EnAbling Nonprofits Ontario
The following is an interview with a Workplace Essential Skills Partnership (WESP) Graduate, Tamara Ketch:
What are your responsibilities?
I work in the Canadian wire transfers at Scotiabank. I process outgoing and incoming wires for Scotiacapital.
What is your biggest challenge in this position?
Remembering all the steps to process the wires can be a great challenge for me.

What is the most rewarding aspect of your position?
I enjoy the fast paced environment that I work in. Its challenging and rewarding for me.
What skills have you developed on the job?
How to think quickly and do the work in a moment of notice. I have improved my multi tasking skills.
What accommodations do you use to help you succeed on the job?
I used lists that I have written which helps me quite a bit.
Is there one accomplishment that you are proud of?
They were having problems with the cash management reading the incoming and outgoing totals for the day. So I created an excel program to help with this.
What are your future career aspirations?
I would like to remain with scotiabank on a more permanent basis.
Any advice for other job seekers with disabilities?
Don't give up. There is a career that is just right for you. I was getting frustrated with y job search and I found a job that I love. Do not settle for a job-find something you love.