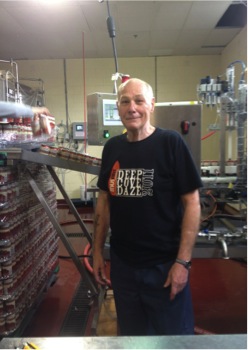 David joined the CCRW's Partners for Workplace Inclusion Program (PWIP) BC back in February of 2013. David was facing some employment challenges. However, these barriers did not keep him from continuing to search for employment. His incredible motivation to find work along with his positive attitude and perseverance enabled David to secure employment.
PWIP supported David in the process by assisting him in developing both his resume and cover letter. PWIP also provided him with funding for his work boots for his position at the packaging department at The Bomber Brewery, where he recently completed his 12 week wage subsidy. David's job duties include placing the plastic rings on the 6 packs of beer and placing them in the appropriate place to have them ready for delivery. He also engages in general cleaning duties.
During the wage subsidy, PWIP staff visited David at his work site. During the visit David beamed with positive energy. He looked truly happy at his placement. He went on to explain what his job entailed and to provide staff with a tour. It did not take long for the EOS to notice the significance and positive impact that this job brought to David's life. He could not help but continuously smile. His energy was so strong that it was contagious.
Upon discussing David's performance with his Manager, she went on to mention that David was great addition to their team. She pointed out how committed he is with his position, the importance he gives to his duties and how punctual and responsible he is. In her own words, she stated: "I have nothing but good things to say about David. We are very pleased to have him here". These are just few of the numerous comments that staff received regarding David's outstanding performance at the Brewery.
Following the wage subsidy, he was hired as a part time worker with 20-25 hours a week depending on the amount of work needed at the Brewery. This amount of work hours are sufficient for his disability. PWIP staff are very pleased to have taken part on David's journey, as his energy, self-motivation and positive attitude are a great source of empowerment not only for other clients, but for anyone in the community. David is a great example how commitment and hard work can help individuals overcome many of the barriers that they face when finding employment. He is truly inspirational.