2010 - 2011 Board of Directors

On November 6, 2010, during the Annual General Meeting, the CCRW Board of Directors ratified new Board members. Each Board member represents either a constituency or capacity in our country.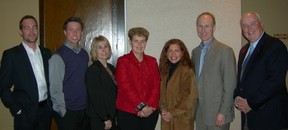 Newly elected to the Board were: Al Tinney, ON (RBC Financial Group); Ashley Caldwell, ON (IBM Canada); Ryan Barclay, SK (TD Canada Trust); Craig Sambrooke, MB (Manitoba Hydro); Carol Thiessen, MB (Manitoba Hydro).
Members re-elected included: Bruce Smith, NS (Scotiabank); Bob Sheridan, BC (Royal Bank of Canada); Nancy Moreau, QC (SPHERE); Jill Wakelin, PE (Holland College); Stephanie Gionet, NB (Government of New Brunswick).

During the Annual General Meeting, outgoing Chair, Jacki Challenger, and AB Board Member,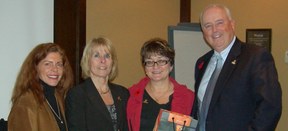 Pamela Wagner, received special recognition awards for their dedication and contribution to the Board during the past six years.
Following the AGM, the Board elected the Executive Committee Members. The Executive Committee comprises of Bruce Smith, Chair (elected for a three year term ending 2014); Nancy Moreau, First Vice-Chair; Jennifer Dinn, Second Vice-Chair; Al Tinney, Treasurer; Ashley Caldwell, Recording Secretary.

Click here to see the complete list of the CCRW 2010 - 2011 Board of Directors
PWIP NL Client is Living the Dream..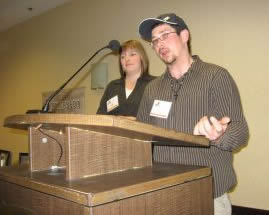 Sean Pinsent is living the dream. He's working at a RONA home improvement store, after overcoming a job market not always receptive to people with disabilities. But through the Partners for Workplace Inclusion Program, Pinsent got this job placement. "I've accomplished my dream job," he told the audience at the program's sixth annual business awards luncheon Monday. "Working up at RONA is a pleasure." Pinsent will celebrate a year with the store in November. He urged more businesses to get involved in the program, which supports both employers and jobs seekers.
For the complete Telegram newspaper article, click here

CCRW is proud to announce the following awards won by staff across Canada: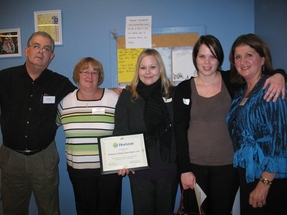 Laura Anderson, Employment Coordinator and Rachel Harlow, Employment Outreach Specialist from Partners for Workplace Inclusion Program (PWIP) New Brunswick received the

Award of Partnership

from the Mental Health Recovery Services Employment Program in Saint John, NB.
Congratulations Laura and Rachel!
Greg Travers, Employment Coordinator from Partners for Workplace Inclusion Program (PWIP) British Columbia,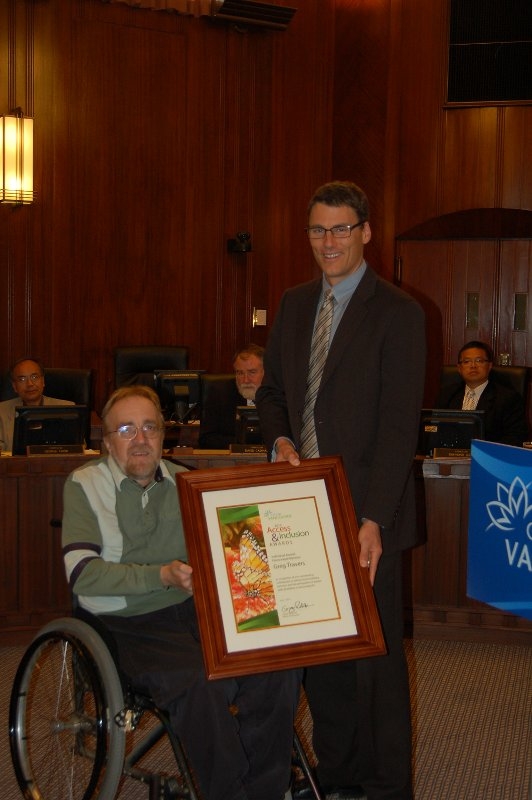 received the

I
ndividual Award, Honourable Mention,
2010 Access and Inclusion Award

from the City of Vancouver. The

Access and Inclusion Awards

recognize individuals and organizations demonstrating leadership and commitment to enhancing accessibility, inclusion, universality and the elimination of any barriers impeding the full participation of persons with any type of disability in community life.
Congratulations Greg!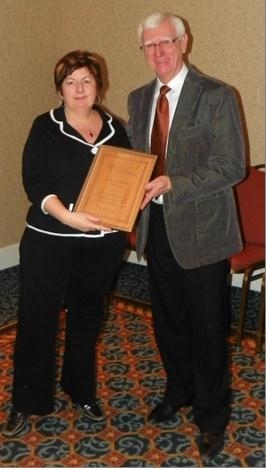 CCRW and Norma Ricker, Director, of Eastern Region Development received the

Equity Award

from the Wood Manufacturing Council (WMC). Normally, this award is presented to a company and an individual as two separate awards. WMC chose to recognize both the individual, Norma Ricker and CCRW as one award this year. Norma

truly

is a champion for persons with disabilities seeking employment.
Congratulations Norma! Congratulations CCRW!