Support persons can be a hired individual, a family member, a friend or a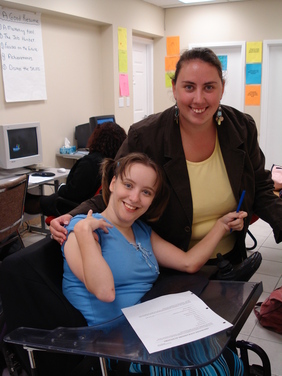 volunteer who provides assistance with communication, mobility, personal care, medical care and access to goods and services. A support person is there to assist the individual you are serving; they are not "the customer". For more information on how to address individuals who use a support person, see
Accessibility Standard for Customer Service: employer handbook.
The first thing to do to comply with the Accessibility for Ontarians with Disabilities Act (AODA) requirements is to identify the areas of your premises that are open to the public and third parties. These will be the same areas you identified to meet the service animal requirement: reception areas, offices, outside spaces, and delivery areas.
Once these are identified, take some time to consider how individuals with a support person might use your services. Does having two people change things? Are there spaces on your premises that are open to the public that only allow for one person at a time? You will need to arrange it so a support person may assist their client in all public areas.
Are there areas or situations where your organization might require the presence of a support person? Most organizations will not encounter this, but should the need arise, it would only occur after consulting with the individual with disability and determining that a support person is necessary to protect their health and safety, for example, during a long trip or an overnight stay where the individual might require personal care assistance.
Another requirement of the Customer Service Standard for organizations that charge an admittance fee is to determine whether the support person must pay as well. Develop your policy on this in advance — will you charge full price, a reduced rate, or allow free admittance?
Individuals who use a support person often have limited incomes, and may need to pay double every time they attend an event. But you are not required by law to allow a support person in for free; it is up to you. However, you are required to provide advance notice of your policy, so make the information available on your website and any promotional materials you have for the event.
When it comes to serving individuals who use a support person, special situations can arise that require additional consideration. Do issues of privacy, confidentiality or consent affect your services? If so, you may want to have support persons sign a non-disclosure or confidentiality form. Organizations should first establish with the individual with a disability what information is okay to share with the support person. Be sure to make this information available on your website. Professional support persons may follow a professional code of conduct, but the waters may become muddy when a friend or family member is involved.
If the individual and the support person are not the same gender, issues may arise regarding access to washrooms and changing rooms. Legally, the support person has access wherever their client goes, as long as the area is open to the public. Remember, it is their job to assist the individual; and this might involve personal care, such as toileting assistance, as well as lifting or changing. To help avoid ruffling the feathers of others using the facilities, we recommend posting a flip sign on the door to announce that someone of the other gender is in the room. For changing rooms, you may want to have people call in advance to "reserve" a changing room for 15 minutes, and post a sign on the door indicating when this will occur. Most people will be accommodating if they are aware of the circumstances.
If you need assistance with any part of the AODA, please contact Elizabeth Smith, Manager, Employer Consultaitons and Partnerships at 1 800 664 0925 ext 228 or via email at