St. John's, Newfoundland and Labrador, July 20, 2012 —
The Government
of Canada announced new funding to support youth in Newfoundland and Labrador to help them gain the skills, knowledge and experience they need to enter and succeed in the job market. The announcement was made by Dr. Kellie Leitch, Parliamentary Secretary to the Honourable Diane Finley, Minister of Human Resources and Skills Development.
"Our government's top priority is job creation, economic growth and long-term prosperity—and that includes investing in our young peo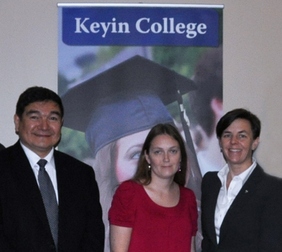 ple," said Dr. Leitch. "Youth are the greatest asset for our future. That is why we are proud to invest in them, through the Government of Canada's Youth Employment Strategy, to help them develop important skills and gain valuable job experience."
The Canadian Council on Rehabilitation and Work (CCRW) is receiving funding support from the Skills Link program to help youth with disabilities overcome barriers to employment. Skills Link is part of the Youth Employment Strategy (YES).
The participants in the CCRW project will attend skills workshops in areas such as team building, computer skills and communication. Following the workshops, participants will take part in job shadowing to help them prepare for employment and make informed career choices.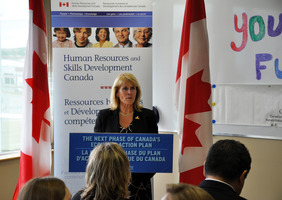 "CCRW is pleased to be the recipient of funds from the Government of Canada's Youth Employment Strategy," said Carole J. Barron, President and Chief Executive Officer, Canadian Council on Rehabilitation and Work. "In particular, this funding will support those youth who require additional supports and guidance in achieving their career goals."
In addition, Dr. Leitch announced Canada Summer Jobs funding for the Bay Bulls Regional Lifestyle Centre to hire three students as summer camp counsellors. The funding will enable the students to gain the skills and experience they need to be successful—both now, and in the future.
With annual funding of more than $300 million, YES helps youth, particularly those facing barriers to employment, obtain career information, develop employment skills, find jobs and stay employed. YES includes the Skills Link and Career Focus programs and the Canada Summer Jobs initiative, which creates thousands of job opportunities for students every summer.
Economic Action Plan 2012 is providing an additional $50 million over two years to enhance YES so that more young people can gain tangible skills and experience. This funding will focus on connecting young Canadians with jobs in fields that are in high demand.
Youth employment programs are part of the Government of Canada's broader strategy to create an educated, skilled and flexible workforce. To learn more about Canada's Economic Action Plan, visit
www.actionplan.gc.ca.
The speaking notes for Dr. Kellie Leitch on the occasion of the Canadian Council on Rehabilitation and Work and Canada Summer Jobs funding can be found at
Canada News Centre
.