Carla Boose
is a former client of CCRW's
Workplace Essential Skills Partnership (WESP)
, an employment program for job seekers with disabilities. Through her participation in the WESP, Carla was able to secure a challenging, full-time internship position with Scotiabank in August 2010. Our interview with Carla clearly indicates her job satisfaction and positive experiences within this role.
What are your responsibilities?
CB: I am the Administration Coordinator on the Diversity and Inclusion team of Scotiabank's Global Employment Strategies, Corporate Human Resources department. I am responsible for the operational and logistical functions for events, sponsorships and initiatives related to diversity both internally and externally.
What is your biggest challenge in this position?
CB: Not having worked in a bank or a large organization before, I have found myself on a learning curve to understand internal processes and operations. Eight months into my role I am still discovering new departments and areas within the bank, and learning how each function supports the other. '
What is the most rewarding aspect of your position?
CB: What I enjoy the most is that my role allows me to interact with the public to promote Scotiabank as an employer of choice, committed to creating and maintaining an inclusive, accessible workplace for all its employees.
What skills have you developed on the job?
CB: Within this role I have had the opportunity to develop my communication and writing skills, particularly by writing kits and guides for internal purposes, executive communications and inter-departmental correspondence.
What accommodations do you use to help you succeed on the job?
CB: Based on an accommodations assessment, I was provided with a larger computer monitor, Zoom Text software and a scanner with which to convert hard copy documents to soft copy. I have also been given a sufficiently sized workspace to allow room for my service dog.
Is there one accomplishment that you are proud of?
CB: I am very proud of the work I have produced while being employed in this role. But my biggest feeling of accomplishment is more personal in scope. I had a mindset previously of "Who would hire me? What can I contribute as a blind person? How will I be able to make the commute to work?" I was focusing on the negative. Instead, I focused on my skills and unique perspective that I had to offer, and with that, everything fell into place. I have the confidence to try new things and reach outside of my comfort zone.
What are your future career aspirations?
CB: I would like to continue to grow both personally and professionally, by developing new skills and setting new objectives.
Any advice for other job seekers with disabilities?
CB: If you are having difficulty in finding employment, and are seeking direction and support, I strongly recommend joining an employment program and working with a job developer to learn how to market your unique skills and abilities.
Joining the WESP was a perfect first step for me, and allowed me to "break out" of my shell. Learning how to manage disclosure and understanding the accommodations I require, I was left feeling confident and ready to tackle my job search independently.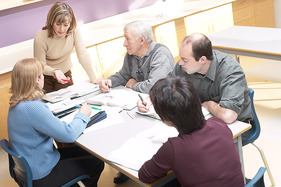 Reprinted from the
Ontario Nonprofit Network: EnAbling Nonprofits Ontario Blog
Developing a program to train staff on how to provide customer service to people with disabilities may seem daunting at first. So it's best to have a plan in place. One approach is to take the compliance deadline (for NPOs, it's January 1, 2012), and work backwards. Before you are in a position to develop your training program, you first need to establish your policies, practices and procedures on accessible customer service. When your policies are in place, you can then develop the related training.
The government requires that everyone in your organization who deals with the public, or other third parties, receive customer service training. This includes staff, part-timers, management, volunteers, contractors and anyone who deals with the public for you. Customer service does not have to be part of their job description. In addition to this, management and anyone involved with developing policies, practices and procedures on how goods or services are provided must also be trained.
What your training program should include will depend on the type of services your organization provides. Some organizations might decide, as did the Ontario Division of the Canadian Cancer Society, that a multi-tiered approach is best — in which different groups are trained according to the roles they fill. For example, training for front-line staff who deal with the public every day can focus on person-to-person interactions. Management training might be more theoretical, and involve shifting culture and breaking stereotypes and misconceptions about people with disabilities.
Whatever training approach is appropriate for your organization, the standard has minimum requirements:
A review of the purposes of the AODA and the requirements of the customer service standard.

How to interact and communicate with people with various types of disability.

How to interact with people with disabilities who use an assistive device, service animal or a support person.

How to use assistive devices available on your premises or that you otherwise provide that may help people with disabilities to use your services.

What to do if a person with a disability is having difficulty accessing your goods or services.

Training on your policies, practices and procedures that govern how goods or services are provided to people with disabilities.

The format of your training will depend on what is appropriate for your organization. You may want to use resources provided by the government (see Tips and Tools) or create your own workbooks, videos, or fact sheets that are specific to your needs. Training can be formal or informal, done as a group, or individually. If your organization already has a training program in place, you can incorporate accessible customer service training into your existing program or create something separate.
What is key here is that everyone who
should
receive training
does
, and that this is completed by January 1, 2012. According to the standard, training must be done "as soon as practicable." This means as soon as it can be done in the circumstances after a person has been hired or assigned tasks that involve dealing with the public or developing customer service policies. Training must also be ongoing; this is to incorporate new hires and allow staff to stay current as policies, practices and procedures change.
If your organization has more than 20 employees, you are also required to provide documentation for your training efforts. This includes a description of your accessible customer service training policy, a summary of the training content, and details of when training is provided. You must keep records of the training provided, including the dates on which training was provided and the number of people who were trained.
Remember that training is intended to help dispel myths, misconceptions and fears about people with disabilities. When staff is aware of what they can do to help a person with a disability, customer service improves. But training also takes time and resources, so be sure to allow sufficient time to carry it out.
Source: EnAbling Nonprofits Ontario