rapidly approaching (December 3, 2011), we have been thinking about this year's theme "Together for a better world for all: including persons with disabilities in development".
"Together" means all of us working and evolving to create a better world for everyone, including persons with disabilities. Persons with disabilities are the world's largest minority group. Disability touches all individuals, regardless of race, gender or religion. According the
World Health Organization's World Report on Disability,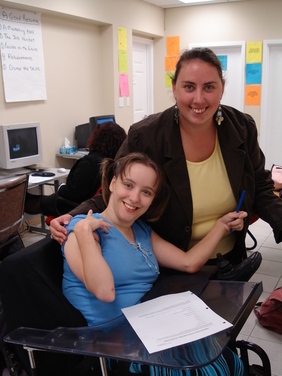 1 billion people are affected by disability . Despite significant improvements in cultural and physical accessibility here in Canada a lot of work remains to fully include all persons with disabilities. (To download a 10MB PDF version of the report -
click here
)
The second part of this year's theme: "including persons with disabilities in development" reminds us to include the voices and contributions of persons with disabilities in achieving accessibility. It is essential that the experiences of men, women, youth and children with disabilities be included in any and all discussions around developing strategies in creating a more inclusive and accessible society.
It is important to remember it is not just the right thing to do, it is also the law. From Employment Equity in 1986, we have now adopted a more holistic approach to accessibility and inclusion. In March of 2010, Canada ratified
United Nation's Convention on the Rights of Persons with Disabilities (UNCRPD)
.
The purpose of the present Convention is to promote, protect and ensure the full and equal enjoyment of all human rights and fundamental freedoms by all persons with disabilities, and to promote respect for their inherent dignity.

The Convention is a legal document that outlines standards of inclusion and accessibility in relation to all aspects of life. Ratification of the UNCRPD means Canada is committed to achieving these standards and to creating an inclusive and accessible nation/society/country.
What is really exciting about the UNCRPD is that Accessibility is not only a general principal it is built into how the convention understands disability:
"Recognizing that disability is an evolving concept... persons with disabilities include those who have long-term physical, mental, intellectual or sensory impairments which, in interaction with various barriers, may hinder their full and effective participation in society on an equal basis with others."
This definition affirms that barriers experienced by persons with disabilities are relational to the external environment.

Ontario has created the
Accessibility for Ontarians with Disabilities Act (AODA)
.
This legislation is developing specific requirements to make Ontario fully accessible by 2025. This can only be achieved if all of us participate in the process to create environments that remove barriers and enable full participation for all of Canada's citizens and ensure Canada achieves its commitment and obligation to accessibility.
This International Day of Persons with Disabilities is a rallying point for all of us to take action and move toward creating a more inclusive and accessible society.
On December 3rd, it is time to take steps to look at ways to remove barriers and include persons with disabilities in your organization. CCRW can help you achieve this goal.
For more information, please contact:
Elizabeth Smith, Manager of Employer Consultations and Partnerships.
1 800 664 0925 x 228
esmith@ccrw.org
The Canadian Council on Rehabilitation and Work (CCRW)
is a national not-for-profit organization. Our vision to create a Canada where all persons with disabilities have equal employment opportunity. We would be glad to support you in achieving greater accessibility and inclusion in your workplace. How can we help you?