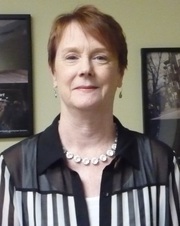 Right, Jan Moxley, Options Counseling Program Specialist
A scenario is set in a Disability Rights NC training session: Roberta, a 32-year-old woman with a spinal cord injury who lives in a nursing home is a candidate for "Options Counseling," a program to help older adults and people with disabilities make decisions about current and long-term support needs. Twelve counselors-in-training in the room must role play, conducting an initial interview between Roberta and her counselor, using Options Counseling principles.
If you think terms like "person-centered" and "self-directed" are simply buzzwords, you should check this program out.
In 2012, the NC Department of Health and Human Services Division of Aging and Adult Services introduced an Options Counseling pilot program. Counselors with significant experience and education in the human services field focus on empowering clients to make their own decisions.
Said Jan Moxley, options counseling program specialist, "This service helps people think through the pros and cons of the various options while taking into consideration their situation, values, resources and preferences."
And how is the program different from similar counseling services for long-term care? Well, you may have heard stories of counseling sessions that were rushed, not followed up on, or ended up with a plan that was based more on the counselor's preferences than that of the client. Big no-no's in this program.
"It's all about the individual. What they think, want, need. The counselor's role is to listen, reflect back to the person what he or she has heard, identify options and assist in weighing the pros and cons of each," said Moxley. "The individual sets the pace in conversation, whether or not to develop an action plan, where to meet, when follow-up will occur."
It works like this: the process is directed by the individual or their legal representative, but may include others that they wish to have present. The counselor conducts a personal interview to discover strengths, values and preferences of the individual. The counselor helps explore resources and service options and helps the individual weigh the pros and cons of the different options. The counselor helps develop an action plan and assists in applying for services when requested, and finally, follows up to be sure that the decisions and supports are working well. The necessary time is taken for all these steps to be fully played out.
North Carolina was one of twenty states to receive a federal grant to develop the program. With approximately 600 people receiving counseling in state fiscal year 2015-16, "this relatively young program has room to grow in terms of the number of people served," said Moxley. Across the state, 97 Options Counselors have been certified, and another 12 are in training.
That training adds up to 42 to 50 hours. In addition to the one-day disability rights and systems advocacy training provided by Disability Rights NC, it includes two days of training in "person-centered thinking," four on-line training modules in Options Counseling concepts and standards, interviewing, resources basics, and health literacy and cultural competency, and an online SHIIP (Senior Health Insurance Information Program) training.
In the disability rights training, the trainees discuss as a group the different issues that came up when they went through the Roberta role play. Elaine Whitford of Disability Rights NC, who conducts the training, is pleased that none of the trainees have hesitated to believe that Roberta can move out of the nursing home if she wishes.
In fact, Roberta's case is based on a real client, she said. A young man who was in an accident and thought he'd never be able to live outside a nursing home. "It took 18 months piecing together services, finding an accessible location in the same town where his family lives, allowing him the dignity of risk and to make his own mistakes," she said. Now he lives in his own apartment, hires and fires his caretakers, and with assistive technology is feeding himself.
Individuals who are affiliated with an Aging and Disability Resource Center (ADRC) or an Area Agency on Aging and meet the educational and work experience criteria can apply to become certified as a counselor.
For more details on becoming a counselor, or for information on how you or a loved one can receive Options Counseling, which is a free service, contact Jan Moxley through the Division of Aging and Adult Services website.