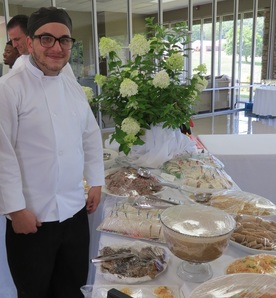 Sesame hummus bites, San Diego fish tacos, and Caribbean shrimp and rice salad. Cooper Johns served up a heaping table of delicacies last month to the delight of friends, family members, supporters, and teachers alongside his fellow graduates at the Eliada School of Trade Arts (ESTA) in Asheville.
While the spread demonstrated that Cooper had risen to the challenge of learning sophisticated culinary skills in his year at ESTA, the occasion also served as a celebration of Cooper's success when faced with a number of other challenges.
Cooper was 15-years-old when his parents first asked Disability Rights NC to help secure the services he needed, was entitled to, and simply was not getting on a consistent basis. Cooper has a diagnosis of autism spectrum and ADHD. His difficulty in managing the stressors of school put him at risk of institutionalization.
Disability Rights NC helped Cooper get basic support services in place, but then was called in to help him address bullying in school and to develop and implement an effective Individualized Education Plan (IEP). Within an improved environment, Cooper excelled in his class work, earning high grades and taking early college courses. After high school graduation, numerous holes in the service system sent him into a downward spiral that led to homelessness and joblessness with no prospect of continuing his education.
Eventually, through diligent advocacy and coordination with his case manager, Disability Rights NC helped Cooper enroll in the ESTA program at Eliada in Asheville (www.eliada.org). The program not only provided culinary training, which he now plans to continue, but gave him a safe and stable place to live, extensive life skills training, and invaluable support of caring mentors.
Cooper is now looking at the future with hope, and those of us who have come to know him could not be more proud -- not to mention appreciative of a table full of tasty treats!
from left: Lisa Rabon, Christine Trottier, Debbie Thome
Christine Trottier retired at the end of July after 37 years as a legal services attorney. Chris changed the lives of the many children and adults with disabilities she represented as an attorney at Carolina Legal Assistance and Disability Rights NC.
The Special Education Juvenile Justice Project (SEJJP) that Chris and her team created and implemented illustrates the kind of person she is. She builds things, always with an eye toward maximum impact. Advocating for individuals who are lost in a dysfunctional system can force change that benefits not only that individual, but the countless others whose rights are not being protected.
When you trace the steps of many youth in the juvenile justice system, you often find that they had been illegally suspended from school. They may have been disciplined for behavior that was related to their disability. Or, they may not have been receiving special education services because no one identified their disability.
This kind of concern has motivated Chris for much of her distinguished 37-year career in disability rights advocacy. When the needs of children and adults with disabilities are overlooked, when their rights are not protected, they too often end up in distressing situations.
As we bid Chris farewell in her retirement, we offer deep gratitude for the legacy she leaves behind. As noted by her longtime colleague John Rittelmeyer (Director of Special Litigation at Disability Rights NC), "Chris never wavered from her high standards -- always demonstrating immense skill, tact and a quiet determination in her advocacy. Chris never phoned it in."
Chris' legacy lives on in the skills and determination developed by the dozens of advocates for whom she has been a mentor. As Executive Director Vicki Smith said, "You are the model to which I think we should all aspire."
Look for an in-depth profile of Chris Trottier in our fall newsletter.