On Target eNews comes to you the first Tuesday of each month with updates on our clients, our organization, and our work. We also publish a full newsletter three times a year.
---

Happy New Year!
A very happy new year from the staff at Disability Rights NC. We wish you all the best in the coming year.
---
Assistance dog allowed to stay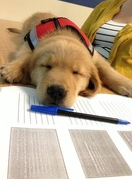 When Disability Rights NC attorney Yasmin Farahi heard about a problem from a family whose 7-year-old daughter has an assistance animal, she knew she could help.
The family had lived in the home for five years. They had documented that their daughter has an intellectual disability, and that the dog helps her with movement and with being more verbal. But the landlord insisted on an evaluation from a psychiatrist to let the dog stay.
Yasmin wrote the landlord a letter explaining that under the Fair Housing Act a psychiatric evaluation is not necessary to document the need for an assistance animal. He backed down, and the dog was allowed to stay.
In this case, the resolution was quick; in many others it is not so easy. Many people still hold misconceptions about assistance animals, and too few recognize the many ways they have a positive impact on the lives of people with disabilities.
---

Find audio recordings of our newsletters at TRRS,
Triangle Radio Reading Service
.
Registration for 2016 Disability Advocacy Conference now open
Check out our webpage to see the full agenda, register for the conference, book a hotel room, or learn about available scholarships.
Wednesday, April 20, 2016
8:30 am - 5:00 pm
The Friday Center
Chapel Hill, NC
$125 - Registration for Non-Attorneys
$160 - Registration for Attorneys Seeking CLE Credit
Registration includes continental breakfast, lunch, afternoon snacks, and written materials
New this year
Presentation of a mock IEP meeting and special education Q&A with Disability Rights NC attorneys

Up to 4.75 hours of CLE credit (including 1 hour of ethics) for attorneys licensed in NC

5 Breakout Session time slots offering 15 different topics

Longer breaks between sessions

Expanded networking luncheon sponsored by Henson & Fuerst
Keynote speaker
"From Guardianship to Supported Decision-Making" by The Honorable Kristin Booth Glen, Professor Emeritas at SUNY School of Law
---
2016 Champions Awards Reception to follow conference

We moved our annual awards reception from the fall to the evening of the conference.
Wednesday, April 20, 2016
5:15 - 8:00 pm
Extraordinary Ventures
Chapel Hill, NC
In addition to recognizing the 2016 recipients of the Champions for Equality and Justice Award, we will give the first Adele Foschia Award for Lifetime Cross-Disability Advocacy to an individual who excelled in advocating for the rights of people with all types of disabilities.
Many thanks to the
National Academy of Elder Law Attorneys - NC Chapter
for sponsoring the Adele Foshia Award!
---
Perseverance pays off

Good news from one of our clients featured in the fall newsletter: he has graduated from UNC Wilmington!
Thomas has a language-based learning disability. As a film student with a good academic record, he had to jump through multiple hoops over months of time to have a language requirement waived. Though he had accommodations for this disability written into his Individualized Education Plan during high school, the college disability office refused to accept this history as proof of his disability. He was required to undergo further evaluation.
When Disability Rights NC stepped in, Thomas had been denied his waiver without being given an avenue for appeal. We helped him consider his next move and navigate the process of getting the waiver. It was finally granted; Thomas had all the credits he needed to graduate.
We congratulate Thomas and wish him great success! See more details of his story and the issue of higher education on page 7 of our fall newsletter.
---
Connect with Us
We are a 501(c)(3) nonprofit organization.