---
The Power of Community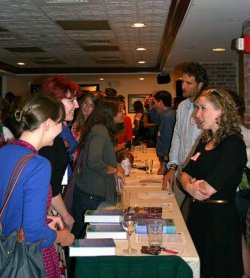 The holiday season is upon us and during this time we come together to celebrate with friends, family and colleagues – our community. But a supportive community is also important to have in times of need.

I personally understood this when earlier this year my mother suffered a brain hemorrhage and had to undergo emergency surgery. During the days and weeks that followed through Intensive Care, rehab, and adjusting to returning home, it was our local community that helped us through the ordeal. And I believe because of all the support we received, it allowed my mother to make an incredible recovery.

But what if you don't have people around you who can be supportive - especially if you are making a big life decision like taking a career break? You are bombarded by questioning family members and friends, awash in self-doubt, and no one in your social circle understands. Well the traditional idea of community being based on geography is no longer; the Internet has opened up new ways of connecting.

The beauty of this is you can connect with people who have similar interests who may not be in your immediate social or geographic circle - whether it's on Facebook, Twitter, or forums. And this is one of the reasons why we started Briefcase to Backpack: to answer the need for a career break support community. Many career breakers past, including Sherry, can tell you how lonely the process of planning a career break can be, and how easy it could be to give up on that dream. We have also included that element of community into our Career Break Boot Camp; allowing people to lean on each other during the planning process.

Is the traditional community dead?

Not at all. When we hosted the Meet, Plan, Go! events in September, we saw how powerful an in-person community can still be. And through the power of the Internet and social media, we were able to bring together career break dreamers in the same geographic locations who may not have known each other before, thus planting the seeds of in-person career break communities.

We are very excited for the upcoming year as we continue to build a career break community both online and in-person and look forward to having you be a part of it! In the meantime, be sure to join in our community online and in person; that's what all of those cute little buttons at the bottom of this newsletter are for (seriously - they aren't just there to add color - click on them!).

Michaela Potter is Co-founder of Briefcase to Backpack and Meet, Plan, Go!

---
Our Community Gives Back - Help Build a Village in India!

Each year, Passports with Purpose brings together the travel blogging community to help raise funds for a special cause. Last year they raised $30,000 to help build a school in Cambodia, and this year we are proud to support them in their efforts to raise $50,000 to build a village in South India.
How?
The travel blogging community is banding together through the power of the internet, donating great prizes – including airfare, electronics, gift certificates, hotels, travel gear, and vacation packages. For every $10 donation made to the Land for Tiller's Freedom (LAFTI) you get your name entered into a drawing for the prize of your choice. A great way to do some holiday shopping and give back!
Our contribution is a membership to our inaugural Meet, Plan,
Go!
Career Break Boot Camp
launching in January. Donate $10 and you could win your spot in our Boot Camp community to kick off your new year! For details on how to enter visit our
contribution post on Briefcase to Backpack.

For a complete list of prizes and to learn more, visit
Passports with Purpose
.
---
Hot Career Break Topics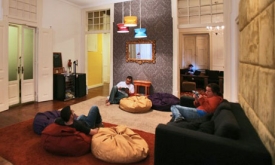 What do career breakers want in a hostel?
This week the World Hostel Conference is being held in New York City. The event is hosted by
GoMio.com
, an online booking portal for hostels and budget accommodation, and brings together hostel owners from around the world. Together with Teresa from
Art of Backpacking
, we were invited to speak about "The Career Break Movement: Potential New Customers for Hostels".
We've written in the past offering
hostel tips for career breakers
, but not all hostels are necessarily "career break friendly". We saw this as a great opportunity to let hostel owners know why they should care about career breakers as customers and how to better serve them. We even turned to our Facebook community to ask for their input on
what they want and expect from a hostel
. We heard you, and we are speaking on your behalf! Thanks to all those who shared their input!
The latest on Briefcase to Backpack:
It's every travelers worst nightmare - what do you do if tragedy strikes back home while you are on the road?
Amy Sutter writes about Dealing with Tragedy Back Home

If you are new to our community, then be sure to check out some of our career break veterans and their stories - they are sure to inspire you.

---
Boot Camp Sign-up Coming Soon!



Our Boot Camp beta group is well on their way to making their travel dreams a reality. There's lot of great information being shared and conversations happening! Just hear what one participant had to say,
"The Community has been a wonderful way to hear from similar minded travelers, the workbook & journaling have been extremely helpful in getting my thoughts out and seeing what new ideas form. Hands down though, the insights that each of you have shared from your experiences and the encouragement you've offered have been my favorite part of the course."
Put this date on your calendar - December 8, 2010. This is when we will launch our Career Break Boot Camp out to the travel dreaming public. There will be a limited number of spots and some very special extras for the first people to sign up! To be the first to grab those spots - make sure you are signed up for our Boot Camp mailing list - those people will be notified first on December 8th!

---