New Year, New You On the Road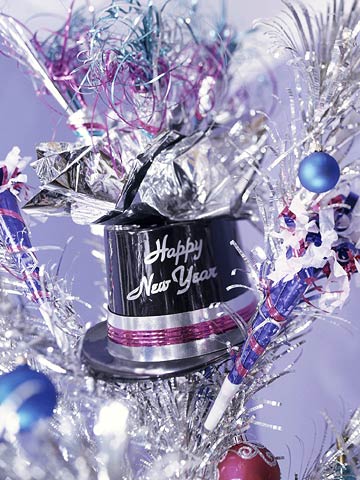 Ah, New Year's Resolutions.
Chances are you've made them. (Heck, chances are by the time you receive this newsletter, you may have already broken some of them.)
With each New Year (and with the best of intentions) we lay them out; intricate plans and lofty goals for personal and professional growth and improvement…and then hang our hopes high on the thought of accomplishing each and every one of them.
We resolve to eat better, get to the gym, watch less TV, clean out our email Inbox, spend time with family and loved ones.
Many people - with visions of far-off lands, postcards and passport stamps dancing in their heads - vow to make this year the one when they finally break free, escape their cubicle and realize their dreams of a global travel adventure.
Yet for some reason within a few short days or weeks the vast majority of us find ourselves back in the groove of "business as usual", hangin' out with our good old friend, The Status Quo.
Many of my coaching clients come to me saying the same thing… "I've wanted to take a trip like this for years. Every January, I make a New Year's Resolution, each more heartfelt than the last but somehow the years roll by and I just never manage to actually make the leap."
So what is it exactly that is holding many people back from ditching corporate life to hit the road?
In truth, it is many of the same self-imposed limitations and perceived obstacles that prevent us from realizing other common New Year's resolutions such as fitness or nutrition goals…
Inertia, lack of information, fear, feeling alone...the list goes on.
The truth is that New Year's Resolutions almost always fail; unless you put your money where your mouth is and back up that Post-it note on the bathroom mirror with real action. Action in the form of checklists, ongoing inspiration, and peer support you need to follow through on your goals.
People who are serious about fitness might hire a trainer. People who are serious about personal growth often hire a coach.
And people who are serious about hitting the road enroll in Meet, Plan,
Go!
Career Break Basic Training.
Why?
Glad you asked…
Tara Russell is owner of Three Month Visa Coaching and Consulting and a Basic Training Instructor
Report for Duty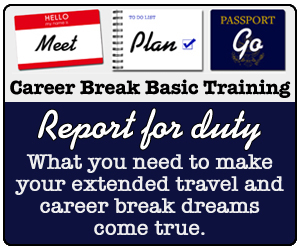 As a dedicated reader, you know that at the end of 2010 we launched Career Break Boot Camp – an eight-week online course and coaching platform where participants are led through the career break lifecycle process in a directed, fun, formalized format.
We heard back from some of our Beta members that there was so much great information in Boot Camp that they couldn't get through it all in just eight weeks. So we are now launching
Career Break Basic Training
, which allows you to go at your own pace.


It is all the same content in a less structured environment; plus a lower price point perfect for your travel budget.
Even though we've changed the structure, you will still get the benefits of the community, forums, and group discussions. It's the most efficient and supportive way to plan your extended travel.


Registration for Basic Training opens on Wednesday, January 19 and here's what some of your peers are already saying:
"I can honestly say that the structure that you have given me, the resources you have introduced and the experts that you have tapped make planning for an undertaking like a career break so much easier. There are things that I'm not sure I would have gotten up to speed on without this."
– Matt Sussman
"Basic Training consolidated all of the issues and questions in one place and allowed me to develop my own laundry list and spared me lots of 'discovery' time on the Internet – for sure. Having someone organize the process of planning for me is HUGE and I think that you can't emphasize that enough."
– Karen Bloom
We're Looking for a Few Good Hosts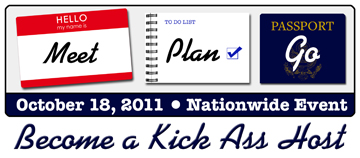 We firmly believe that our Inaugural Meet, Plan,
Go!
event in September 2010 was such a success because of our incredible and enthusiastic hosts. And we are now searching for more inspiring Kick Ass Hosts for our October 18, 2011 event.
So what are some of the qualities of a Kick Ass Host?
Are you a Kick Ass traveler? A past career breaker, backpacker, flashpacker, or nomadic wanderer?
Have you done extended travel or completed an around the world trip?
Do you feel you can serve as a 'travel expert' to others and be a Kick Ass example?
Are you passionate about extended travel and bringing the concept to more North Americans?
Are you comfortable leading discussions in front of strangers?

If you can relate to any of these qualities, then you may have what it takes to be a Meet, Plan,
Go!
Kick Ass Host on October 18, 2011.
Learn more about the expectations of our host program, as well as the many benefits. And hopefully you can join us in reaching our goal of expanding to 20 cities and helping more people achieve their extended travel resolutions.

Hot Career Break Topics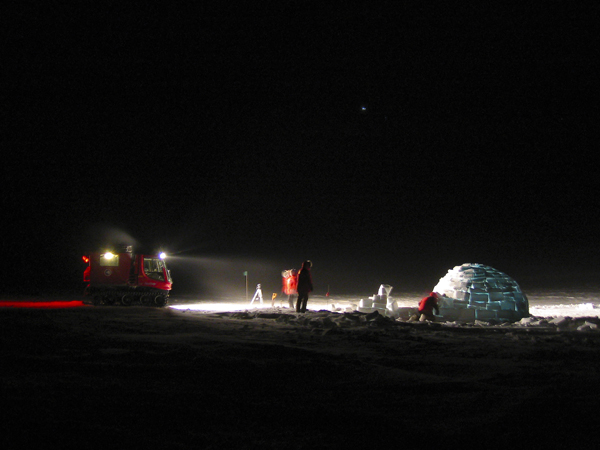 As you read this newsletter, Sherry Ott is settling in with her host family in Amman, Jordan as part of
Geovisions' Conversation Corps
, one of our Meet, Plan,
Go!
sponsors. She will be volunteering in Jordan for a month before moving on to Lebanon for a month.
And you can follow her experience every step of the way through our Volunteer Chronicles!
As we await her first dispatches from the ground, you can catch up on the
Application Process
and
Expecting Expectations
.
And you may be feeling a chill this winter, but can you imagine what it would be like to take a career break to Antarctica? Read about Keith Martin's experience in
Career Break to Antarctica Part 1
and
Part 2
.
Finally, if you are one of the many people who are resolving to say "I Quit" this year, see
why you should give yourself a break before you hop back into the job market
.