Inspiration, Structure & Community
Dreaming of escaping your cubicle to strike out and discover the world on your own terms? Perhaps you made a heartfelt New Year's Resolution to make 2011 the year when you finally circle a departure date in your calendar. If so, don't let another year pass you by.
If you're ready to take time off and travel the world, the dream can be both exhilarating and daunting but you don't have to go it alone - we're here to help you make it happen!
What can you expect with Career Break Basic Training? Well, it's what we like to call the "Meet, Plan,

Go!

Triple Threat"... Inspiration, Structure and Community.
There's a lot that goes into taking the leap and realizing your travel dreams. As seasoned career break and long-term travel veterans, we believe
inspiration, structure
and
community
are the three key ingredients that go into preparing for a wildly successful travel sabbatical which will be deeply meaningful to
you
.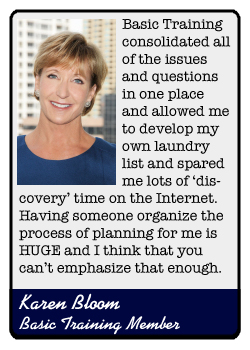 INSPIRATION
First things first...You can't build a house without a foundation and the same goes for successful career breaks. In order to craft a personally fulfilling and meaningful adventure, it is important to have a strong foundation of inspiration and a deep understanding of
why
this journey is important to you.
Basic Training does what no other travel prep guide, product or advice column has ever done before
- directs you and supports you as you begin looking at what is
truly
important to you; your values, goals and the places in life where you "feel stuck" or "want
more
". Building this foundation and having a strong understanding of what exactly you want to get out of your time off will fuel you through the sometimes challenging logistical preparations and pre-travel "to do list" to come.
STRUCTURE
Let's face it…to-do lists aren't necessarily everyone's idea of a walk in the park. But the truth is that there's a lot of logistics that go into making any travel sabbatical happen. Financial planning, visas, immunizations, etc. If your pre-travel to-do list seems daunting, fear not! We break it down for you step by step and invite you to view this part of travel prep as part of your adventure. Along the way, we'll be introducing you to industry experts and been-there-done-that road warriors and veteran career breakers who are passionate about inspiring you with their stories and hard-won wisdom.
COMMUNITY
Sometimes preparing for a career break can lead to feelings of alienation or being very alone. Given what a unique experience planning a travel sabbatical can be, you may feel it hard to find people who relate to and support you. Basic Training is designed as a community experience for this exact reason! Throughout Basic Training, you'll have the opportunity to connect with a virtual "class" of peers going through it with you – career break planners and travel sabbatical hopefuls who are here to share the journey and support you along the way.
And we bring it all together in a custom-built online social network.
In summary, Career Break Basic Training is the only place where you will get this unique combination specifically designed to jump-start your wanderlust and help you turn your travel daydreams into a departure date circled in your calendar.
Ready to make "maybe someday" a reality? Register for Meet, Plan,

Go!

Career Break Basic Training TODAY.
Sherry Ott, Michaela Potter, and Tara Russell
Career Break Basic Training Instructors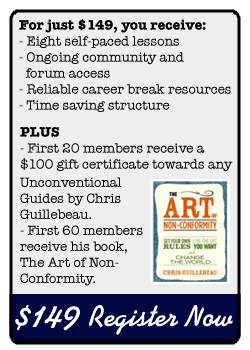 Added Inspiration
If the inspiration, structure, and community aspects of Basic Training weren't enough to entice you to join today,
we are excited to offer an incredible promotion from one of our Expert Voices, Chris Guillebeau
. Chris travels the world and writes for a small army of remarkable people at
The Art of Non-Conformity
. His mission is to help people live unconventional lives, make their own choices, and change the world.
The first 20 people who register for Basic Training will receive a $100 gift certificate to any of Chris' Unconventional Guides, which are designed to help people do more of what they are most excited about.
Learn to build a business in one year with the "Empire Building Kit" – Create your own freedom with "Break Out of 9-5" – or learn to use your frequent flyer miles to go anywhere in the world with "Frequent Flyer Master". These are just a few of the products you can access.
In addition, the first 60 people who register will receive a free copy of his book,

The Art of Non-Conformity:

Set Your Own Rules | Live The Life Your Want | and Change the World.
This will provide an added dose of inspiration to fuel your travel dreams.
So act now to get in on this amazing deal.
We're Still Looking for a Few Good Hosts

We are two weeks in to our
2011 Meet, Plan,

Go!

Kick Ass Host recruitment period
and already have some great applications. And we're hungry for more!
Our Meet, Plan,
Go!
events, and our host program in particular, have many of the same elements as Basic Training – Inspiration, Structure, Community. And the Community aspect was one of the main benefits to our 2010 hosts. Here's what they had to say:
"The event created the opportunity to meet amazing people with the same passions and goals as myself," said
Alisha Robertson
, co-host for the Dallas event. "I know at anytime I would be able to reach out to any of you for advice, tips, or support, and that is an amazing feeling. Like having a small virtual family, and a bond that connects us all."
Barbara and Elizabeth Pagano
, our Atlanta hosts, felt similar. "We love being integrated into a network of like-minded individuals and this event connected us to other colleagues in the industry."

For those travelers who have a blog, becoming a host allowed them to become part of a significant community, like
Lisa Lubin
, our Chicago host. "Personally, I met some great people and am enjoying getting to know my panelists and other hosts better. I like being part of this group, giving me a special place in the vast blogging world."
And for others, it was a great break from their day-to-day world, where travel is not as much a significant part of their time, like Washington DC host,
Sonia Zamborsky
. "I got to meet and connect with some interesting travel-related folks I might not otherwise have met. Overall, it was really wonderful to be involved in planning an event that so many people were so excited about. It was a nice contrast to my boring job and has helped give me an extra push to make a change towards doing something more meaningful."
Come join us on October 18, 2011!
Hot Career Break Topics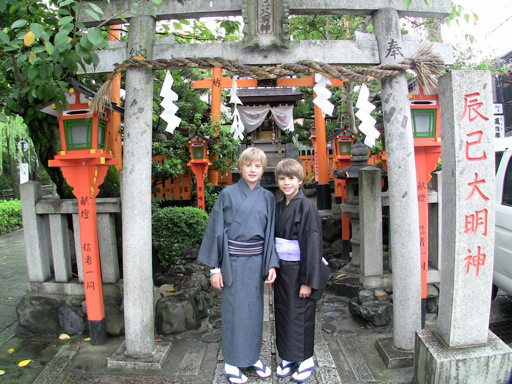 Planning on traveling with your significant other? Before taking off, learn how to "
Prepare for Long-Term Travel with your Partner
".
Adam Seper
of "World Travel for Couples" offers some great tips he learned traveling for a year with his wife Megan.
As Publisher of
National Geographic Kids
,
Rainer Jenss
decided to put his professional expertise and personal passion to the ultimate test by traveling around the world for a year with his family. He learned that travel is great in "
Building a Foundation of Learning
" in children.
And don't forget to check in with Sherry's Middle East
Volunteer Chronicles
!