Travel with Purpose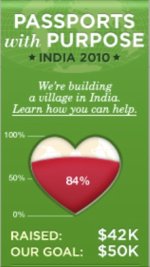 While volunteering in India, I taught disadvantaged young adults interview skills and English conversation. After studying interview skills, we orchestrated a test interview with another volunteer they had never met. The students were very nervous to try to conduct an interview in English and with a stranger.
That morning I smiled as they all walked in with their best clothes on they could find; one even wore a tie. We had talked about how important it was to dress your best – whatever level that may be. I watched as nervous students did their interview one by one. However, I noticed that as one left the interview room and came out they would quickly swap shoes and that single tie with the next person 'on deck'. The flip-flops came off and the one pair of shared dress shoes went on. This was one of the most moving experiences for me during my time in India. I could only hope that one day the kids would learn enough to get them hired in a real interview and eventually buy their own pair of nice shoes.
For me, travel is about knowledge building. Through travel, you learn about other countries and cultures; you are also exposed to various levels of poverty, sadness, and despair.
I am focusing my next year of travel to volunteering and charity projects. First, I'll be
volunteering with GeoVisions
in the Middle East and then this summer I'll be
participating in the Mongol Rally
in order to raise money for various charities. I know both of these experiences will be rewarding from a 'giving back' standpoint, but equally as rewarding from a cultural knowledge standpoint. To me this is the holy grail of traveling; when I can teach someone something or help AND travel and learn for myself, it's the perfect experience.
For those of you who may be considering a career break or extended travel in 2011, we urge you to consider ways to balance your travels with giving back. This can be accomplished in a number of different ways and they will all add to your travel experience.
If you aren't ready to hop on a plane just yet, but you simply want a way to give back this holiday season, please consider giving to this year's Travel Blogging fundraiser,
Passports with Purpose
. There are hundreds of
amazing travel prizes
given away for those who donate $10. We've even
donated our own career break prize
to the cause. All of the money raised will go towards building a village in India; giving people homes, education, community, and maybe even a nice pair of shoes.
Our goal is $50,000 – and I'm sure we can do it with your help.
Sherry Ott is Co-founder of Briefcase to Backpack and Meet, Plan, Go!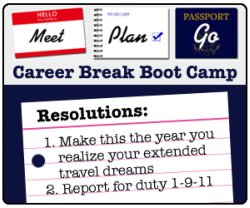 We Want YOU!
…to follow your dreams, see the world, and leave your mark on it through thoughtful giving.
In one week, you'll be able to sign up for our Career Break Boot Camp for the first time.
See a sneak preview of what Career Break Boot Camp is all about
and learn how to be among the first to sign up on December 8th!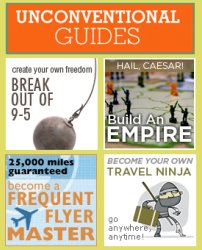 Why is being first important?
We are only taking a limited number of recruits AND we have a very special gift for the first 20 people who sign up on Dec. 8th.
Starting December 8th, the first 20 people who register for the upcoming Boot Camp will receive a $100 gift certificate for any
Unconventional Guide product
from author and Non-Conformity guru
Chris Guillebeau.
It's easy...
- Ensure you are
signed up for our Boot Camp mail list
.
- On Dec. 8th register for the Boot Camp which will begin in January.
- If you are one of the first 20 people, then you'll get a $100 to use towards an Unconventional Guide product.
Meet with us in Chicago and New York City

Want to do some travel planning or need some travel inspiration for 2011? Then come grab a drink and talk career breaks and extended travel in a casual meet-up atmosphere. It may inspire you to add some new resolutions to your list for 2011!
Chicago - December 7th 7PM
New York City – December 14th 6PM