Antique Tractor Preservation Day:

September 23, 2010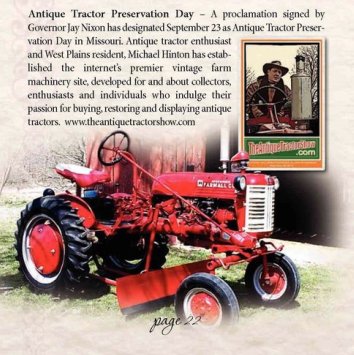 New Ozark Heritage Guide to feature State of Missouri recognized Day!

WEST PLAINS, MO (July 24, 2010)

www.TheAntiqueTractorShow.com, the Internet's premier vintage farm machinery site, has been featured in the new Ozark Heritage Welcome Center (West Plains, MO), Official Guide to Area Attractions, Events and Services.




The full-color, multi-page Tourism Guide, scheduled for availability and distribution in early August, recognizes Antique Tractor Preservation Day, and the proclamation signed by Governor Jay Nixon, designating September 23 as Antique Tractor Preservation Day in Missouri.




"The Ozark Heritage Welcome Center is pleased to recognize Antique Tractor Preservation Day" stated Joanne Abbey, West Plains Welcome Center Director. "West Plains is known for its natural scenic beauty, small town values and its warm and friendly people. We invite vintage tractor enthusiasts across the country to see the BEST the Ozarks has to offer."




Details of event activities scheduled for commemorating this history-making date in West Plains, MO are still being finalized. For news and updates, visit: www.TheAntiqueTractorShow.com

---

To Request a Tourism Guide or More Information, Contact:




THE OZARK HERITAGE WELCOME CENTER

2999 Porter Wagoner Blvd., West Plains, MO 65775

Toll-Free: (888) 256-8835

---

About Antique Tractor Preservation Day

Jeremiah W. (Jay) Nixon, Governor of the State of Missouri has designated September 23, 2010 to be Antique Tractor Preservation Day in the State of Missouri. "This is a significant honor and recognition for antique tractor collectors and enthusiasts worldwide," stated Michael Hinton. "We are pleased to have been awarded this Proclamation!"




Help us make Antique Tractor Preservation Day a NATIONWIDE EVENT!

Write your City and State Representatives and request September 23, 2010 be commemorated in your community.

---

www.TheAntiqueTractorShow.com

is a site developed for and about collectors, enthusiasts and individuals who indulge their passion for antique tractors. Michael Hinton created the site with the idea that it will come to serve as a 'virtual home and showcase window' for a growing community of vintage farm machinery enthusiasts; and keep the great tractors of the past, ever present long into the future.

---

About West Plains, Missouri

West Plains (Pop. 11,662) is located in south-central Missouri and serves as the county seat of Howell County. It is the largest city within an 80-100-mile radius (approximately 86.7 miles from Springfield, MO and 139.2 miles from Little Rock, AR). U.S. Highways 60, 63, and 160 crisscross our area, as do State Highways 14, 17 and 19. The West Plains Chamber of Commerce cites more than 125,000 people shop in the area. Much of the scenic beauty surrounding West Plains, MO is part of the Mark Twain National Forest. Notable residents of West Plains throughout the years include baseball players Preacher Roe and Bill Virdon, singers Porter Wagoner and Jan Howard, actor Dick Van Dyke, author Daniel Woodrell, and pilot Stephen W. Thompson.

---

We appreciate your patronage of these online sites who support The Antique Tractor Show:

---

Please forward this News to your friends who will enjoy it!