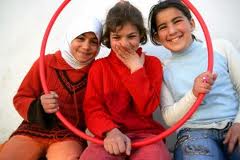 Poverty has risen sharply in Gaza after eight years of economic blockade and occupation. According to the World Bank, half the families in Gaza now live in poverty, and one in three workers are unemployed. A new Connect
her
project,
Scholarships for Girls in Gaza
, will plant the seeds of opportunity for promising Palestinian students.
The project will fund undergraduate education through the Middle Eastern Children's Alliance (MECA), founded in 1988. The scholarships will provide a brighter future for young women like Areej Mahmoud Abu Moaamer. Areej lives in Rafah, a crowded refugee camp on the border with Egypt, where her family of 11 struggles to survive on just $300 a month. This year Areej received a $1,000 scholarship to study pharmacy at Al-Azhar University. Since she didn't have the funds for the commute to the university, she lives with her grandfather so she can walk.
When she graduates, she can contribute to her family and her community—and gain economic independence for a lifetime. Special thanks to our board president, Dr. Meena Vendal for being the project ambassador who is leading this effort!
Viewers of your film, Point B, love that it is both candid and inspirational. What inspired you to share your personal story with the Girls Impact the World Film Festival?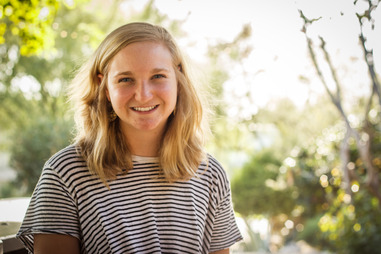 Thank you, that truly means a lot. I stayed silent about my abuse for many years after it had happened. I had only ever confided in a handful of people. But even when I did confide in those few people, I preferred to do so in creative ways. I've never been great at talking about my feelings, but I've discovered in recent months that I'm great at expressing them through creative platforms—primarily film and poetry.
I discovered this love for creative expression at one of my favorite coffee shops in Denver. One of my closest friends and I had a ritual of going there every Sunday during high school to do homework, drink tea, and talk about life. We spent a lot of time laughing, and, when it was necessary, crying. But no matter what kind of day it was, I left that coffee shop feeling strong, loved, and empowered.
I began to spend those Sundays writing poetry and editing films in the comfort of the big sofa, green tea in hand. It was in that coffee shop that I wrote the letter to my five-year-old self that later that day became Point B. I shared the letter with my friend, and she immediately told me to make a film out of it. I went home, and after an hour and a half of filming and editing within the walls of my bedroom, Point B was created and submitted to the Girls Impact the World Film Festival.
After years upon years of silence, it was the love and support of my friend, and the creative energy of this special place, that inspired me to share my personal story with an audience greater than just those closest to me. After years of letting emotions build up inside me, I had grown and healed. It was time to share what I had learned in the process.
Has making the film changed you in any way?
Absolutely. It has made me realize the power and importance of sharing one's story. As I mentioned in the film, silence has a way of masking itself as a solution, only to cause more harm in the long run. From my experience creating this film and breaking the silence, I've learned that sharing one's story, no matter how hard it may seem, is the best thing you can do to help heal yourself as well as others.
Have you used this experience or your film to inspire others to speak out against abuse?
A few months after the GITWFF Awards event, I shared my film with students at my high school. I had no idea what to expect, but I decided that if I could help or at least give comfort to one person in that audience, it would be well worth it.
A few days after the screening, I received a letter from a girl in my grade, describing her similar experience with abuse. She said that she was still in the early stages of the healing process, but that my story had given her hope that things do get better. Upon receiving this letter, and learning that my peer was beginning to take control of her story, I knew that I had made the right decision in sharing my experience with others.
Since then, I've been working to speak out against abuse in any way that I can. I am a member of Advocates for Survivors of Sexual Assault at my school, which works to create a safe space for survivors on campus. Additionally, I am a member of groups called the Feminist Coalition and Body Positive—clubs that promote empowerment and challenge inequality. This week I will share my film and speak about my experience in a panel called Survivors Speak Out.
What was the highlight of GITWFF awards event 2014?
The highlight was the incredible energy created by every filmmaker, speaker, and audience member at the event. The passion of every person in that room left me feeling inspired, supported, and empowered. It was truly an amazing feeling.
Do you have any plans for your next project?
I have a collection of sticky-notes in random places on my wall and in notebooks, all of which have ideas for different films. I guess the next step is to just pick one and make it a reality! I'm hoping to create one or two more short films by the end of the semester, definitely one dealing with the topic of body positivity, and another a (short) documentary about air pollution in Ontario, CA (near where I live). I'm also taking a documentary filmmaking course this summer, so hopefully that will equip me with the technical skills to start taking some of those sticky-note ideas to the screen!
Kathryn Harhai's film,
Point B,
was the grand prize winner of last year's 2014 Girls Impact the World Film Festival. She is
a Colorado native currently studying Environmental Science at Pitzer College in Claremont, California. A feminist, environmentalist, and activist, Kathryn pursues every opportunity to let her voice be heard. She is a member of A Cleaner Tomorrow (an environmental education group), the Feminist Coalition, and Body Positive. At Pitzer she works with Advocates for Survivors of Sexual of Assault and is a committee member of the Green Initiative Fund. In her free time, Kathryn enjoys hiking, reading, and playing the ukulele.