Girls Impact the World is so pleased to announce the winners of the DIFF Awards (GITW partnered with the Dubai International Film Festival to offer two prizes to students from MENA, Asia and Africa). Abdulhamid Juma, Chairman of the Dubai International Film Festival and GITW judge commented: "
One of the Dubai International Film Festival's primary objectives is to support home grown talent by providing access to the knowledge and skills aspiring filmmakers require to enhance their careers. The Girls Impact the World Film Festival has the same objectives as DIFF, to discover and develop new talent, enrich film culture and define its storytellers. The film prize has been created to award young women who are passionate about filmmaking and bring their projects to audiences at home and abroad.
" Judges who were present to award prizes include
: Eloise DeJoria, Ian Somerhalder and Abigail Disney
.
DIFF Awards Go To:
I Don't Want Grandma To Talk
(Winner)
Susan the first Afghan Girl Rapper
(1st Runner Up)
Winner will receive a $3500 scholarship and 1st Runner Up will receive a $1500 Scholarship.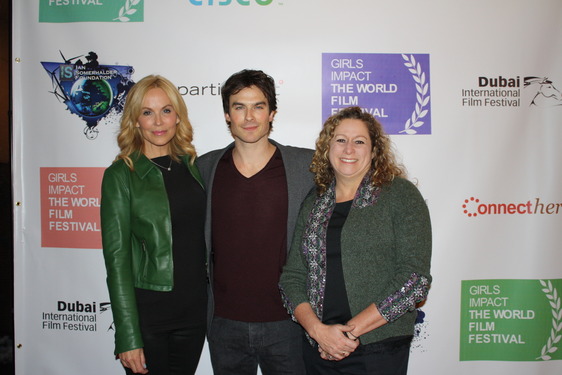 Kubra Jafari (Afghanistan), director and producer of
Susan, the
First Afghan Girl Rapper's
acceptance:
"I have received an email that my film (Susan the first Afghan girl rapper) became one of 15 tops. I felt so happy on that time. But when yesterday I received another email about being finalist I start crying that my film could have the impact that I wanted. It mean a lot to me. There is no word for me to express my feeling, since last night I have read the email more than forty times. I hope this short documentary could convey the message behind Susan's songs."
Girls Impact the World and the Ian Somerhalder Foundation presented the first ever Green IS award through a unique opportunity for students to submit a 3 to 5 minute film that either: 1)proposed solutions to environmental issues impacting women and girls or 2)created awareness about environmental issues that impact women and girls.
Awards went to:
Rural to Ramp
(Winner) Iwani Mawocha
Harvesting Hope
(
1st Runner Up
) Sarah Khan
Judge, Ian Somerhalder said about
Rural to Ramp
, "
What a truly important piece of work. This film encapsulates what happens when you add empowerment to sustainability and it relays the exceptional meaning behind that concept. Every item made by these women holds such history
."
The Ian Somerhalder Foundation Team awarded the prizes!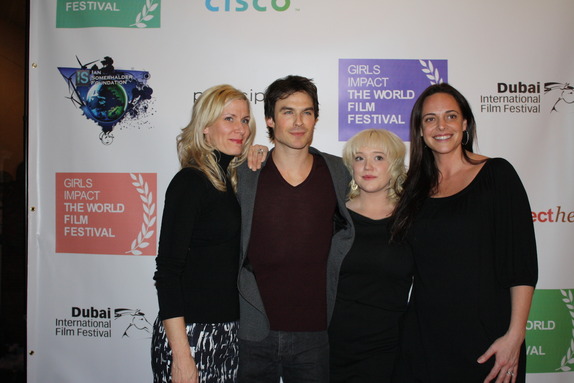 Rural to Ramp Winner, acceptance letter (Swaziland):

My name is

Iwani

Zoë Mawocha.

Iwani

comes from the Kalanga tribe, meaning 'speak out and listen.' Zoe is of Greek origin, meaning 'life.' If my name were a prophecy, it would be to 'speak out and listen [to] life.' When I was sixteen years old and reading Salt Water Girl magazine, I came across a feature on Ian Somerhalder. It highlighted all the brilliant initiatives he had done, from The Trevor Project to the IS Foundation. I have admired and respected him since. This was much to the amusement of my peers, as I had never watched Vampire Diaries, I was simply in awe of his passion for environmental sustainability.
I never would have fathomed that I would be receiving an award from his very same foundation a mere three years later. I am both honoured and grateful to be able to showcase my videographic work and promote Mustard Seed Africa on such a prestigious international platform. I thank God every day for opening up both of these platforms for me, to be able to explore, learn, share, create, speak out and listen. I would now like to thank Connect Her, The Green IS Foundation, the other sponsors and respected judges for this incredible opportunity.
Mazvita, Ngiyabonga, Thank you.
It was a remarkable evening with Ara and Kerry (GITWFF co-founders) so eloquently MC-ing with a kind thank you from Harvard SIC president Nishin Nathwani. Rebecca Dharmapalan, last year's GITW Film Festival winner, started us off by welcoming everyone and sharing updates on the doors that have opened since she won last year's competition. Because of her work,
the city of Oakland has a renewed energy to fight sex-trafficking
. We had the distinct pleasure of hearing from Abigail Disney;
Abigail urged the young female film-makers NOT to put their cameras down
- keep sharing your stories through film!!! Deepa Donde (film-maker and GITWFF Board of Advisors) presented
Jordyn Roach with her Brave New Beauty Prize
for her truly inspiring film that is re-defining beauty - Broken Beauty. Adriiana Jackson favorably surprised us by performing along to her film, what's L.O.V.E - so cool! Connect
her
founder and GITWFF co-founder Lila Igram had
a conversation with Ian Somerhalder & Kim Klingler
(co-founders of the Ian Somerhalder Foundation). Ian shared his perspective on GITW issues including approaches on
how to get more young men involved in uplifting the voice of women
and girls. We also had some good laughs :-).
Eloise DeJoria & Ian Somerhalder closed out the evening by giving out the final awards
. All photo credits to Heidi Lim, Rosa Huang, and Alyssa Leader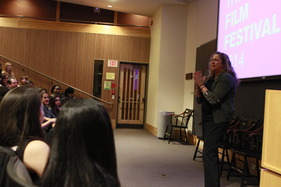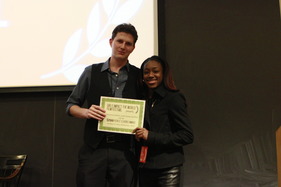 The inspiring Abigail Disney, our keynote Dan Brown presenting Adriiana with
the People's Choice Award!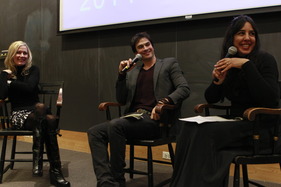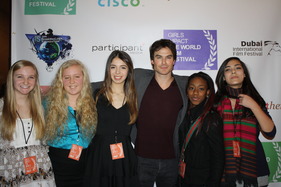 Kim, Ian and Lila - A conversation with Ian GITW finalists on red carpet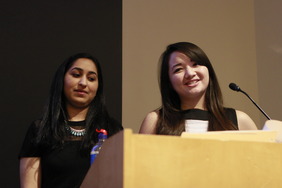 Kerry and Ara, GITWFF co-founders, Harvard SIC Group Photo!
producers and directors MC-ing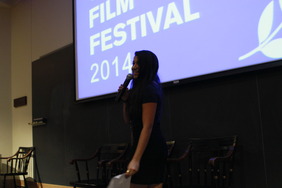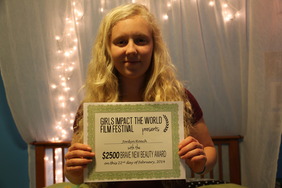 Rebecca Dharmapalan opening the night Jordyn displaying her Brave New
Beauty Award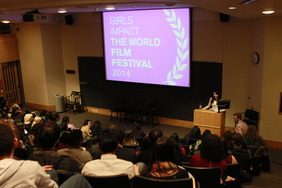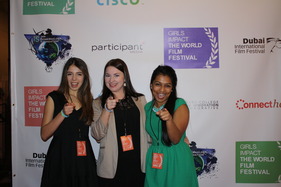 we had a full house! Sarah, Melissa and Cynthia, the Girl-Up Girls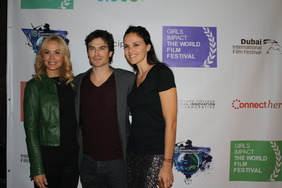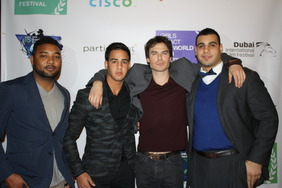 Eloise DeJoria, Ian Somerhalder and Seitu, Noah Aossey, Ian and
Constance Dykhuizen on the red carpet! Zak Aossey on red carpet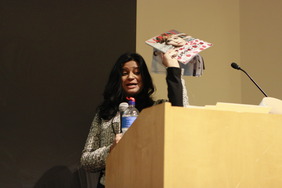 Deepa presenting Brave New Beauty Award! The GITWFF co-founders and judges on red carpet