An opportunity to make a difference with Connecther's 1000 @$25 Campaign!!

As the year comes to an end, we reflect and look back at 2013. We are thankful for all the wonderful blessings and the wonderful memories. We are thankful for all your support and well wishes. Your continued support will enable us to further fund
your
projects. Our
1000@$25
, campaign is a wonderful way for you to do just that.
It's as easy as 1,2, 3.
Go to Connecther General Fund page.
Under How You Can Help - in drop down menu choose "recurring".
Enter your monthly donation amount ($10, $25 or $50). Proceed to donate. Congratulations! You have just added your name to the 1000@$25 Campaign.
Thanks to the Stahl Family Foundation, Gretchen Canter and other generous supporters all donations to 3 featured projects below will be matched up to $2,500!
1. Life Saving Medical equipment
The one-step purchase of essential medical equipment will allow the Dr. Hawa Abdi General Hospital in Somalia to continue providing
life-saving medical care for pregnant mothers and babies.
To read more about the Foundation and the work they are doing in Somalia, click
here
.
Among the goals of the Edna Adan University Hospital in Somaliland is to train 1000 young midwives and then to return them to their communities where they will be able to save the lives of mothers and infants far into the future.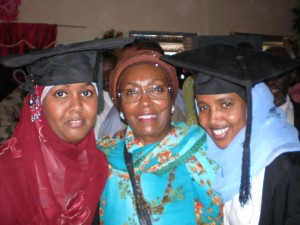 Every dollar donated
to this project
will be matched up to $2000. Read below for Edna's recent visit to Austin!
This fall, with the help of Connecther & Strongheart's Camps to Campus program, Benafsha Tasmim, the vibrant 23-year-old entered the master's program at the School for International Training in Brattleboro, Vermont. The program supports Strongheart Fellows, which brings promising young people like Benafsha from conflict zones to the United States to pursue higher education opportunities.

It's a dream come true for the self-assured young woman. After she earns her master's degree, she hopes to return to Afghanistan and start a nonprofit organization that will help other Afghan women. In a country where 38 percent of school-age children, most of them girls, are not in school, training visionary new leaders like Benafsha is a smart move. Donations to Camps to Campus matched up to $2500!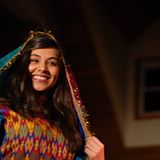 Highlights from the "Connecther Brunch featuring Edna Adan" Event

On Saturday, October 19th at the Four Season's Hotel in downtown Austin, Edna Adan joined Connecther for an unforgettable and uplifting brunch. Thanks to your support, we were able to present a $10K check to Edna for the incredible work she has been doing to train midwives in Somaliland!
Recently named of the 100 most influential Africans of 2013, by New African Magazine, Edna's work has attracted many celebrities, and notable figures, the likes of Diane Lane, Bishop Desmond Tutu, Mo Farah the Gold Medalist Athlete as well as Noble Peace Prize recipient Leymah Gbowee, to name a few.
We presented Edna with a check of $10,000. She was absolutely thrilled.
Edna Adan was well appreciated with not just this standing ovation. Many crowded around her to store up some of those pearls of wisdom.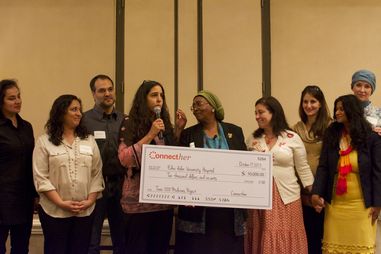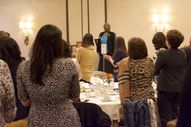 We had the equal honor of hosting Khalida Brohi, founder of Sughar - Women with Wings. Connecther founder, Lila, sat down with her. They had a really thought provoking discussion about Honor Killings, and what Khalida is doing to help combat this terrible and unjust practice. Khalida is an inspiration and change maker to women and girls everywhere!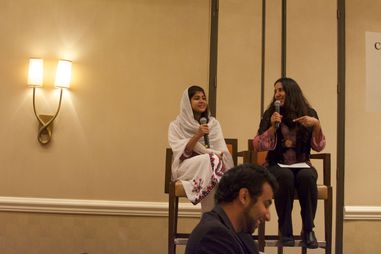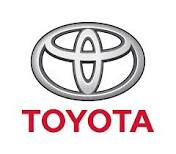 Toyota graciously sponsored two awards of the day - Woman of Impact 2013 which was awarded to Edna Adan & Girl of Impact 2013 which was awarded to Khalida Brohi. Thanks Toyota for all of the work you do to advance women and girls globally!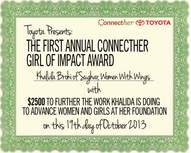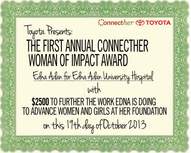 Ian Somerhalder Foundation Sponsors "

Green IS

" Award!
The
Ian Somerhalder (IS)
Foundation & Girls Impact the World have partnered to present the inaugural GITW / Green IS Award!
STUDENTS submit your 3–5 minute film on environmental issues that either:
1) propose solutions to environmental issues that impact women and girls OR
2) create awareness about environmental issues that impact women and girls.
LEARN MORE HERE!
Read about GITW's

recent partnership

with the Dubai International Film Festival!
Connect
her's
"
Women Who Give
" - a fantastic group of women committed to advancing women and girls globally. We are so thankful to
Veronica Maxey
for her continued support.
"I am passionate about Women helping Women, it empowers both the giver and recipient. The women that Connecther supports are more inclined to have control of their finances which will enhance their quality of life! It's a rewarding inspiration to give resources and time to Connecther!"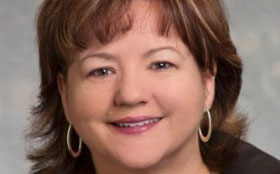 Please support Connecther here. We can not do this work without your support!