Connecther is a crowdfunding and communications platform that advances women and girls globally. We invest in local women leaders who are creating sustainable impact and give youth a compelling platform for telling their stories through the Girls Impact the World Film Festival.
Connecther Celebrates International Women's Day 2016 with Girls Impact the World Global Chapter Launch!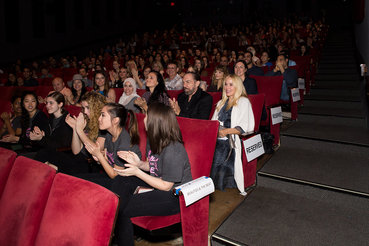 ---
Connecther packed the historic Stateside Theater in downtown Austin on March 6 for a special event to celebrate International Women's Day. We announced the launch of the Girls Impact the World Global Chapters. This new Connecther initiative supports young activists and filmmakers around the world—from Mumbai to Melbourne—to start their own global chapters. We are excited about this latest flowering of the Girls Impact the Word Film Festival. What started as a way to engage a wider audience in Connecther's crowdfunding work has evolved into a vibrant international competition for young filmmakers with more than 30 global chapters!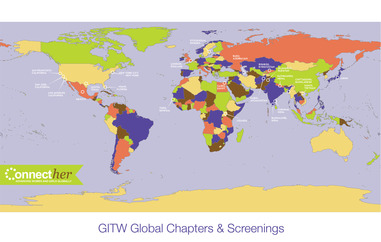 Alaa Mubarit, one of Newsweek's "25 Women Under 25 to Watch" and the BBC's 2014 "Top 100 Women," gave the powerful keynote address at the Austin event. Mubarit, who champions women's participation in security, conflict mediation, and peace processes, talked about how women and girls can find their voice. "Your voice – your ideas about solutions – is unique," she says. "It's your job to voice that. You need to take your experiences and turn them into something that will change minds."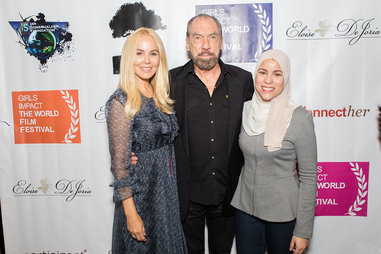 GITW Presenting Sponsors, Eloise DeJoria & John Paul DeJoria with keynote speaker Alaa Murabit
That is just what Mubarit did when her family moved from Canada to Libya when she was 15. "I grew up in a family that told me I was powerful from a very young age," she says. But in her new home, she was frustrated by the rigid expectations for women's lives. Every culture has such constructions, she points out, so "you need to take that construction and use it to your advantage." In her case, she leveraged women's traditional roles as community leaders in Libyan society to find them a place at the negotiating table. She was just 21 years old when she launched the Voice of Libyan Women.
Mubarit offers special encouragement to young women who want to make a difference. "Stay in the room, even when people say you shouldn't be there," she says. "Continue to make films, continue to sing, continue to share your message."
Red Carpet Awards Ceremony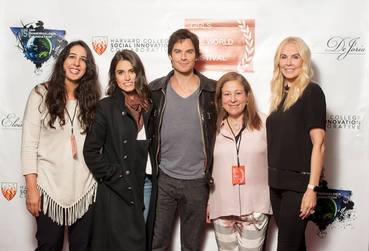 Lila Igram, Nikki Reed, Ian Somerhalder, Elizabeth Avellan, and Eloise DeJoria at the Red Carpet Awards 2016 (Photos by
Amy Brogna Baione
)
Move over, Oscars: The Girls Impact the World Film Festival's Red Carpet Awards Ceremony brought star power and social justice to Harvard College on April 2. Nikki Reed, star of The Twilight Saga, and Ian Somerhalder, the star of Vampire Diaries and president of the IS Foundation, presented the awards, along with presenting sponsor Eloise DeJoria and film producer Elizabeth Avellan. See The Boston Globe's coverage of our Red Carpet Awards Ceremony
here
!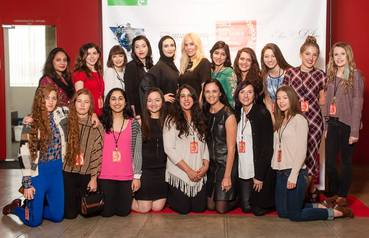 GITW Filmmakers and supporters!
Congratulations to all of the 2016 winners! Here are a few of this year's awards:
The Global Impact Award: Scarred Reality Halimah Tariq's powerful film looks at the challenges faced by survivors of acid attacks in Pakistan and spotlights one group that is helping victims rebuild their lives.
The Judge's Choice Award: Child for Sale Fiona Bock's film takes a hard look at the reality of sex trafficking in the United States through interviews with four survivors.
The Honest Beauty Award: Beautiful? Brooke Madson's film takes an eye-opening look at self-image by asking girls and women, "What is one thing you would change about yourself?"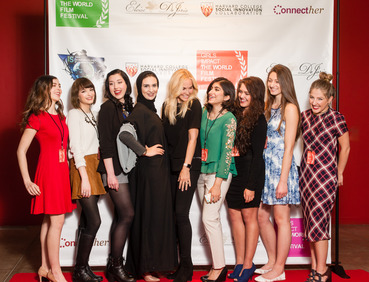 GITW filmmakers with Presenting Sponsor Eloise DeJoria
Connecther's New "Let Girls Learn" Prize
A highlight of the Red Carpet Awards was the appearance of First Lady Michelle Obama's policy director, Krishanti Vignarajah, who joined us to present the inaugural "Let Girls Learn" prize. Inspired by the First Lady's Let Girls Learn, Connect
her
& Girls Impact the World Film Festival are proud to announce this new award, designed to raise awareness in communities worldwide about the 62 million girls around the world who are not in school. We were excited that the White House
called out Connecther
in March in its list of groups that are raising awareness and funds for girls' education globally.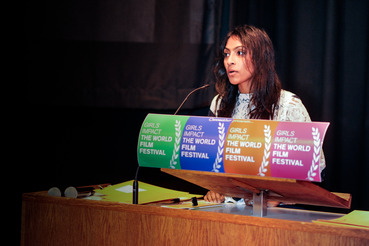 Krishanti Vignarajah presents Connecther's "Let Girls Learn" Award
Congratulations to Pooja Khati, who won the first Let Girls Learn prize for her film
Asma
, a portrait of a 13-year-old Bangladeshi girl who had to quit school to run her family's tea stand. In the film we see Asma working from 5 AM to midnight each day after just a few hours of sleep. She clearly expresses her dream of a bigger life. "I want to study," she says. "Those who study have importance." In honor of Asma, Connect
her
has started a new Girls Global Education Fund. All donations to the fund will be matched up to $10,000 by The Stahl Family Foundation.
Donate here to help us get 100 % of the match funds!
The funds will provide scholarships for girls in the developing world. Asma will be the first recipient of these scholarship funds.
Q&A with Nikki Reed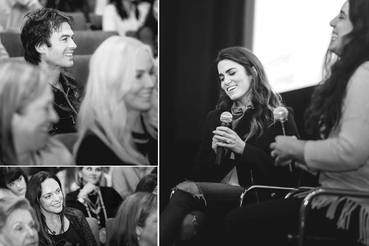 Another highlight of the awards ceremony was Lila Igram's Q&A with
Nikki Reed
. Reed revealed the story of how she ended up co-writing a film,
Thirteen,
at the age of 13.
"I
love to write; I've always loved to write,
"
she said. One day she shared her journal with a family friend, director Catherine Hardwicke, who said, "I'm going to show you how to write a screenplay.
"
"We turned my journal entries into a film… in six days. We were shooting five months later; and four months after that we were at the Sundance Film Festival. So within a year, my entire life changed – all because I was a girl who had bigger dreams than I should have, and some other woman looked at me and said, 'You can do this.' Since then, in whatever way I can, I try to be that voice for other young women."
Inspired? Here are 3 Simple Steps You Can Take Right Now:


1. Champion a Connecther project. It's an easy way to make a real impact: Find a project here.
2. Join or start a Girls Impact the World global chapter. Join a supportive and fun group of like-minded young adults and become a champion for women and girls! Contact Layla Yu at layla@connecther.org to start your chapter!
3. Recruit 5 men to be part of this conversation! One way to start: Watch a 4-minute Girls Impact the World film here and share!
Can't decide on a project to fund? Please give to the Connecther General Fund so we can continue our important work!