Connect
her
News - Spring 2017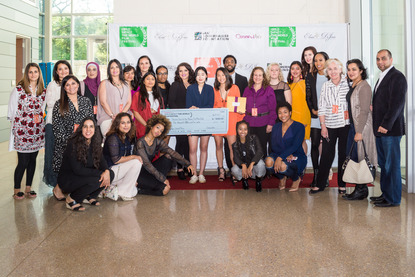 Girls Impact the World Red Carpet Awards 2017
Some 400 people packed the St. Andrew's Dell Fine Arts Center in Austin for this year's Girls Impact the World Film Festival's Red Carpet Awards presented by Eloise DeJoria. Congratulations to this year's film festival winners! This year we received more than 200 entries from 20 countries. You can watch the winning films here.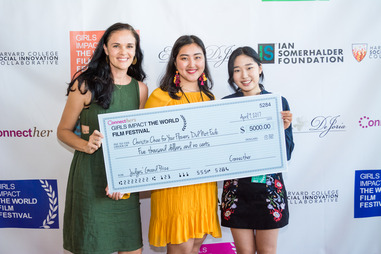 Constance Dykhuizen and Layla Yu with GITWFF grand prize winner Christin Chae (on right).
The 2017 Judges' Choice Grand Prize went to Your Flowers Did Not Fade by Christin Chae. This moving film shares the deeply personal stories of the now elderly Korean victims of Japan's World War II "comfort stations." As the writer William Faulkner once said, "The past was never past. It isn't even over." Chae's film proved the point by reminding us that the scourge of sex slavery is still with us. It was heartening to see how a new generation of Koreans is demanding justice for their "grandmothers" and keeping the women's stories alive.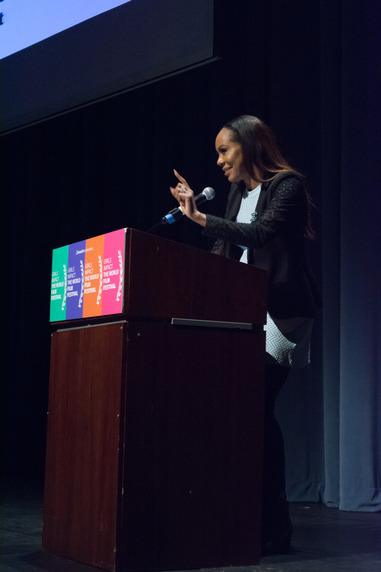 Sanya Richards-Ross
What a powerful lineup of speakers and performers at this year's Red Carpet event! Olympic track and field star Sanya Richards-Ross shared the inspiring story of her long, hard journey to win Olympic gold. Ernestine Johnson ("Average Black Girl") and Brooke Axtell, founder of She is Rising, gave powerful spoken word performances.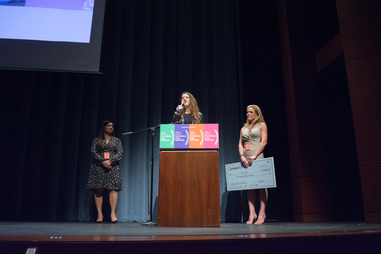 Connect
her
board members Dr. Meena Vendal and Gretchen Canter present $15,000 grant to Brooke Axtell of She is Rising (at podium) to
mentor survivors
of sex trafficking.
The singer/songwriter duo Faarrow, who escaped civil war in Somalia and now serve as spokespeople for the UN Refugee Agency, rocked the house. A warm thanks to Faarrow, Ley Line, and to all of these super talented
women for lending their gorgeous—and defiant—voices to our Red Carpet event!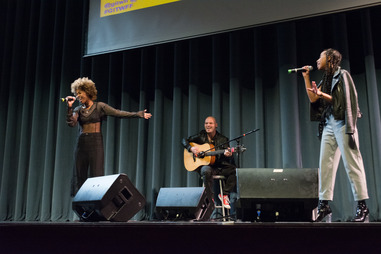 @Faarrow closes out the show!
Photo Credits:
http://www.twestphotography.com/
---
Close-Up Conversation with Film Industry Insiders
How do I find a story for my next film? How should I navigate the male-dominated film industry? How do I get better at my craft? Where can I get opportunities and find funding?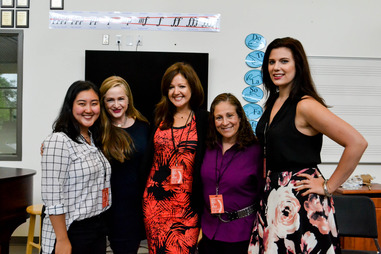 Layla Yu, S.J. Murray, Sara Hirsh Bordo, Elizabeth Avellan and Larissa Garcie-Baab (from left to right).
These are a few of the questions that young filmmakers got to ask female film industry insiders at a Connecther panel held the morning before the Red Carpet Event. Girls Impact the World Film Festival co-director Layla Yu led the conversation with special guests producer/director Sara Hirsh Bordo, assisant director Larissa Garcia-Baab, producer Elizabeth Avellan, and S.J. Murray (screenwriter/professor).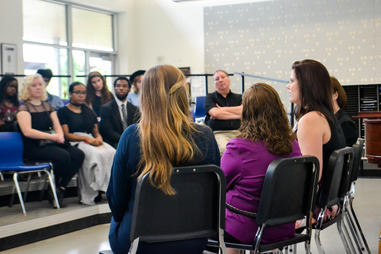 We'll share just a few snippets of wisdom:
Seize opportunities when they come your way, even if you don't think you're ready. "Fake it till you make it," says Larissa Garcia-Baab. And then learn everything you can on your own and from colleagues on the set.
Work to get good at your craft. "Nobody learns screenwriting by instinct," says S.J. Murray. "As Albert Einstein said, 'Genius is 1% talent and 99% hard work.' Too much to learn? "If you increase your skill set 1% each day," says Murray, "in 3 years you will have increased in by 1,000%."
"I was so appreciative of women like Deborah Hill when I first started in the industry," said Elizabeth Avellan. "We need to be thankful for those that have come before us, the pioneers that came through and had that kind of energy to break through things physically and emotionally and lets us be able to come in and continue that labor."
"Be mindful not of what you want people to come away with in their head, but how you want them to feel," says Sara Hirsh Bordo. "As Maya Angelou said, 'People will forget what you said, people will forget what you did, but people will never forget how you made them feel.'" Many thanks to our fabulous panelists for sharing their advice and encouragement with the next generation of filmmakers!
---
Welcome to New Finalist Judge Richard Curtis!
Photo credit: Rich Hardcastle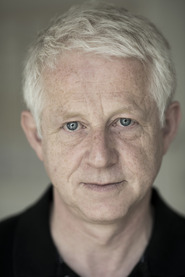 We are excited and honored to welcome celebrated screenwriter, director, and producer Richard Curtis to our Girls Impact the World Film Festival's
distinguished panel
of finalist judges. Curtis wrote all of our favorite romantic comedies—Bridget Jones' Diary, Four Weddings and a Funeral, Love Actually and Notting Hill.
---
Connecther at SXSW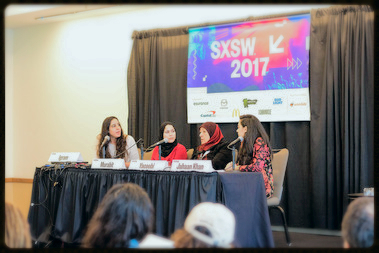 Connecther's panel "Inspiring Global Change through Women's Stories" was part of the Social Impact track at South by Southwest (SXSW) in March. The 10-day multimedia festival in Austin attracted more than 70,000 participants this year.
Amid all the buzz about using technology to "scale up" social impact, Connecther's power team—Lila Igram, Alaa Murabit, Sakena Yacoobi, and Sarah Jahaan Khan—talked about scaling up social change the hard way: on the ground in some of the world's toughest places.
---
You Funded It
Emergency Room Bed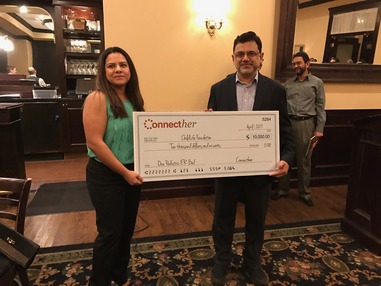 Lubna Ashraf presents Connecther grant to ChildLife Foundation
Karachi is a teeming city of 20 million people, many of whom live in sprawling urban slums and have little access to healthcare. ChildLife Foundation wants to change that. To make quality critical care accessible to the children of Pakistan, it has revamped two public hospital emergency rooms. Thanks to help from the Stahl Family Foundation, Connecther recently boosted their efforts with a $10,000 contribution that will allow ChildLife to purchase an emergency room bed, including free treatment for 1,500 children.
---
Global Chapter Corner
Connecther Chapter launched in Pakistan!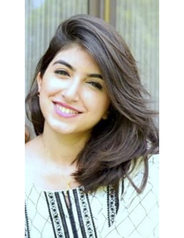 We are excited to welcome a new Connecther global chapter! Filmmaker Halimah Tariq launched the new chapter in Islamabad at the Women through Film festival. Sitting on a panel with some of Pakistan's famous TV personalities, she talked about her experience with GITW and screened Kevin Brooks's film Peighton, winner of the 2017 Best Film Production and 2nd runner up Judges Choice awards.
Tariq felt inspired to launch a Connecther global chapter the moment she first heard about the idea. Growing up in a family that always treated girls as equals, she felt shocked and frustrated whenever she encountered the patriarchal side of Pakistan's culture. She has been criticized by onlookers when she walked around the streets of Islamabad with her camcorder.
We're glad that people's comments didn't stop her: Her film Scarred Reality makes an important contribution by focusing on the devastating effects of acid attacks on women in Pakistan—and shows how survivors are rebuilding their lives. We look forward to hearing more from our filmmakers in Islamabad!
---
Stand Up Men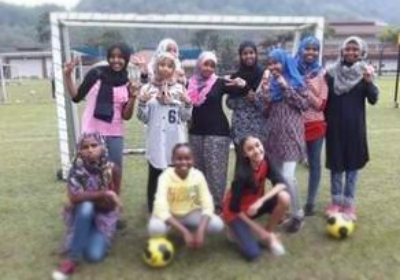 Connecther is thrilled to announce calls for the 2nd annual GITWFF "Stand Up Men" award where filmmakers profile and interview men who are changing attitudes and preventing violence against women.
"I like to play football to show that girls can play football."–Abeera Abdullahi
"I like to play football it makes me feel like I can talk with people and be friendly. Every night I am dreaming of playing football." –Salma Ali Duale
These are just two of the comments made by girls who have been personally impacted by the short film Project Stand Up that won the Stand Up Men Award at the Girls Impact The World Film Festival (GITWFF) 2017. Every year through GITW we try to recognize ambitious projects that tackle a social challenge. This year's film, Project Stand Up, looks at one example, gender bias in soccer, which highlights the double burden of social exclusion and gender stereotyping that is experienced by refugee girls.
To create positive change in these girls' lives, Connecther is helping to launch a girls' soccer team for refugees at the Fugee School in Malaysia (seen in film). This team will be an important first step in providing an opportunity for girls in refugee communities to participate in sports and reap the benefits of being part of a team. Research shows that participating in sports can help shape how a girl views herself as a person and they give her the confidence to stand up for herself and negotiate the world around her.
Help fund the very first girls soccer team at Fugee School here: Fugee School Girls Soccer Team