Connect
her
& the Harvard College Social Innovation Collaborative hosted the 2015 Girls Impact the World Awards Ceremony at Harvard University on March 28, 2015.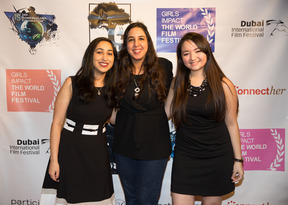 Ara Parikh, Lila Igram and Kerry Hammond, the GITWFF co-founders!
A Recap:
This year's Girls Impact the World Film Festival featured the very best in documentary, animation and storytelling from some of the brightest, most compelling and accomplished women from around the world. Young filmmakers, industry professionals, musicians and academics took part in an unforgettable evening which truly reminded us that together, we can advance women and girls globally. The Festival simply provides a forum for their voices to be heard and the messages to be made clear.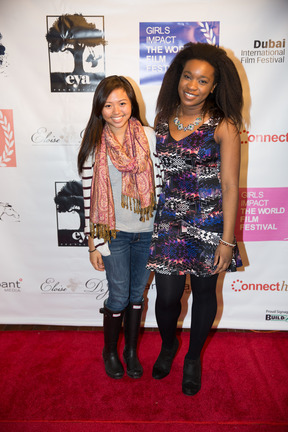 Alyssa Moore of the Harvard College Social Innovation Collaborative (on right)
Sarah Khan, an incredible filmmaker and Green IS award-winner for her short entitled "The Ripple Effect" kicked off the evening with an inspiring message and call to action. She urged: "We want people to use these films as a tool for social change." Sarah continued with compelling words to a full crowd to describe her experience at GITWFF:
"What I love about this film festival is that it gives you these real, authentic human stories behind the statistics that you hear about everyday. And what I love most, is it gives innovative solutions to problems, and that's what we need most. It has made me love and enjoy telling stories about my country that people haven't heard about it."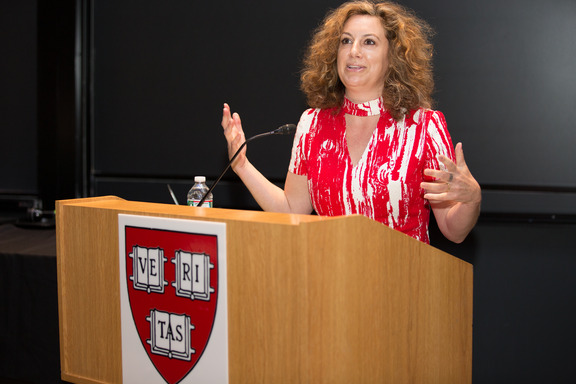 Kirsten "Kiwi" Smith speaking at GITWFF 2015 at Harvard.
Kirstin "Kiwi" Smith, an American writer and producer – most notably acknowledged for 10 Things I Hate About You and Legally Blonde – spoke passionately to the audience about women in the film industry, her experience and dedication to the craft of filmmaking and writing.
"There's a real strong desire right now to give female writers and directors a chance. Because apparently women really like movies and like to watch movies with women in them. So, I'm encouraged for the future."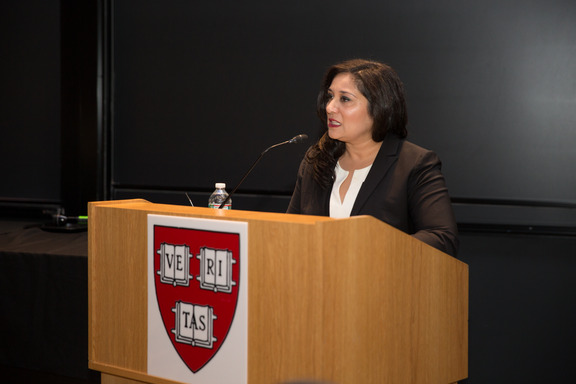 Dr. Meena Vendal, Connecther Board President at GITWFF 2015
Connecther Board President, Dr. Meena Vendal eloquently introduced the GITWFF 2015 second runner up film Emerging by Jaci Herron, "Emerging is about leadership, empowerment, believing in yourself and giving yourself a chance. By exploring the beliefs and inspiration of these three friends and characters in the film; Jaci presents a story, and film, that any girl can do what she believes in."
A very special performance by Michael Einziger (co-writer and guitarist of the alternative rock band, Incubus) and Anne Marie Simpson (accomplished violinist for mainstream bands and original motion pictures) serenaded the audience with Bach inspired music to bluegrass, then switching to an original composition which Simpson composed for Jethro Tull.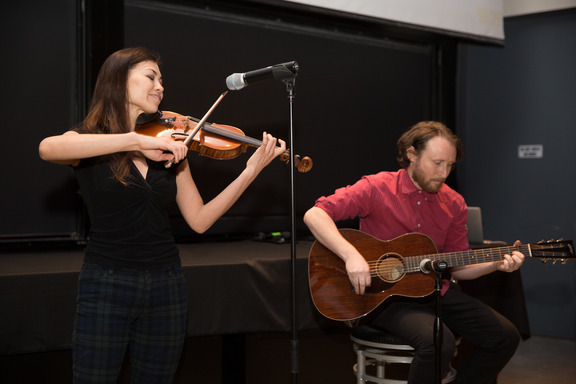 Anne Marie Simpson & Michael Einziger (of Incubus) perform at GITWFF 2015!
"One thing I loved watching these films, is there is nothing more beautiful or brave than a girl telling an original story – so we're going to improvise," said Simpson.
Einziger and Simpson concluded their performance with a sensational interpretation of "Blue Skies" echoed from the award-winning film screened and directed by Amanda Neuhouser, "ISIS Crisis." The inspiring Harvard professor, author and filmmaker, Joanna Lipper, acknowledged all the participating young females and paid a huge tribute to the importance of film-making, education, and social entrepreneurship for women.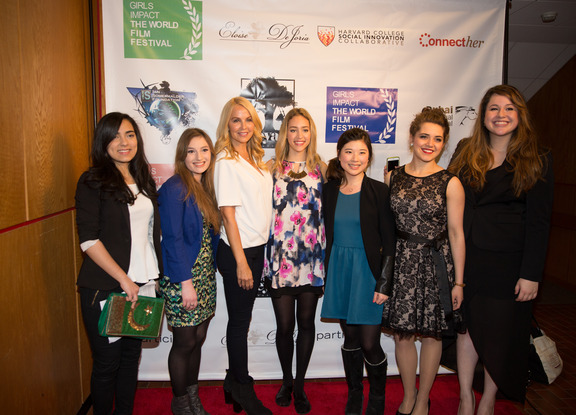 Eloise DeJoria with the 2015 GITWFF winners! From left: Sarah Khan, Jaci Herron, Eloise DeJoria, Jacqueline de Gorter, Gloria Hong, Amanda Neuhouser, Liliana Caracoza
To end the evening, Connecther's generous and passionate supporter, Eloise DeJoria acknowledged all the brilliant women who submitted films and applauded their work which beautifully showcases the issues facing young girls and women globally. "There's nothing more special to me that touches my heart than empowering these smart girls to change the world. There is so much about the truth and honesty in documentary film and this heals my soul."


Eloise presented awards to winners. You can see all winners here.
To get more information or submit a film for GITWFF 2016, please follow this link!
CALL FOR: Formal High School and University Host GITW Chapter and Recruitment
Do you want to be part of a global network of organizations, schools businesses and more to become an official chapter + host a simultaneous day of screenings and discourse about women and girls, while advancing the mission and vision of Connecther?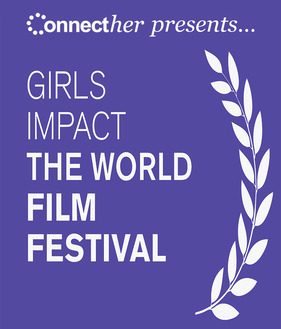 Well, we have a very exciting opportunity and announcement for you!
Launching in March 2016, Connecther will continue to expand its mission to advance women and girls globally with the unveil of "Girls Impact the World Global Chapters" -- an opportunity where anyone, anywhere can support and share stories about women and girls through film around the world. Already confirmed in 15 cities and 9 countries, we're recruiting hosts to be part of this global network of people and organizations to celebrate community, creativity and innovation…
Taking place on March 8, International Women's Day (IWD), Connecther will coordinate with individuals, organizations, corporations, schools and more to host a simultaneous day of screenings and discourse about women and girls, while supporting the mission and vision of Connecther.
Would you be interested to join? We'd love for you to consider becoming a formal chapter at your place of study!
HOW TO APPLY IN 3 EASY STEPS:
Contact us! chapters@connecther.org to see how you can get involved

Find a faculty advisor

Get 10 friends who support Connecther's mission to join

Create a simple budget