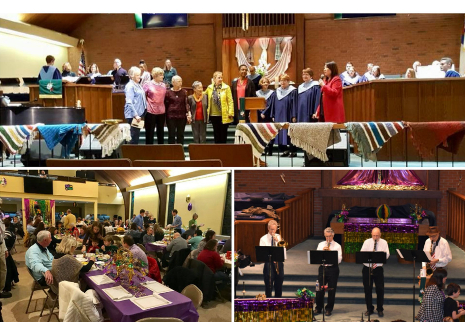 Dear Friends,
Ash Wednesday this week marks the beginning of Lent. Lent is traditionally understood as the season to deepen our relationship with God through penitence, repentance, and prayer.
We are going to have two Ash Wednesday worship services in the sanctuary at 12 noon and 7 p.m. today. Through our worship, we hope to reconnect with God, who is our Creator, Redeemer and Sustainer. Hope you will come and worship with your church family and friends.
During Lent we get back to the basics of our faith and spiritual discipline. In a way, it is a good time to focus on "being fully present with God" more intentionally while "Doing God's work" each day. When I was a young pastor, a close colleague and friend of mine said to me: "The busyness of our daily ministry does not replace our need to connect with God." My friend was right.
One of my favorite hymns "Take Time to Be Holy" has these words:
"Take time to be holy, speak oft with thy Lord; abide in him always, and feed on his word.
Take time to be holy, the world rushes on; spend much time in secret with Jesus alone.
By looking to Jesus, like him you shalt be; thy friends in thy conduct his likeness shall be."
During this Lenten season, these forty days of prayer and preparation for Easter, I am going to seek ways to walk closer with Jesus and learn to be more like him. And, I invite you to do the same and spend some quality time with Jesus each day.
We had a wonderful and fun-filled Shrove Tuesday Pancake Dinner with Dixieland Band yesterday. What a great way we celebrate our time together before we enter into the season of Lent! Special thanks to Pam Lester and all the volunteers.
Lenten Soup Supper begins next Wednesday, Feb. 21 at 6:30 p.m. We need volunteers to prepare. Please sign-up on the bulletin board by the church office. Following the soup supper, evening service with communion will begin at 7 p.m.
This coming Sunday, the first Sunday in Lent, we will have a special "Basic Lay Servant Commissioning Service" and Rev. June will preach. Let us walk closer with Jesus during this holy Lenten season. God bless you now and always.
Grace and peace,
Rev. Jennifer
This Week's Scripture: Romans 1:16
For I am not ashamed of the gospel, because it is the power of God that brings salvation to everyone who believes: first to the Jew, then to the Gentile.
Link to Updates