Brian M. Zeglis's laboratory has successfully developed pretargeted PET imaging strategies for both colorectal carcinoma and pancreatic ductal adenocarcinoma that are capable of delineating tumor tissue with high image contrast at far earlier time points than are possible using traditional immunoPET imaging. Both strategies significantly reduce the radiation dose to the patient compared to that produced by directly-labeled antibodies. The lab is currently investigating ways to extend this technology to radioimmunotherapy, multimodal imaging, 68Ga-based imaging. The Zeglis lab believe their research will have a significant impact on the health of cancer patients: in the near term it will lead to the creation of a sensitive and specific PET imaging technique that reduces radiation dose to healthy tissues; in the long term, it could have a transformational effect on the way antibodies are employed in nuclear medicine, with bioorthogonal pretargeted methodologies ultimately providing a safer and equally efficacious alternative to traditional radioimmunoconjugates.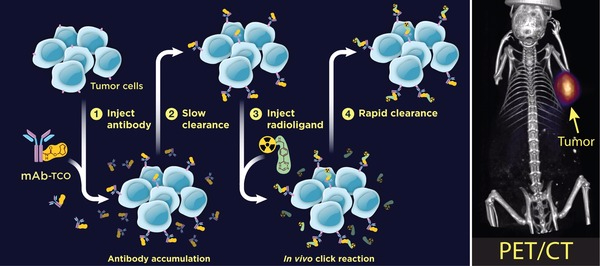 Schematic (left) of the methodology for the pretargeted PET imaging of cancer along with a PET/CT image (right) underscoring the remarkable ability of this approach to selectively delineate tumor tissue.
---
Steven Greenbaum Wins Distinguished Scientist Award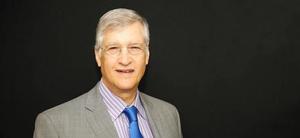 Steven Greenbaum is named 2016 SACNAS Distinguished Scientist! Since 1997 SACNAS (Society for Advancement of Chicanos/Hispanics and Native Americans in Science) has honored individuals who help advance their mission. Greenbaum was selected by a panel of SACNAS members from a competitive field of nominees. Armando Rua, a former RISE (Research Initiative for Scientific Enhancement) student mentored and trained by Greenbaum, submitted the nomination. As a long-time CTBR member Greenbaum has been an exemplary mentor to our summer students and postdoctoral fellows. His research and mentorship has been recognized by some of the most respected institutions in the nation and abroad.

Responding to the news, Greenabum said "This honor serves as a reminder to many of my colleagues that one does not need to make a choice between doing the best science one can do and involving students from segments of the population that are under-represented in STEM."

Greenbaum will receive the award later this month during the annual SACNAS conference in Long Beach, CA. The CTBR will also be at the conference (booth #709 View Floor Plan).
---