In this issue
UFFS First Year Complete
School Gardens Reach Further
Market Year Comes to a Close
Waste Question and Answer
Zero Waste Crew
Fall Workshops
SPEC's Take On Biodegradables
New Composting Initiatives
Fall Gardening Tips
Important Events
Please consider supporting SPEC with a donation. Your donations keep our projects running.
| | |
| --- | --- |
| | Fwd to a friend |
Think you know someone who will enjoy this email? Forward this message to a friend
| | |
| --- | --- |
| | NEWSWORTHY |
Did you know that SPEC's website features a News section? Important news relating to our work is updated regularly so check back often to see what's current.
SUPPORTERS
Thank you to our members and donors, who continue to support our projects.

This summer SPEC received key funding from the Vancouver Foundation and TD Credit Union to increase the reach of our School Gardens Project. Thank you!
VOLUNTEERS
SPEC would to thank the following extra special volunteers for their important contributions this summer: you know who you are.

Recent analysis showed that over 1/3 of SPEC's work is entirely volunteer driven!
View Current Volunteer Opportunities

and



LOCAl EVENTS
Participate in an environmental event this fall.

Preserving the Harvest

When: Sunday Oct 14, 1-4pm Where: Mount Pleasant Community Centre

Canning is a fun, practical, and economical way to eat local, seasonal food all year round. Practice canning summer fruits and learn about other methods of preservation including freezing, drying, pickling, and pressure canning. Participants will leave armed with a homemade jar of preserves and recipes for pickles, sauces, jams and more.

Register now.

Living Zero Waste: Advanced

When: Thurs, Oct 18th
Where: The Soal Dispensary, 3623 Main Street

This workshop will review basic waste diversion such as recycling and composting and then present tips and tricks for reducing waste down to the absolute minimum. Participants will hear from people who produce close to zero garbage in their homes. The workshop will include detailed instructions on how to significantly reduce your waste. It will also go one step further, by providing you will homemade recipes for common waste producing items and connecting you to waste reduction initiatives at the community, city and regional level.

Sliding scale $5-$10

Register by contacting the Soap Dispensary at 604.568.3141

Sustenance Festival

When: Oct 11th-21st
Where: Around Vancouver



The Roundhouse, is proud to present the Sustenance Festival. Now in its fourth year, the Sustenance Festival is an evolving platform for community groups, artists and people interested to learn more about Vancouver's Food Landscape to come together, share information, eat and have fun!

​

Sustenance is a first ever unique city-wide celebration that culminates on World Food Day, Oct 16th.

​

Sustenance endeavors to connect the communities of art, culture, and food security. From global to local, from historic to present day, the art and culture of food offer something everyone can feast on!

Defend Our Coast

When: October 22nd
Where: Legislature, Victoria

This October, we are asking you to come to Victoria to participate in the largest act of peaceful civil disobedience on the climate issue that Canada has ever seen.

Be a part of protecting the beautiful West Coast and steering the Canadian economy away from the toxic tar sands industry. The level of civil disobedience participants chose to participate is up to them.
| | |
| --- | --- |
| | GARDENS BLOG |
Interested in urban agriculture?
See our Gardens Blog to see what's new at both of our urban demonstration gardens.



FOLLOW US

| | |
| --- | --- |
| | Membership |
Being a SPEC member means being a part of the oldest charitable environmental organization in BC. It means helping to build communities that respect and protect the environment on which they depend.



In addition to supporting a worthy cause, SPEC works to provide you with extra benefits.

member update emails keep you in the loop, providing you with campaign and event information
members receive discounts at participating businesses, making it easier to make more environmentally friendly choices
For this and more sign up as a member today.
SPECTRUM FALL EDITION 2012
First Year Field School

On April 5th of this year the SPEC|YWCA Urban Farmer Field School had it's debut. The program started off with a bang with a course on Managing a Direct-Market Small-Scale Farm and features in both the Vancouver Sun newspaper and on CBC Radio. All said and done, the program featured 15 courses on urban agriculture, from seed starting, business planning, soil health, fruit tree pruning, bee-keeping, chicken coop construction, greenhouses and more.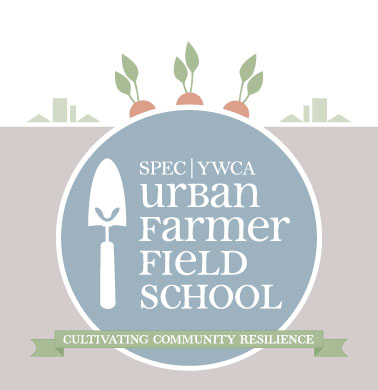 See the full program description by visiting our
UFFS page
and look out for next year's offerings.
School Gardens Reach Further

This summer SPEC received support from the Vancouver Foundation and TD Credit Union for it's School Gardens Project. The project currently operates in 7 Vancouver schools where teachers, students, parents and staff have worked with SPEC help to install an organic veggie garden and sow and harvest crops while learning about the environment and the food system. This new support will allow SPEC to conduct more outreach to schools interested in starting a garden at their school, conduct workshops at Professional Development days and for staff to finalize the School Gardens Project Curriculum Guide. SPEC will be co-facilitating a Professional Development Day for Vancouver School Board teachers October 19th and assisting with other garden learning opportunities to increase food growing success in the city. If you know a teacher, parent, administrator or student interested in starting a garden point them to our School Gardens Page at spec.bc.ca/school-gardens.

Market Year Comes To A Close

The Westside Community Food Markets are coming to an end for this season with our last market day on September 27th. It has been a great and fun market and the weather has been very good to us.

Our location on 8th and Vine has had cyclists, pedestrians and drivers come together to taste delicious local produce as well as home made bread, cookies, jams, pastries and even some Turkish and Persian home made food. Come and join us on Thursday September 27th for the last market day from 4 PM to 7 PM at 8th and Vine, in Kitsilano!

We want to thank vendors, visitors and volunteers for the time and energy they put into this season's markets.


Waste Question and Answer

Question: What should I do with my old batteries?

Answer: Call 2 Recycle is the industry-led program for all household batteries, cell phones and UPS batteries. Collection bins are located in many retail outlets. For drop off locations visit www.call2recycle.ca or call the Recycling Hotline at 604-732-9253 or 1-800-667-4321. When you visit the website you can enter your postal code and find the nearest location to recycle these items. SPEC recommends recycling your batteries rather than sending the hazardous items to landfill. Also consider avoiding non-essential battery-powered items, our battery use is often needlessly excessive.

Do you have a waste question? Send it our way and we will do our best to find your answer.

SPEC's Take on Biodegradables

Today the environmental problems posed by disposable plastics are well known; images of wild and marine life entangled in bags have been circulated online, in newspapers and elsewhere. We also know that plastic fills up our landfills and doesn't fully biodegrade, and traditional petroleum-based plastics pose serious ecological risks and waste management problems. Recycling of plastics, while now more common, is still low and does not constitute a closed-loop cycle As a solution we've been told to use biodegradables and similarly, businesses, restaurants and cafés have switched to allegedly biodegradable packaging, food ware and utensils. The question is, is transitioning to these materials truly a step forward? What does biodegradable really mean, and are the realities of the end-of-life treatment of biodegradable products in line with what we have come to expect for a compostable product?


Read more about Biodegradables

Compost Hub Fertilizes Strathcona with Diverted Food Waste
by Candace Herr
An innovative composting hub and microgarden will soon begin collecting food scraps from local businesses and turning rubbish into riches on a transformed East Hastings parking lot.

The compost producing hub is part of the newly launched Strathcona Green Zone Resource Park. The park, a Strathcona Business Improvement Association (SBIA) initiative, accomplishes organic waste diversion, urban renewal, job creation, community strengthening and improved local food security with a low-technology and scalable model.

The beauty of a food scraps recycling program is that, if done properly, a valuable and locally needed product is produced: fertilizer compost. The planned 2014 Metro Vancouver bylaw prohibiting disposal of compostable waste in the landfill will require sorting and diversion of all organic waste. Metro Vancouver estimates that 40% of landfill garbage is organic material that produces methane gas as it rots, one of the worst of the greenhouse gases.

SBIA saw an opportunity to create a small-scale enterprise by composting locally. Businesses will pay for $5 per pick-up of sorted food waste. The SBIA energy-efficient vehicle will pick-up about twice a week and most participating businesses will find this more cost effective than hiring haulers to truck organics to industrial compost facilities located in other parts of the lower mainland. Reducing truck traffic is an obvious benefit to the whole region.

Joji Kumagai, the Executive Director of the SBIA, explained that in order to reduce start-up costs for the resource park donations of time and materials were utilized. Volunteers built eight wooden sheds and 36 raised planters during several barn-raising style work parties over the summer. Construction was coordinated by the non-profit organization Projects in Place. Some of the volunteers were there on company-paid time including employees of Barrick Gold (which assays gold in a Strathcona lab).

Read more about the new SBIA Compost Hub.

City Expands Compost Pick-up

Vancouver residents who live in a house or duplex can now add all food scraps and food soiled paper along with yard waste to their green bin.

This means, in addition to uncooked fruits and vegetables, coffee grounds, egg shells and teabags, residents can now add meat, fish, bones, dairy, bread, cooked items and food soiled paper such as napkins, pizza boxes and paper plates.

View more details on Vancouver's Compost Expansion.

Fall Organic Gardening Tips

Whether or not you want to continue to eat out of your garden over the winter months there are a few things you should find time to do as the days grow shorter.

To do now:
Build a cloche or greenhouse to keep winter greens at their best.
Plant garlic (now to late November - the later you plant now, the later you will harvest next summer).
Gather leaves to add as brown material to your compost bins and to use as mulch.
Mulch around your crops, keeping warmth in, cold out and protecting your soil from hard winter rains.
Eager to learn more? Watch for urban agriculture workshops over the winter and a new UFFS season come spring. See what's available at www.spec.bc.ca/events