In this issue
Please consider supporting SPEC with a donation. Your donations keep our projects running.
| | |
| --- | --- |
| | Fwd to a friend |
Think you know someone who will enjoy this email? Forward this message to a friend
| | |
| --- | --- |
| | Take action |
Option A:
At our recent SPEC social Taina Uitto shared her experience of going plastic free for an entire year. This month SPEC challenges you to not purchase any plastic for a week.
Option B:
The proposed Prosperity Gold-Copper mine project in the BC Chilcotin will turn Fish Lake (Tetzan Biny) into a tailings impound area. Read this factsheet and write a letter to voice your opinion.
SUPPORTERS
Thanks to all of our supporters, volunteers and members. Special thanks this month goes to the following businesses and organizations who helped with our SPEC social:
Stanley Park Brewery, Rocky Mountain Flat Bread, Sweet Cherubim, Club Ilia, Salt spring Coffee, Pedal, Uprising Breads, Terra Breads, Greens Organic and Natural Market, AMS Bike Co-op, BEST, Plastic Manners, Vancouver Shiatsu, Whole Foods, Tomato Cafe, The Natural Gardener, Taina Uitto, Deanna Rogers
VOLUNTEERS
SPEC would like to thank all of our volunteers who helped make the SPEC social the great event it was.
Special thanks to:
Emi, Keri, Lois, Judith, Kateryna, Ana, Clayton, Emily, Olivia, Sarah, Jodi, Whitney and Mark
Sign-up to volunteer here.



gardens blog

Interested in urban agriculture?
See our Gardens Blog to see what's new.



LOCAl events

Gaining Ground Conference: Ecological
October 4-7th,
Downtown Vancouver
Apple Festival
October 16th and 17th
UBC Botanical Gardens
Beaty Biodiversity Museum Opening Weekend
October 16th
UBC
No Tanks Flotilla and Beach Celebration
Sunday October 17th, 2-4pm
English Bay, Vancouver
Paddle for Wild Salmon Celebration
Sunday October 24th, 12-4pm,
Jericho Beach Park, Vancouver



Room rentals

SPEC's Sustainability Demonstration Center is also a community space with both a board room and multipurpose room for rent.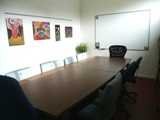 SPECTRUM FALL EDITION 2010
Editorial
The State of Agricultural Land Management in BC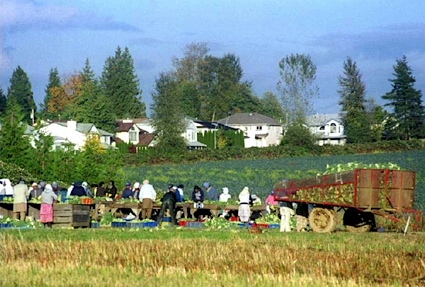 Today, in the face of peak oil, climate change, food-related health concerns, and a growing understanding of the importance of a secure local food supply, the importance of protecting our agricultural land base has never been greater, and thus the value of the agricultural land reserve program is considered intrinsic to many people in the province. Since its inception, the ALR program has certainly slowed the rate at which agricultural land has been lost in the province. Many high profile cases of exclusion approval in urban-rural fringe areas highlight the reality that the reserve is still being eroded.
Read the full Food Committee article.
Enviro News Feed
SPEC, LRC Call On Province To Shift Transportation Funding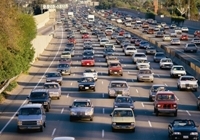 As government officials met last month behind closed doors to discuss transportation funding SPEC and the Liveable Region Coalition (LRC) called for a substantial reallocation of that funding. Recent reports on pollution levels in British Columbia demonstrate the need to shift from highway construction projects to investing in public transit. Read our press release.
SPEC in Fall
Our New Colours and Member Benefits
SPEC underwent a transformation this year and celebrated our new logos and website at the SPEC social on September 18th. View our photos of the event.
Important Notice:
SPEC membership now comes with benefits! SPEC members can stop by our office to pick up a membership card. Present it at participating businesses to receive discounts and free services. See SPEC's member benefits.
Memorial Promotes Cycling
SPEC was delighted to accept the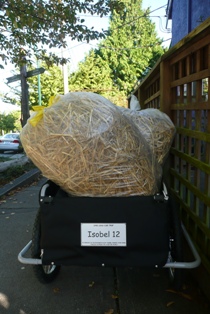 donation of a new bike trailer, one of many donated across the city as part of a memorial for social and environmental activist Isobel Kiborn. Isobel passed away in 2008. Her accomplishments were great and she was an inspiration to many. The bike trailer will be used often by SPEC staff and volunteers who regulary bike event materials and vegetable seedlings across the city.
SPEC Works Increasingly With Reseachers
This year SPEC became a community partner in the Think & Eat Green at Schools Project, a Community Research Alliance project being conducted in the Faculty of Land and Food Systems at the University of British Columbia. SPEC is working with the academic community to conduct and implement research with this team. Through the university's Community Service Learning Program, SPEC is also utilizing the skills of undergraduate students to better meet the goals of the organization.

How To Go Plastic Free
Taina Uitto and Deanna Rogers attended our SPEC social and shared their personal waste reduction success stories. Taina committed to a year without plastics and Deanna made her housing co-op waste free. These commited young women have shared with us thier tips for getting on the path to zero waste.
Soundbite: Transportation
A City of Vancouver study shows the proposed Hornby separated bike lane is supported by the majority.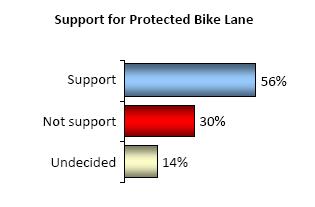 On October 5th Vancouver City Council unanimously approved a separated bike lane on Hornby Street.
City of Vancouver Talks Green
Haven't heard of Vancouver's Talk Green To Us Project? Find out more at talkgreentous.ca
November Update Preview

SPEC members now receive regular monthly notices with campaign updates, news briefs and more. Next month's update will include information on:
The Battle To Keep Our Coastal Waters Oil-Free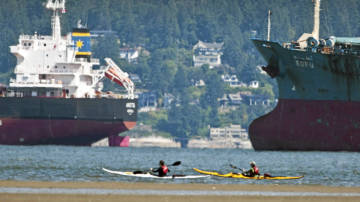 Many British Columbians are up in arms over the threats oil expansion and transportation are posing to our communities. The devastation that tar sands, pipelines, and tankers can cause has become all to clear this past year with the infamous Deepwater Horizon offshore oil rig explosion. Where do we sit in terms of oil exploration and transportation in BC? Read SPEC's synthesis in our November member update.