In this issue
Annual General Meeting

Cosmetic Pesticide Ban

Annual General Report Now Available

SPEC Has Shirts!

Upcoming SPEC Workshops

SPEC's Zero Waste Workshops

Local News Article?

Local Events including Climate Rally Tomorrow

and more!
Please consider supporting SPEC with a donation. Your donations keep our projects running.
| | |
| --- | --- |
| | Fwd to a friend |
Think you know someone who will enjoy this email? Forward this message to a friend
| | |
| --- | --- |
| | Take Action |
Last month the environmental groups celebrated a tenious victory as US President Barack Obama postponed a decision on the proposed Keystone XL pipeline. Unfortunately this was soon followed by Canadian government statements suggesting an excreased need for pursuing Asian markets for Tar Sands Oil. Environmentalists are vowing to cut off the Tar Sands from both ends by also opposing the proposed Enbridge Northern Gateway pipeline which would bring oil to the beautiful Kitimat on our Northern Coast.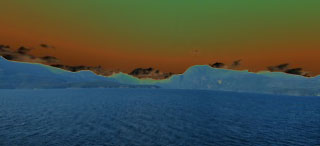 Speak up against the possibility of oil on our Northern Coast. Send a letter to our Prime Minister. You can access a template and address through this Forest Ethics link.

SUPPORTERS
Thank you to The Think & Eat Green @ Schools Project team for their continued partnership. The team of university and community activists helps support and inform better practices linked to our School Gardens Project and related work.

The YWCA in downtown Vancouver and the Mount Pleasant Community Centre for consistently providing SPEC and its committees with meeting and event space.

VOLUNTEERS
Thank you to our Waste Committee members for their continued dedication and for putting on our first Zero Waste Workshop!

Sign-up to volunteer
and get involved in some fun projects.



LOCAl EVENTS
System Change Not Climate Change
Saturday Dec 3, 12-3pm
Vancouver Art Gallery
A rally in response to Canada's poor record on Climate Change. With Tria Donaldson, Rex Weyler and more.

Bag-It Online Movie Screening
Sunday Dec 4th, 5pm
Online
For $5 view a new humour-filled film on plastic bag pollution and the efforts of two small towns to reduce reduce reduce.

Homo sapiens: Repeat Offender A Presentation By Ronald Wright
Monday Dec 5th, 7-8pm
UBC, Vancouver
The history of civilization has seen the growth of humankind at the expense of other species, especially in recent centuries. Yet our civilization depends on the health and diversity of eco-systems and of the Earth itself. Ronald Wright will discuss this predicament, our sorry record, and prospects for reform.

From Here to There: Food, Energy and Resiliency in Vancouver
Wednesday Dec 7, 5-7:30pm
Museum of Vancouver
The Vancouver Food Policy Council, Village Vancouver Transition Society, SPEC and others invite you to the MOV for a community visioning event that encourages people to think about the future of food in Vancouver, especially as cheap energy sources peak and climate change intensifies.
Please RSVP by clicking on the link above

SPEC Annual General Meeting
Dec 8th, 2011 5-9pm
Mount Pleasant Community Centre, Vancouver

| | |
| --- | --- |
| | GARDENS BLOG |
Interested in urban agriculture?
See our Gardens Blog to see what's new.

SPECTRUM winter EDITION 2011
Annual General Meeting Dec 8th
Please join us at our Annual General Meeting and Holiday Party this Thursday December 8th from 5:30-9pm. We will be enjoying a potluck, a recap of our year and the voting in of our 2012 Board of Directors.

All of SPEC's current Directors have been nominated for the Board in 2012. In addition, Sam Bennet, Jeff Malmgen, Tova Plashkes and Vandana Nayar have been nominated to join as Directors of SPEC.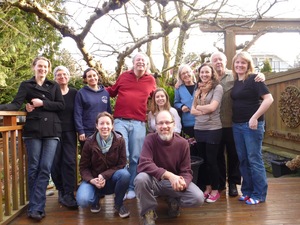 Help Ban Pesticides





The Government of BC is now seeking feedback from citizens on the possibility of implementing a Cosmetic Pesticide Ban. There is no need for cosmetic pesticides which pose a serious threat to the health of our citizens, children, pets and local ecosytems. Please respond to the questionnaire here

https://www.leg.bc.ca/pesticidescommittee/questionnaire.asp

Find out more about pesticides on our

Pesticides Page.


Annual Report Now Available
Curious how much we accomplished this year on our tight budget in addition to moving and more? Click on the image to read our 2011 Annual Report.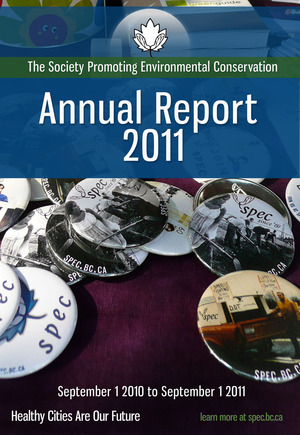 SPEC Has Shirts!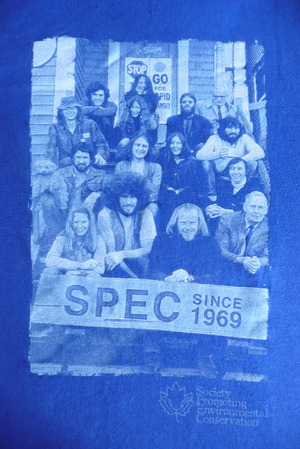 A local and green gift for a good cause. Consider purchasing a SPEC t-shirt as a gift this Holiday Season. The shirts were made in Vancouver using eco-friendly methods. They feature an historic photo of SPEC in 1969. The shirts are made of extremely soft bamboo fibre and are in limited supply for a minimum $30 donation. Order yours by emailing mnewell@spec.bc.ca or calling 604 736 7732.
Upcoming SPEC Workshops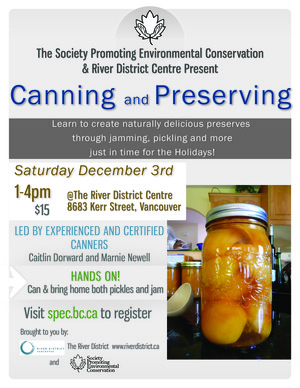 This Saturday December 3rd SPEC is holding a Canning and Preserving Workshop at River District Centre on Kerr Street in Vancouver.

Canning and Preserving, December 3rd, 1-4pm
In this three-hour session that emphasizes safe canning practices, participants will learn techniques for boiling water bath canning, pickling and more. The workshop will consist of a presentation and hands on canning session in which participants will have the opportunity to make preserves using local, seasonal ingredients. Registration includes all supplies and participants will take home a jar of each preserve.
View more by clicking on the workshop title.
SPEC's Zero Waste Workshop
Living Zero Waste, November 7th

This FREE workshop presented tips and tricks for reducing waste down to the absolute minimum. Over 25 participants heard from people who produce close to zero garbage in their homes. The workshop included simple instructions on how to go wasteless without going crazy and provided the public with recycling and waste reduction resources.

Feedback was overwhelmingly positive for the workshop which was volunteer organized and run. The Waste Committee has already received requests for additional workshops.
Stay Connected