March 23rd, 2018

JUST ANNOUNCED:
Brooklyn outfit Opera on Tap partners with The Flea Theater to bring their irreverent, heartfelt, and entertaining approach to classical music to Manhattan.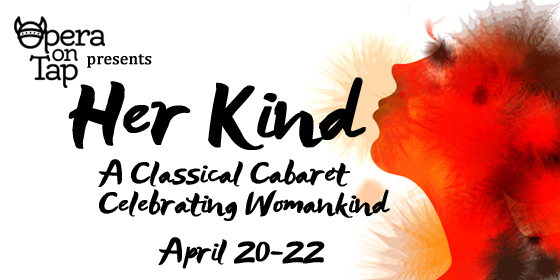 Her Kind
A Classical Cabaret Celebrating Womankind

Performances: April 20 @ 9pm, April 21 @ 3pm & 9pm, and April 22 @ 3pm
The Pete @ The Flea (20 Thomas Street, Manhattan, NY)

Tickets available now, starting at $17
What does it mean to be a woman in the times of the #metoo and #timesup movements? What would our historical sisters have to say about it? From Sappho and Hildegard von Bingen to present day, this classical cabaret explores some of the innermost thoughts, desires, dreams, and experiences of women through music and poetry. Opera on Tap makes its' Flea debut as an Anchor Partner, presenting a diverse program of classical song in their signature fresh, heartfelt, and entertaining style.
Opera on Tap (OOT), now 12 years old, was one of the pioneers in the movement to bring opera out of the opera house and into alternative venues, like bars. OOT has made a name for itself by presenting laid-back, entertaining, and irreverent operatic concerts in bars that break down all of the traditional rules surrounding opera and poke fun at all of opera's seriousness. By breaking down the barriers that many people perceive around the art-form, Opera on tap shines a light on the core elements that make opera great: the beauty of the music, the (often bizarre) stories, and the incredible talent it takes to sing operatic repertoire without any amplification. Opera on Tap's credo is that the power of the human voice is best appreciated about 20 feet away, with a beer in hand.
Opera on Tap takes pride in being an organization that is mostly run by strong, ambitious, multi-talented women. Opera on Tap was started by 3 such women, all aspiring opera singers, who have passed the torch on to over 60 singer-administrators around the globe who helm the regional chapters of OOT. Opera on Tap's Executive Director, Anne Hiatt says, "With everything going on in the world right now, with more and more women coming forward to share their stories, it felt like the right time to turn our focus to sharing some of the many inspiring women's voices in our field."
"I wanted to create a concert that speaks to our times, not only by focusing on women's voices, but by featuring music by composers who are living and breathing in those times with us," says Associate Producer Sara Noble, who is directing Her Kind. The program will feature music by 17 different composers, showcasing a wide breadth of poets, styles, perspectives and stories. Selections include songs, arias, and ensembles by Catherine Aks, Christopher Berg, Ricky Ian Gordon, Paula Kimper, Gilda Lyons, Evan Mack, Ellen Mandel, Nkeiru Okoye, Rachel Peters, Frances Pollock, Deanna Walker, and more.
Supporting contemporary composers, especially those based in OOT's home community of Brooklyn, has always been part of Opera on Tap's mission. Their New Brew series, presented at Barbès bi-monthly, features themed programs of contemporary classical vocal music on a variety of topics. Since 2012, Opera on Tap NYC has also been commissioning and producing modern, immersive new chamber operas by up-and-coming local composers as part of its Roadworks Series. Her Kind will include selections from two of these works: SMASHED: The Carrie Nation Story, by James Barry and Timothy Braun, and The Inner Circle, by Daniel Felsenfeld and Kate Gale. It will also feature music by Kamala Sankaram, the composer of OOT's newest Roadworks venture, The Parksville Murders, the world's first episodic virtual reality horror opera (recently released on Samsung VR).
"'5 sopranos walk into a bar…' sounds like the beginning of a bad joke, but we often joke at Opera on Tap about creating work solely for a pile of sopranos, because in the classical vocal world they are about 75% of the singer population," says Ms. Hiatt. "We're thrilled to showcase the shining talents of Elena Armijo, Kacey Cardin, Chelsea Feltman, Cameron Russell, Krista Wozniak and pianist Mila Henry in this collaboration with The Flea."
---
Performances:
April 20 @ 9pm, April 21 @ 3pm & 9pm, and April 22 @ 3pm
The Pete @ The Flea (20 Thomas Street, Manhattan, NY)
Tickets available now, starting at $17

Featuring pianist Mila Henry and sopranos Elena Armijo, Kacey Cardin, Chelsea Feltman, Cameron Russell, and Krista Wozniak.

With music by Catherine Aks, James Barry, Christopher Berg, Hildegard von Bingen, Daniel Felsenfeld, Ricky Ian Gordon, John Harbison, Paula Kimper, Gilda Lyons, Evan Mack, Ellen Mandel, Gian Carlo Menotti, Nkeiru Okoye, Rachel Peters, Frances Pollock, Kamala Sankaram, and Deanna Walker.

Created and directed by Sara Noble.
ABOUT OUR PARTNERSHIP WITH THE FLEA:
Just a decade ago New York City boasted over 100 viable spaces for small companies to produce their work – now there are less than 25. Anchor Partners is The Flea's response. Their three new theaters in Tribeca were built to be shared, and The Flea seeks to anchor companies stretching to the next level, without a home of their own. Opera on Tap is thrilled to be making their Flea debut as an Anchor Partner this season.
ABOUT THE FLEA:
The Flea was founded in 1996 by a group of downtown artists looking to raise a joyful hell in a small space. That same spirit of adventure and excitement, which defines Off-Off-Broadway, also defines The Flea. They don't just encourage risk, they invest in it – in work that wouldn't be produced elsewhere, and in early-career artists who wouldn't gain opportunities elsewhere. As a result their stages are filled with new plays, fueled by emerging talent, and focused on urgent stories that reflect the world around us.
---
CREATORS:


Lauded for her "sublime" playing (Feast of Music) and heralding orchestral scores of "incredible range and color" (OperaPulse), Mila Henry is an integral member of New York's contemporary opera and music theater community. Comfortable leading from both the piano and the podium, her versatility has allowed her to assist as Music Director for Pittsburgh Civic Light Opera's These Girls Have Demons (SPARK Festival), Assistant Conductor for American Opera Projects' As One (BAM) and The Blind (Lincoln Center Festival), Vocal Director for Ripe Time's Obie-winning The World is Round (BAM), and Principal Pianist for Opera Philadelphia's We Shall Not Be Moved (O17, Dutch National Opera, The Apollo), Beth Morrison Projects' Thumbprint (LA Opera, PROTOTYPE) and OPERA America's Fierce Grace: Jeannette Rankin (Library of Congress). Additionally, she has performed with American Lyric Theater, Experiments in Opera and Opera on Tap, and alongside Either/Or, Refugee Orchestra Project, The Curiosity Cabinet, Hotel Elefant and the band Opera Cowgirls. milahenry.com

Elena Armijo has appeared with companies throughout the United States and Europe. Performance highlights include Hänsel (Hänsel und Gretel), Amastre (Serse), Adah (The Naughty Marietta), Angelina (La Cenerentola), Stéphano (Roméo et Juliette), Mercédès (Carmen), L'Enfant (L'Enfant et les Sortiléges), Third Lady (Die Zauberflöte), Venus (Orphée aux Enfers), Zita (Gianni Schicchi), and Donna Elvira (Don Giovanni). After a recent transition to Soprano, Elena looks forward to debuting many new roles including an upcoming recital in Dubai. Elena is a certified Leadership and Life Coaching and has a private practice in which she coaches people domestically and internationally. BM: New Mexico State University. MM: University of Washington. elenaarmijo.com/voice

Kacey Cardin is a versatile singer-actress, performing internationally in operatic, musical theater, pop, and soul repertoire. She starred as Violetta in Arbor Opera's groundbreaking La Traviata, and appears regularly in NYC and Europe in L'Opera Burlesque. American Traditions Competition Quarterfinalist and 2015 "People's Choice" Winner. Off-Broadway and National Tour of Girls Night: The Musical. Kacey also starred in the world's first Virtual Reality horror opera, The Parksville Murders, currently under distribution by SamsungVR. Her cabaret burlesque persona Dixie DeLight has entertained audiences in Nashville, NYC, Italy, and Austria, and she is the writer and co-producer of Follies Noir and Knockers, a burlesque musical that had a sold-out Off-Broadway run in 2016. When she isn't singing and dancing, Kacey is a certified professional Life and Business Coach who works with creative businesses worldwide from her offices in NYC and Nashville. www.kaceycardin.com

Chelsea Feltman has appeared as an operatic soprano both stateside and in Europe, South America, and East Africa. Performance highlights: A Midsummer Night's Dream (Tytania), The Rape of Lucretia (Lucia), The Medium (Monica), Don Giovanni (Zerlina), Oklahoma! (Laurey), Carousel (Julie), Proof (Catherine). She is a co-founder of The Shrill Collective, a feminist theater company, and with them recently directed Aphra Behn's The Feigned Courtesans. She was also a recent contestant on JEOPARDY! BM: Juilliard. MM: Mannes. chelseafeltman.com

Cameron Russell has been a member of Opera on Tap for over 10 years. She has most recently been seen with them in The VR horror short The Parksville Murders, two workshops of The Inner Circle, and SMASHED: The Carrie Nation Story. She has performed at the New York Fringe Festival, HERE Arts Center, Opera San Jose, TheatreWorks and as solo artist for Cirque Du Soleil parties. She holds degrees from UCLA and Manhattan School of Music.

Krista Wozniak's stage roles have included the title role in Blitzstein's Regina, Desdemona in Verdi's Otello, Fiordiligi in Mozart's Così fan Tutte, Lady Billows in Britten's Albert Herring, Mother Marie in Poulenc's Dialogues of the Carmelites, Micaela in Bizet's Carmen, and Gran Sacerdotessa in Verdi's Aida. Ms. Wozniak originated the role of Carrie Nation in Opera on Tap's production of James Barry's SMASHED: The Carrie Nation Story (NY International Fringe Festival 2014, FringeNYC Encore Series selection) and recently appeared as a Watcher in the first episodic horror opera written for virtual reality, The Parksville Murders, (Best Virtual Reality Video, NYC Independent Film Festival, 2017). Comfortable on the opera stage, in large concerts with orchestra, or in intimate recital settings, Ms. Wozniak's singing and stage presence have been praised by national and international reviewers, who have described her as "a magnificent stage animal with a pealing soprano (who) can deliver powerful declamation in the middle voice and fling out a splendid high C. She has glamour and personality to burn," and have said, "her colorful voice and powerful singing brought out the spirituality of life. She sang a dramatic and exciting program with poise, confidence and energy, and, on top of that, she made it look easy."
Sara Noble is in her third year as Company and Media Manager for the Chautauqua Opera Company. Since 2013, she has curated the unconventional operatic concert series 'Home Brewed Opera' as Executive Producing diva for Opera on Tap's New York City chapter. For Opera on Tap, Sara produced the world premiere of James Barry's comedic opera SMASHED: The Carrie Nation Story and scenes from Daniel Felsenfeld's opera-in-development The Inner Circle. She served three terms as the Executive Secretary for the New York Opera Alliance, and has collaborated with organizations including American Opera Projects, The BEAT Festival, Opera Slavica, and Fifth House Ensemble. Sara is a strong advocate for contemporary classical music as an administrator, producer, and performer based in New York City.