IFE's Senior Fellow show gets second season on CNBC. Tune in & watch tonight at 10PM!!
---



Hosts Deanne Bell and George Zaidan help inventors take their products to the next level and give them a chance to secure a potential investment.
CNBC's "Make me a Millionaire Inventor" second season with cohost (and IFE Senior Fellow) George Zaidan premieres tonight, Thursday, October 6 at 10pm ET/PT.
About the Show: In each episode, Bell and Zaidan scour the country looking for amazing ideas they're convinced can make big money. They'll track down the inventors and give them a second chance to bring their ideas and dreams to life. The inventors will be given the resources and help they need to take their products from concept to reality; they'll prototype , test and perfect their inventions while preparing for the biggest pitch of their lives. View: Sneak Peek Video | Season 1 | News Release | Follow: | @GeorgeZaidan
BUZZ: "Ingredients," with Host George Zaidan, Launches on National Geographic's YouTube Channel and on NationalGeographic.com Read more...
---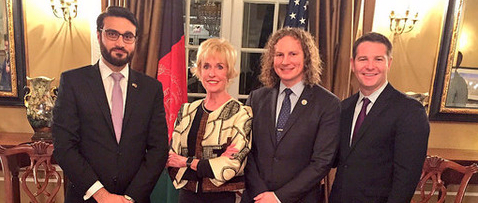 H.E. Dr. Hamdullah Mohib, Ambassador of Afghanistan; Coach Kathy Kemper (IFE); John Paul Farmer (Microsoft); and Brian Forde (MediaLab).
You might not believe it, but most people using digital currency are over 40 years old. Brian Forde, the founder of the MIT Media Lab Digital Currency Initiative made the revelation last Friday, September 30th, during the Institute for Education's INFO Salon on "Digital Currency in Developing Economies" at the Embassy of Afghanistan. Read More... View Event: Photos | Program | Guest List | Tweets
---