Enriching the Spirit. Motivating Action. On Chicago's Far Westside.




This Sunday - November 19th


9:45am Childcare provided

10:00am Forum - "Honduras and the work of Dr. Juan Almendares – physician, politician and human rights activist," Sharon Hunter-Smith and Dr. Mike Collins speaking. More at: http://bit.ly/DrAlmendares

11:00am Religious Education - young people begin in the service, then exit to their class

11:00am Celebration of Life Service - Our guest speaker is Dr. David Ansell, VP Rush University Medical Center, author of County: Life, Death and Politics at Chicago's Public Hospital, and The Death Gap: How Inequality Kills. Dr. Ansell is now leading Rush's strategy to be a catalyst for community health and economic vitality on Chicago's West Side. More at: http://bit.ly/DrAnsell2017

12:00 Coffee Hour – join us for refreshments and fellowship. All are welcome!

---

Meetings and Events
Thanksgiving planning has begun!
Bebe Simon is coordinating a Thanksgiving Day dinner gathering at George's restaurant in Oak Park. If you wish to join other TUC members and friends for a traditional Thanksgiving meal, please RSVP to Bebe by Monday, November 20th at (708) 524-1114.
---
Community of Congregations Interfaith Thanksgiving Service, Sunday, November 19, 7:00pm, at Unity Temple, Oak Park. TUC is a C of C member along with other Austin churches. The theme this year is "Together for Good." There will be a multi-faith choir, a multi-faith children's choir, and a festive reception that follows the worship service. The hospitality team needs additional support to provide finger food and cookies for our reception. Please be in touch with Tina Lewis at tlewis@unitytemple.org if you can help.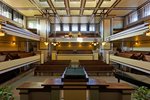 Before the C of C service, Invitation to Tour Unity Temple - Sunday, Nov. 19, 5:00pm
Unity Temple invites members and friends of Third Unitarian to tour the newly restored building. Join Rev. Alan Taylor and Rev. Colleen Vahey for a behind-the-scenes tour of the building. Then join the Community of Congregations for a special multi-faith Thanksgiving service at 7pm. Sermon by Rev. Ira Acree; Response: Rev. Sally Iberg. A special collection will benefit the Holiday Food & Gift Basket program, & the Hispanic Federation's "Unidos" - a hurricane relief fund for Puerto Rico. If you plan to attend the 5pm tour, please RSVP to Debby Donovan: debpaper@aol.com by Nov. 17, and put "Unity Temple Tour" in the subject line, or call Debby. Please also let Debby know if you're interested in going to dinner between 5:45-6:45pm. Thank you!



Caring Committee Update

Betty DiPasquale is out of the hospital, and continues to recover at home. She welcomes your cards and visits.
Please call ahead to confirm a time that works well: 708-386-3653

Jerry Parker is recovering from a stroke and infection following heart surgery. He is under care in the hospital, with Susan Parker and friends visiting each day. Please send cards, notes and/or poems to Jerry at Susan Parker's home at 149 N. Lombard, Oak Park, IL, 60302. If you would like to visit Jerry, please contact Susan at (708) 524-8251 for guidance.


Bob Simpson is making good progress in his recovery from a stroke. If you can assist Bob with his physical therapy, which is light duty in terms of your physical effort, contact Estelle Carol at 708-386-7197 or ecarol@webtraxstudio.com.
Thank you, Karla Chew, for providing Bob a ride each week.



---













New opportunities at Community Renewal Society to Take Action – on Reforms to Chicago's Police Contracts.


UUANI ACTION OF THE WEEK: Tax Reform: A Matter of Justice and Interdependence. Congress is considering a massive giveaway to the wealthy and asking the rest of us to pay for it. Eighty percent of the $1.5 trillion in proposed tax cuts will benefit the top 1%, paid for through trillions in cuts to programs that help everyone else. Meanwhile, there's little evidence that the tax rate hurts U.S. competitiveness or that cutting corporate taxes results in higher wages for workers. Click here to urge your Member of Congress to oppose the tax reform proposal being considered by Congress, or stop by the Social Action table at coffee hour on Sunday. More on UUANI at http://www.uuani.org.


---

---

Sisters of Notre Dame needs hats, gloves and scarves in men's sizes for people experiencing homelessness. Please deliver to Gale Holmlund or Fraternite de Notre Dame by December 15.

Volunteers are needed on:
November 18 and 19 to carve the cooked turkeys that they will be serving the week of Thanksgiving; and on Saturday, November 25 to put candy in gift bags for children. Let Gale Holmlund (773-287-2203 or galeho@juno.com) know ASAP if you can help on these dates. Thank you!






































Kathy Jeans non-fiction book club is growing, and all are welcome to the stimulating discussions. The November selection is "Viking Economics: how the Scandinavians got it right, and how we can too," by George Lakey. The book will stir conversation, e.g., "Can it happen here, or is the U.S. too large, too diverse, etc.?" This is a friendly group, where all feel safe to air opposing views. The next meeting is scheduled for 2:30pm on Sunday, November 26, at Kathy's – 2225 S. Ridgeland Ave., Berwyn. Contact her at 708-788-1985 or jeans.katherine@gmail.com.

"A Q Brothers Christmas Carol" – a rap version of Dickens' Christmas Carol at Navy Pier. DuPage UU Church has arranged discounted tickets for the Sunday, November 26, 3pm matinee performance. All UUs are welcome and can learn more about the play and obtain the discount at https://www.chicagoshakes.com/plays_and_events/qbrosxmas. Go to BUY TICKET and enter the Discount Code CHARLES (all caps). Be sure the Sunday date is the one on your oder summary. DuPage UU contact: Laurel Spahn, home 630/462-0847, mobile 630-921-0847. TUC contact: David Boulanger.

There is a recycling container in the Concourse for recycling your printer ink cartridges. We are partnering with Funding Factory and will receive cash back for each cartridge we recycle with them. Thank you for participating!!!




---

*Policy: Items require a TUC member, staff or minister sponsor (contact)

named or implied with the entry.

---



Forward this message to a friend


Third Unitarian Church
301 N Mayfield
Chicago, IL 60644
773-626-9385

Rev. Colleen Vahey's Office Hours:
Tuesday and Thursday
from 10:00am - 1:00pm

TUC Office hours: Mon, Tues, Thur, Fri
from 8:00am - 10:00am