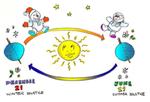 • Decorate
the sanctuary with greens and colorful trimming to celebrate the Winter Solstice and Holiday Season;
• Join children
in creative arts and crafts
• Sing a long, just listen
, or join in, with Holiday music and song; and
• Celebrate
together
our decorating accomplishments over an informal meal of chili, soup and salad, all in the Holiday Spirit!
Optional gift giving:
Bring a new or gently used children's or young adult book for
Erie Family Health Center's Reach Out and Read
program.
Please RSVP by Wednesday, December 6th
, with names of all and age of each child. Please simply call TUC's office at 773-626-9385, or hit reply to this eblast or email the office at thirdunitarianchurch@gmail.com.
Donate to Gift Books for children in need . We plan to again give Holiday books to children in our Little Leaders daycare.
Daycare now has 45 children, ages 2-5, all from families who qualify due to economic need. The goal is to raise $600 to buy the books with a suggested donations of $10 to $25.
Deadline: December 9th
when we will have a kids' activity of gift-wrapping the books at our annual
Hanging of the Greens and Solstice Celebration.
Donation can be made via a check to TUC for "Little Leaders books," or by cash given to Johanna Ryan.
---
Sunday, December 10, 12:30pm is the Committee on Programs and Ministries
will meet to discuss and finalize the
Winter-Spring 2018 Major Events Calendar
. All members are welcome to contribute as the committee chairs make their final decisions
HELP! Please exercise local Social Action and sign up to do Coffee Hour on December 17, 24 or 31. Reply to this email or contact the office at 773-626-9385 or email the office at
thirdunitarianchurch@gmail.com
. More information will be provided on how easy it can be to serve your fellow members!
Mark your calendar! The CRS MLK Faith in Action Assembly is on the MLK Holiday, Monday, January 15th
, 8:30am-12:00pm at Old St. Patrick's Church. This annual event is the CRS presentation of its social reform goals for the year. This year, the Governor candidates are invited to attend to state their positions on CRS proposed reforms. In past years, TUC with UT had a great turn out! Bus transportation will arrive at TUC at 7:30am – a $10 donation toward the bus rental is suggested.
Contact Karen Alanis
to make your commitment to this important action event –
kalanis@msn.com
or 708-660-1577.